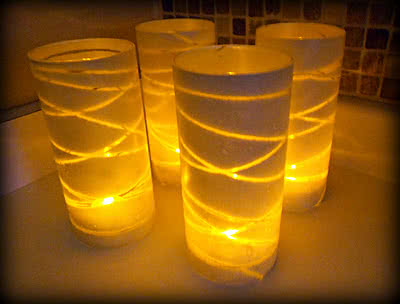 I have been looking for ways to add light to my Christmas display and I saw something on Pinterest from
Mark Montano
and knew that it would work perfectly! I purchased a couple of vases from the dollar store a couple of months ago and now I had the perfect project for them!
 Here is what you need to make your own:
-glass vases (assorted sizes and styles look great together too)
-yarn
-tape
-spray paint (I used Krylon Satin Almond)
Wrap your vases in yarn, criss-crossing as you wrap it around and around the vase. I started at the bottom and taped the yarn on the underside of the vase, then wrapped up and down the vase a couple of times, and finished by taping the end of the yarn on the inside of the vase. You don't want your masking tape to be on the outside of the vase because then when you spray paint over it, it will leave a lovely tape outline behind. 🙂
 Spray paint your vases- I did about 3 coats.
 Remove the yarn and tape and you are good to go!
 These make darling vases just by themselves . . .
  . . . or stick a little LED tea light inside you and you have a beautiful glowing luminary!
They look absolutely awesome at night!
Let me know if you have any questions!