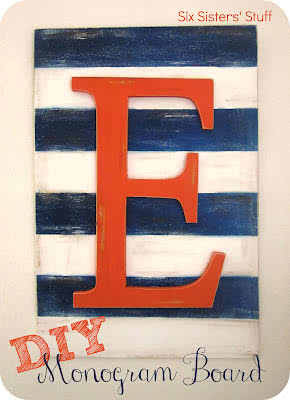 I have recently been working on re-doing our master bedroom.  I have had the same exact bedding and decorations for the past 4 years, and it was definitely time for an update!  Of course, my husband doesn't it find it necessary, so I set out to do it on a budget!  I love monograms and wanted to bring in some bright pops of color into the room.  I decided to combine my love for monograms and color and make a monogram board wall hanging!
Here is how to make a DIY Monogram Board:
Supplies:
Piece of plywood or MDF (my piece of plywood measures 16″ x 24″)
Wood or MDF cut out letter (I purchased mine at a local wood store, but they can be found at most craft supply stores)
Paint (I used two different colors of spray paint and one bottle of acrylic paint, but use whatever you prefer)
Ruler
Pencil
Painter's tape

Wood glue
Sand paper
Sawtooth picture hanger
 Step 1:  Paint your board and letter.  I used Krylon Dual Paint and Primer in Flat White to paint my board.  I used orange acrylic paint and a sponge brush to paint my letter.  I applied 2-3 coats of paint to each piece and let it dry completely.
Step 2: Tape and paint stripes.  After my board was completely dry, I measured and marked my board to make stripes that were 3″ thick.  I placed my painter's tape across the whole board and over the edges.  Using generic brand blue spray paint, I painted over the whole board with 2 coats of paint.  After the paint was dry, I removed the painter's tape.
Step 3: Sand.  Using general purpose sand paper, I sanded down the edges of my letter and board.  I also sanded the front of the board to give it a worn look.  Wipe down your board and letter with a damp towel to remove any sawdust.
Step 4: Glue on the letter.  Using Elmer's Wood Glue Max, I glued on my letter.  Be sure to apply your glue to the correct side of the letter so your letter isn't backwards on your board!
Step 5: Install  sawtooth picture hanger.  I purchased a set of these at WalMart for less than a dollar.  Make sure to center the hanger on the back of your board so it will be level when you hang it.
Hang your DIY Monogram Board and you are done!
I made mine for under $10!
I also made one for our newborn's nursery to hang over his crib!
Cute, inexpensive and easy!