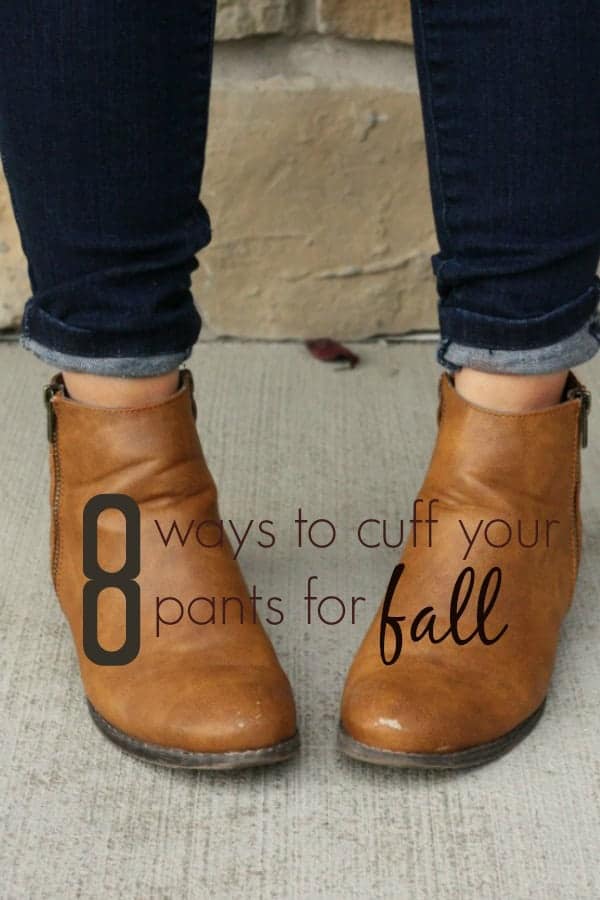 There is no better fashion than fall fashion. I love the warm sweaters, button ups, boyfriend jeans, and all things ankle boots. What's not to love? My only worry is that my pant cuffs aren't looking like they should. After some research, and some practice, we have found 8 easy cuffs for your fall clothes this season! Happy fall!
1. Skinny Cuff
This is just a thin double or triple cuff. The best way to measure this is by the fingertip! Use the top of your finger to the first crease, and roll roll roll 🙂
2. Half Inch Cuff
This is just a quick simple cuff to show off a little ankle with those skinnies. It's about a half inch, one cuff, so you can see the dark jean meet the light inside.
3.  Wide Cuff
This cuff is best used with jeans that aren't super skinny. This cuff is more for a baggy jean, not quite a flare jean, but a straight leg. It's just 2 cuffs of the pant, about 2.5-3 inches per cuff.
4. Two Inch Ankle Cuff
This is just one simple cuff that is my favorite! It's perfect for any ankle boot. Just one simple cuff of the jean, two inches up.
5. Roll-Cuff
This is my favorite look with cuffs. It is cute, yet makes the outfit a little messy and fun. It's just a simple, yet messy cuff. You don't really have to measure it out or press it down, just two quick rolls of the pant leg, and you have a messy roll-cuff. I usually try to do about 1 inch, but be careful to not really measure it out, or else it won't look as messy 🙂
6. Inside Cuff
This is where things get a little tricky… but not too tricky. Fold the pant leg about 2-3 inches up and press the cuff with an iron so it creates a crease, and is flat. Then you will fold the whole cuff under, and iron again. This type of cuff is best for heels, or wedges.
7. 1 Roll 1/2 Cuff
This is my go to cuff. I probably do this to my pants almost every day. It is also more of a messier look. You roll the pant leg up about three inches. Then cuff the roll half way up. It creates a double layer, and really shows off the skinny part of your ankle. You can also wiggle the cuff a little to make a messier look.
8. Scrunch and Cuff
This look is just like it sounds. Scrunch the bottom of your pants, then cuff once to your hearts content. I usually just try to do one cuff about 2 inches. I love the messy look, with a nice pair of ankle boots.
My favorite Jeans are from Old Navy! They aren't very expensive, and super stretchy and comfortable.