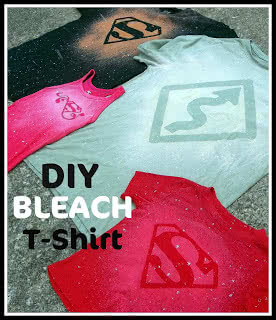 Everyone loves T-shirts. They are comfy, they are easy, and it really doesn't matter if you spill on them. My friend Leslie introduced me to designing your own t-shirt with a printed design and bleach. It was SO Easy and I loved how they turned out!1. First you need some sort of design… it could be anything! I decided to pick a "curves ahead" road sign because my husband loves riding fast on his motorcycle.2. You will need some freezer paper. Print out any design from your computer and trace it onto the paper side of the freezer paper. Then cut out your design. You could also use a Cricut to cut out your design. Make sure the shiny side of the paper is facing down.3. Iron your design onto your shirt, make sure the shiny side is facing down and the paper side is facing up. Lightly press the iron onto your design so it will stay.
4. Cut some cardboard(we used cereal boxes) and put it inside of your shirt so it doesn't leak onto the back of the shirt.
4. BLEACH TIME! Fill your water bottle with 70% bleach 30% water. And spray away. Some shirts I sprayed really close to the shirt and others I stood back a bit. Spray as little or as much as you would like. I sprayed a little at first then went back and sprayed more. Certain colors (like black) will show up instantly. The pink and red shirts took close to 20 minutes. The longer they sit the more bleached out it will be.
5. When it is done bleaching, take your cardboard out, take your design off, and rinse thoroughly in the bath tub.6. Wash your shirt in the washing machine to make sure all the bleach is out and so it won't bleach anything else.