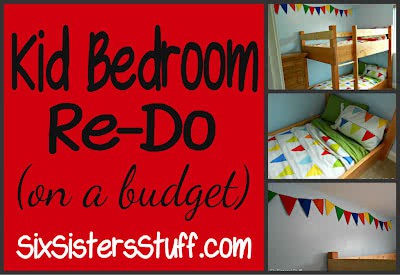 So, we bought our house almost 2 years ago. My husband was fresh out of graduate school and we were (and still are!) up to our eyeballs in student loans. The house had a fresh coat of lovely beige paint and we just moved in without re-painting anything. We always knew that we would eventually re-paint the house and change things around to make it our own, but we definitely didn't have the money at the moment.
Fast forward 2 years and here we are . . . still surrounded by beige paint and still not made of money (ha ha!). But our three bedroom home is about to get a little more crowded . . . I am due with baby #3 in about four weeks. That means my 5 year old daughter and 3 year old son will be sharing a room. I didn't want to move them both into my son's room that had a sports theme or into my daughter's room that was covered in girly polka dots . . . I knew we had to make some big changes.
I scoured the internet and Pinterest looking for gender-neutral bedrooms and there was hardly anything out there! It is hard to find a happy medium when it comes to a bedroom for a boy and girl- it can't be too girly, but it also can't be too much of a boy room. I also had to keep in mind that I was working on a budget and I had to keep this as inexpensive as possible!
I decided that I wanted to go with bright primary colors. I started searching and found this darling
bright colored flag duvet at Ikea
for only $14.99! As soon as I saw it, I knew that I would decorate the room around that duvet. It was bright, colorful, inexpensive, and perfectly gender neutral. 🙂
The first item of business was the bed situation. Unfortunately the bedrooms in our house are TINY!! This bedroom is only about 10 feet by 8 feet. I could have fit two twin beds in there, but it would have been CRAMPED. I knew that bunkbeds were going to be our best option, but our daughter had already had a broken arm from jumping off furniture and most of the bunkbeds that we looked at were SO HIGH! I started telling my husband that I wanted bunkbeds that were low to the ground. The wheels in his head started turning and he drew up some plans . . . the end result was amazing and he was able to put these bunkbeds together for about $180 (seriously, he designed these beds himself! Best husband ever? I think so.). However . . . they took FOREVER to build (he is a busy guy and only had Saturdays available to work on them). I would highly recommend purchasing bunkbeds if you don't have a lot of spare time (we later discovered that Ikea carries a great assortment of
bunkbeds
at amazing prices and even has some low to the ground! Check out
this loft bed
– you can throw a mattress on the bottom and it's basically the same idea as the bunkbeds we built!).
Next up was the paint. I have honestly never done any painting in my life! However, this was seriously the best thing to make this room come alive! I didn't realize how drab the beige walls were until we covered them in a fresh coat of sky blue paint (the actual color is Skylark- 530A-2 Behr paint from the Home Depot if you were wondering). The light blue color perfectly matched the light blue on the duvet and it just makes the room so cheerful. I love it! The cost for all the paint and supplies was around $30 (it is a tiny room).
Even though it's a small room, having the bunkbeds has opened up a little bit of space and I wanted to put a little reading nook in one corner. I am working on building
some of these pallet shelves
that Elyse made a couple of months ago and then I picked up some Pottery Barn Kids bean bag chair covers at one of my favorite stores of all time:
DownEast Outfitters
. They are basically a huge outlet store for lots of different brands and guess how much I got the bean bag chair covers for?
$1 each
! Seriously! I tell you- they have amazing good deals! Anyway, I picked up some bean bag filler and was able to fill each bean bag for about $12.
I wanted to add just a little more color and as I was browsing Ikea, I found these brightly colored sheet sets. Sheets can get pretty pricey, but I found
these twin sets
for $14.99. They are incredibly soft and have retained their color even after lots of washes! I am thoroughly impressed.
The last thing that I did was make my own flag bunting to drape across the wall near the ceiling, just to add a little more color. Using some bright colored fabric scraps, I cut out triangles and sewed them onto a thick piece of twine. My husband then nailed 4 nails into the wall and I draped the flags across. Quick, easy, and free . . . my kind of decor. 🙂
(PS I know that I am by no means an interior decorator at all . . . ha ha!)
So add it all up . . .
Bunkbeds: $180
Paint and supplies: $30
2 Duvets from Ikea: $30
2 Sheet Sets from Ikea: $30
2 Bean Bag Covers: $2
Bean Bag filler for 2 bags: $22
Flag bunting: Free (already had it on hand)
Down Comforter Inserts for duvets: Free (already had, but if you are in the market for a down comforter, Ikea has the greatest prices by far!)
Grand total: $294
Not too shabby! And the kids absolutely LOVE it.
They have been hanging out in their room all day and night and I think that it's the perfect room for a boy and girl to share. I have a couple more projects that I am working on to complete this room, but I was so excited to share what I already had that I had to post it. 🙂
(I wanted to thank Ikea for supplying the duvet covers for my kids' rooms! I was fortunate to be able to attend a blogging event at the Ikea store in Draper, Utah, and learn all about the cool new products that Ikea is carrying, get a sneak peak at the 2013 catalog even before employees saw it, and learn about ways that Ikea is going green- like the solar power panels on their roof that now completely power their store! Amazing! Also, if you are looking for more home decor inspiration, be sure to check out Ikea's blog!)
Even though this post was partially sponsored by Ikea, the opinions are completely my own. I was not compensated by the other companies mentioned in any way . . . I just really like them.