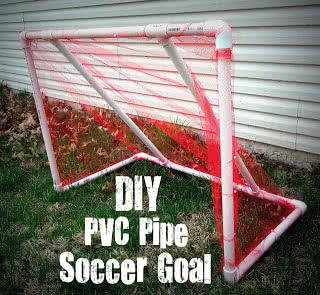 Our Little girl started soccer this last week and is loving it! My husband wanted her to be able to practice at home so he decided to make a soccer goal for her. It was so easy to make and cost way less than any other soccer goal we could find. Here is how he did it!
To make the soccer goal he went to Home Depot and bought:
– 2 of the 10 foot long Schedule 40 PVC pipes at 3/4 inches wide
–  6 of the Schedule 40, 90 degree pieces
You need to cut the 10 foot pipes into the following measurements:
– 4 pieces cut to 6 inches long
– 4 pieces cut to 18 inches long
– 2 pieces cut into 24 inches long
– 2 pieces cut into 31 inches long (you might need to shorten this just a tad with a saw)
One reason I LOVE Home Depot is because they will cut things for free if you ask them! My husband cut it himself with a hand saw because he had to figure out the measurements. Either way is really easy.
Then you just have to put it together. He made the bottom first then worked up. Add the diagonal 31″ pipe last. Depending on your quality of pipe 31″ might be a little long. So just shorten it to what will work.
Different Angle…
We didn't glue it together because it was so sturdy we felt we didn't need to.
The Net:
So I wanted some type of net for our Goal so I went to Walmart and purchased a Net Material for 98 Cents a yard. I bought 2 yards and it was plenty. Then I bought Zip Ties (also from walmart) to put my net on.
Soccer Goal total: $10
Net total: $3
I was thrilled we made it all for $13!  We are making another one next week! 🙂