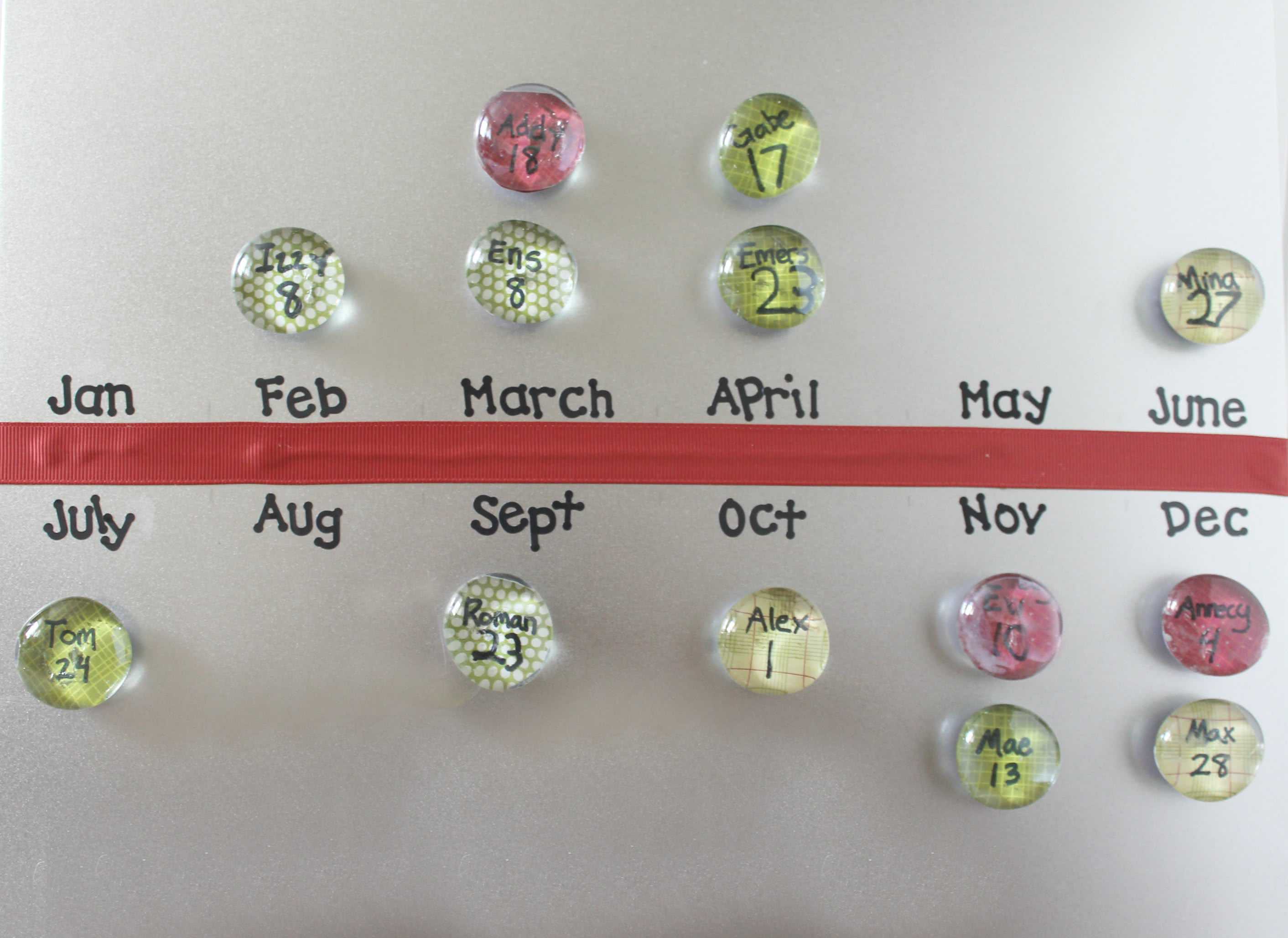 Elyse made a cute magnetic Birthday Calendar for my Mom a few years back so I thought I would make one for my Mother-in-law. You can use any colors you want to match the colors in your house or make it for a specific holiday. I made this one for Christmas.
Magnetic Birthday Calendar:
Materials:
Small Magnetic Board (mine is 18 inches by 18 inches)
Pencil
Glass rocks with a flat side
Small round magnets
Scrapbook Paper
Some ribbon (I used 19 inches of ribbon but it will depend on how big your board is)
Stickers
Modge Podge
Sponge Paint Brush
Hot glue gun and glue sticks
Directions:
Measure and mark with a pencil where the middle of your board is. Glue gun your ribbon to the middle of the board.

With a pencil, measure and mark 5 lines above the ribbon and 5 below making them all equal length. This creates 6 little boxes above and 6 below. In Each box, but an abbreviated month in order, starting with January. Stick on 6 months above and 6 months below.

Take your scrap book paper and measure it to the size of the glass rocks. Trim the edges a little bit so when the rock is placed over the paper, there should be no paper showing except through the glass.
Next write the persons name and the date of their Birthday. Alex was born on the 1st, so his paper will say his name and have the number 1 on it.

Paint a very thin layer of modge podge on the paper circle over the name and number. Quickly press it against the glass rock and smooth it starting from the inside working outwards.
Hot glue gun a magnet onto the back of your rock once the paper has dried.
Make an individual rock for every person you want included on the board.
Place each person?s rock under the correct month of their birthday.