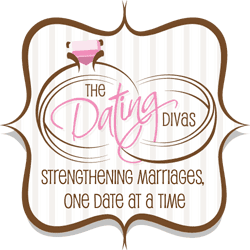 They are seriously some of the most creative women out there! They come up with some amazing and unique dates that would be so fun to do with your significant other. Today they are stopping by to share a date idea that would be perfect for us. Take it away, Divas!
I am so excited to be a guest at Six Sisters' Stuff today! I absolutely LOVE the recipes (especially the
Chili's copycat salsa
)! I always feel like these darling gals have read my mind when it comes to cooking!
My name is Corie and I am from the website,
The Dating Divas!
I have been married to my man for almost ten years. It is so easy to get lost in the daily shuffle of life and forget to ?date your spouse.? The Dating Divas consists of eleven girls who love to date our husbands! We post original, inexpensive and fun date ideas that are a perfect solution for any marriage! We also feature crafts, marriage tips, ideas for holidays, and SO MUCH MORE! We enjoy dating our hubby's so much that we want to share our ideas with
YOU
.
Let's face it, I love food. I think I was born with
super
taste buds! Because of my sincere love of great cuisine, I decided to host a game/date night centered around guessing the ingredients in a variety of foods! This was a fun idea and I received a little inspiration from
here
and my good friend, Kristi.
Each couple had to bring either an appetizer, drink or dessert to share. Everyone had their own "Guess the Ingredients" sheet. Our sampling table included an artichoke dip, banana bread, oatmeal cookies, and a delicious strawberry drink. (We didn't know the name of any of the dishes until the full ingredients were revealed.)
Now…for the game. After our plates were loaded up, we tasted, sampled and tried to write down every ingredient we could taste! This was the BEST.GAME.NIGHT.EVER!
The winner was one of the cutest couples I know! They guessed almost every ingredient in each recipe. They received the coveted trophy (we pass this around each time we have a game night) and a new, deluxe pizza cutter. I truly didn't want the night to end. So there it is…date night done right with fun, food and friends! In the future, I may throw in a
restaurant
gift certificate for the winner!
Thanks for letting me be a guest on your incredible site!