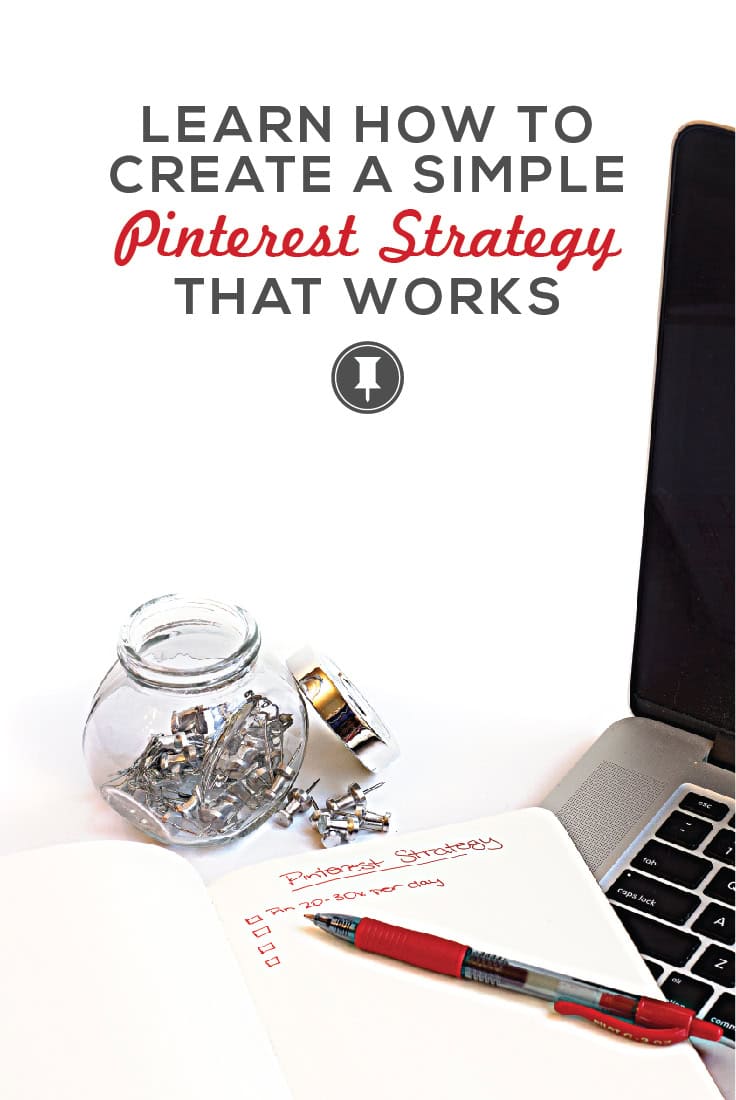 Since we started blogging in 2011, Pinterest has consistently been one of our top sources of traffic. Even after all the algorithms changed, we found some ways to still make Pinterest generate a lot traffic to our website. You can see below that over the past few months, it has been our 3rd highest source of traffic (and over the summer, it actually moved to our number 1 source of traffic!).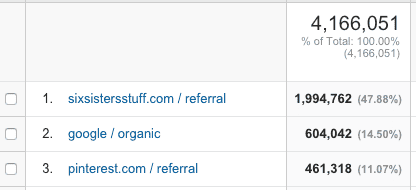 If you are a blogger, you HAVE to be using Pinterest. We now have over half a million followers on Pinterest and have had many pins go viral, which has helped us get to where we are today in the blogging world.
Here are 5 quick tips to help you make the most of Pinterest as a blogger to see more traffic from each pin:
1. Organize your boards strategically.
Make the first 3-5 boards that people see on your Pinterest page boards that are made up of only your blog posts. Put your blog name in the title of the board so that people can make that connection. If they decide to follow any of your boards, you want it to be those ones. You can check out the way we set up our boards here: (http://www.pinterest.com/sixsistersstuff)
2. Aim to set up 3 kinds of boards:
Stuff your audience will like, stuff that is hard for your audience to find, and stuff about your blog. You want to become a source of amazing finds – you will grow so much more quickly if you provide your followers quality content that they need.
3. Have board names that are SEO friendly.
Many times, when people are googling a specific thing (i.e. Six Sisters Slow Cooker Recipes), our slow cooker Pinterest board shows up in the results. The board name will also get seen every time you pin something, so make it something that people just have to click through to see what else you have pinned on that board (and hopefully will want to follow it). Also, keep your board names short and not too ?cutesy? – if you have a recipe board named ?Yum? – it?s time to change it!

4. Pin things EVERY SINGLE DAY.
Pinterest will reward those accounts that are active, so it?s important to be consistent. I know that it can be nearly impossible to be consistent without some type of pin scheduler – we use Tailwind because we love it's analytics and how simple it is to use (or you can check out the other Pinterest schedulers available on our blogging resources page). We now pin about 30-50 pins per day, all spread out so that we have 1-2 pins going out each hour. You definitely don?t need to do that much, but aim for at least 10 a day. However many you choose to pin a day, make sure that you are consistent.
5. Pin things from other blogs/websites.
You don?t want your Pinterest account to be only about you . . . people would get bored. Also, pin consistently. Don?t do a huge burst of 20 pins because people may find that annoying. It is best if you are able to pin one or two things here or there throughout the day for maximum exposure. Different people will be on Pinterest at different times, so keep in mind if you pin something in the morning, many people who get on Pinterest at night may not see it. This is also where a Pinterest scheduler (like TailWind) would come in handy. We usually pin about 50% our own content and 50% content from others.
Now, because Pinterest is always changing, you have to constantly be in-the-know, which requires a lot of time and research. We actually started working with Kate from Simple Pin Media to learn how to better use our Pinterest account to get more traffic and in turn, earn more money from our blog. After working with over 300 different Pinterest accounts, she developed a Simple Pin Master Course that teaches you exactly what you need to do have Pinterest be one of your top sources of traffic and to quickly grow your Pinterest following. Since working with Kate and doing her Simple Pin Master Course, our traffic from Pinterest has only increased (even with the algorithm changes) and we gain tens of thousands of new followers on Pinterest each month.
So, what is her Simple Pin Media Course?
It's a 9 module Pinterest marketing course with 20 easy-to-follow education videos, developed by Kate Ahl of Simple Pin Media. After working with over 300 Pinterest account she created the Master Course to give people a solid, easy-to-follow, analytics driven plan. The plan empowers bloggers and business owners to create a marketing plan to grow their business, build their email list, and increase revenue.
Modules:
Pinterest Foundations
Optimizing Your Website for Pinterest
Creating Pinnable Images Using Three Different Programs (Canva, Pic Monkey and Adobe)
Crafting the Perfect Pinnable Post
Using Pinterest to Build Your Email List
How to Be An Effective Pinner
Evaluting Your Efforts — Pinterest Analytics & Google Analytics
Running a Promoted Pin Campaign
How to Dominate Pinterest!
Also included in the course are printable PDF's, tracking documents (spreadsheets for those who need them) and helpful tutorials of essential programs.
The Simple Pin Master Course is designed to be self-paced but we recommend completing and implementing each module before moving onto the next.
If you are serious about growing your blog and want to learn how to use Pinterest effectively, we highly recommend this program. We have been working with Kate for over a year now and we have completely changed the way we use Pinterest because of this course, which has completely changed the amount of traffic that we get.
The best part is, there is a Money Back Guarantee!! Just try it for 30 days to see if it works for you. If it does, you?ll be delighted – and I think that?s exactly what?s will happen. If for some reason you?re not delighted with your purchase, you'll get a full refund!
The price of the course is $197 (which is a STEAL – you will pay double that in just a month if you were to hire someone to run your Pinterest account for you), but it goes up to $297 on September 1, so hurry and grab it now! Also, if you order it before September 1, you also get all these bonus gifts: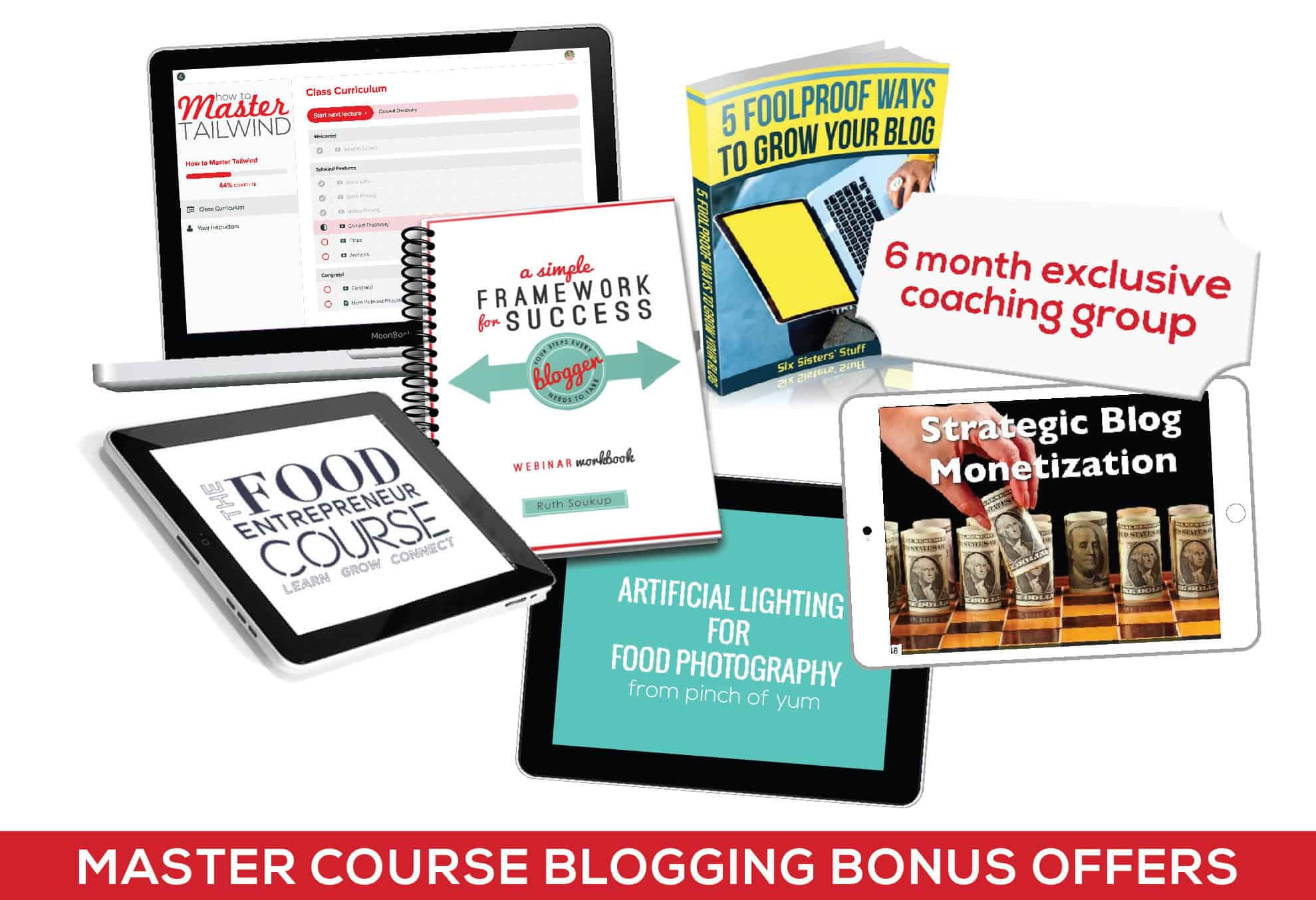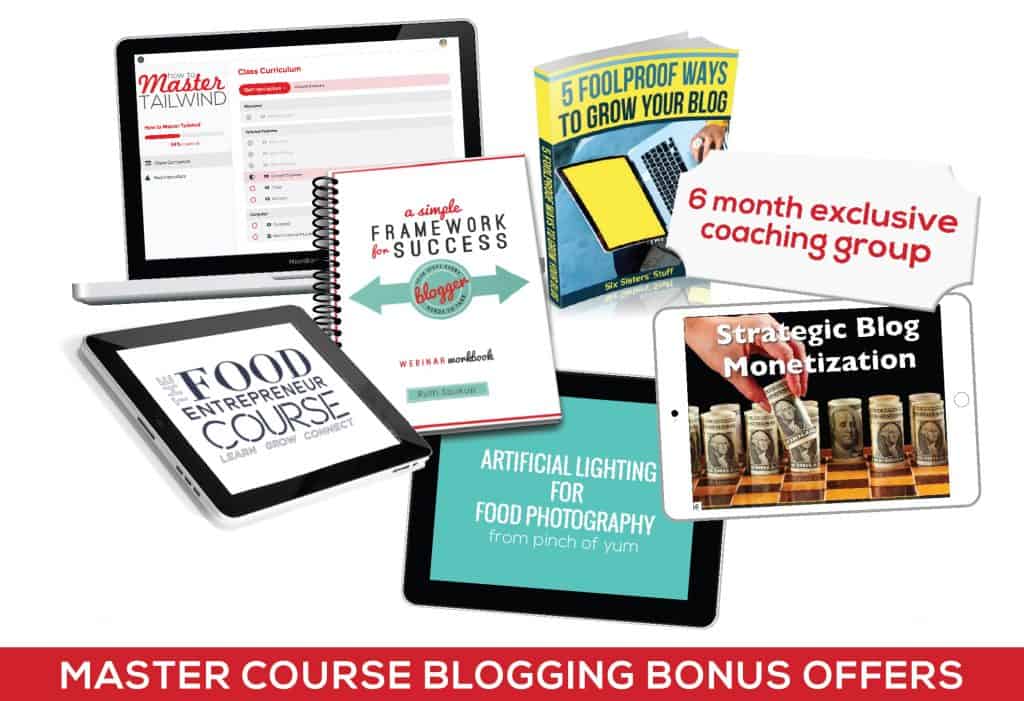 Simple Pin Tailwind Course (valued at $57) — detailed mini-course to help you utilize Tailwind effectively and all it's features.
Private Facebook Group coaching run by Kate of Simple Pin Media from September 2016 – February 28, 2017 (the highest traffic time on Pinterest!). The coaching includes live monthly coaching calls, weekly updates highlighting course curriculum to work through the course as a group and helpful feedback regarding images and strategies. (valued at $750)
A Simple Framework for Success (video & workbook) by Ruth Soukup from Elite Blog Academy
How to Use Artificial Lighting Course from Bjork & Lindsay of Pinch of Yum (valued at $37)
5 Foolproof Ways to Grow Your Blog eBook from Six Sisters' Stuff
FREE one month membership to Food Entrepreneur Course + two masterclasses with PDF's: How to Work Less and Get A LOT more Traffic and How to Avoid the Comparison Trap and Create Consistent Content from Nicole Culver of Blissful Eats
Blog Monetization 101 from Leslie Samuel of Become a Blogger – an exclusive course from Leslie's coaching club that is not available anywhere else.
Are you ready to take your blog to the next level with Pinterest? Let's do it!