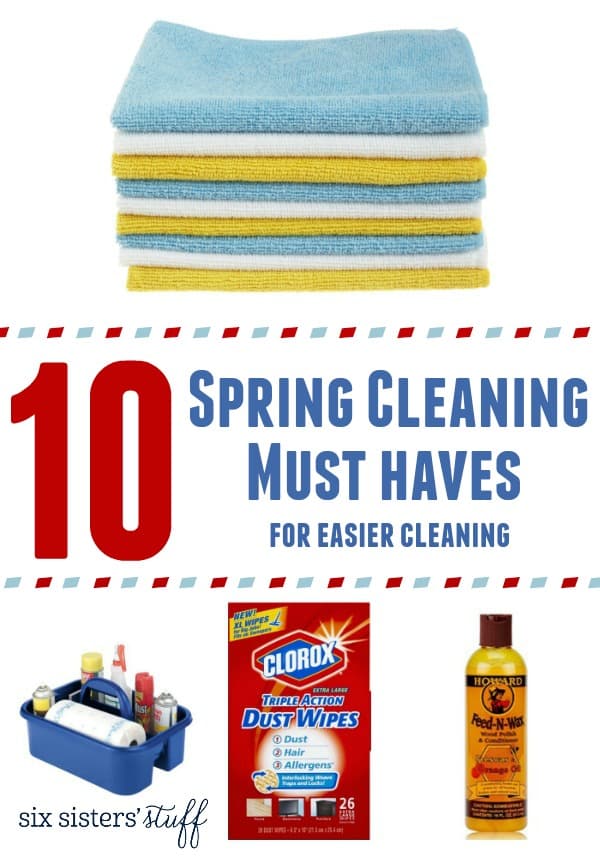 It's time for Spring Cleaning!  We have 10 great ways to help make this chore a little easier.  We love these items and want to share them with you!  A clean house makes for a happy home!
You will love these Clorox Triple Action Dust Wipes.  Spring is a great time to clean those dusty window blinds.  These dust wipes are perfect for cleaning your window blinds.  They  pick up the dust and trap debris instead of pushing it around.
2. We love this handy cleaning tote caddy.  It's great to carry around from room to room as you are cleaning.  We love having everything you need close and handy.  It's big enough to hold all of your cleaning supplies.
3. You will love this Extender Duster.  It's perfect for getting cobwebs in those hard to reach places along the ceiling.  The top is made of microfiber and grabs everything in it's path! Just throw it in the washer when it needs cleaning.
4.  Our floors are due for a new shine after a long winter.  This Shark Professional Steam Pocket Mop does it all!  It can clean wood and laminate flooring as well as all hard floors.  It has 3 steam settings: Dust, Mop, or Scrub. You'll never go back to your old mop after using this Steam Pocket Mop.
5.  It hasn't been that long ago that we discovered the magic of the Magic Eraser.  You will want these for spring cleaning.  They get rid of your scuff marks on walls and doors.  We even had some marks in the bottom of our tub from the installation and the Magic Eraser came through for us!

6. We love our stainless steel kitchen appliances, but little handprints all over the fridge are never ending!  We have the perfect solution for you.  It cleans, polishes, and protects.  It helps resist fingerprints!  So it cuts down on the constant wiping every few hours.  You will love this Sprayway Stainless Steel Cleaner.
7. Microfiber cloths are a great multipurpose cloth that can do so many things.  They are non abrasive cloths that won't scratch paint or other surfaces.  We use them with the stainless steel cleaner.  Great for televisions and computers.  They are super absorbent and made to trap dirt, grime, and other particles without leaving lint or a streaking residue.  And they are machine washable for unlimited use!
8.  Kitchen cabinets are often overlooked and neglected.  Feed-n-Wax is the perfect way to preserve your wood finishes.  It will help keep it from drying out and cracking with natural oils.  You will have great looking cabinets all year round.
9.  Our favorite part of spring cleaning is having everything smell fresh and clean.  Don't forget to freshen up all of your bedding and curtains/window treatments.  We love these Snuggle Scent Boosters.  All you do is throw them in with your laundry detergent.  Everything comes out smelling wonderful!  It makes your everyday laundry smell good too!
10.  Don't overlook your couches and chairs.  Remove your cushions and vacuum the entire couch.  We love this Shark Navigator Lift Away vacuum.  Our mom just purchased a 2nd one because she loves it so much.  It's lightweight and can easily navigate anywhere and it's perfect for under those couch cushions.  Who knows – you may find that lost TV remote or the car keys that have been missing.