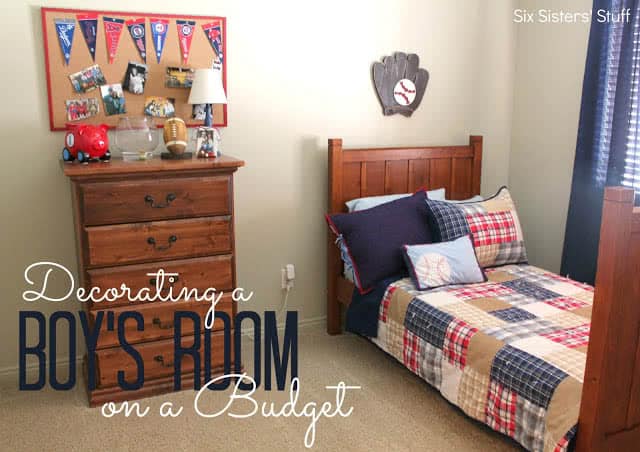 My oldest son is turning three next month and was more than ready for a "big boy bed".  He was sleeping in a toddler bed with a crib mattress on it, and a few weeks ago I realized his feet were almost hanging off the end!  I knew it was definitely time for an upgrade, but didn't have a lot of money to do it.  Here is how I decorated and furnished my son's room on a budget:
I needed a new bed AND dresser for my son's room.  When I need bigger pieces of furniture like this, my first stop is always
DownEast Home and Clothing
!  The have stores in Arizona, California, Colorado, Idaho, Nevada, Utah, Washington and Wyoming.  They sell their clothing
online
(which is SO cute), but you have to purchase furniture at the store.  They have a lot of huge name brand clothes and furniture and sell them at a discounted price.  I found this gorgeous bed at
DownEast Home
for….$99 (regularly $799)!  What a steal!  It also is a platform bed, so I didn't need a box spring. I bought the
mattress from Sam's Club
for $99.
I found the
Plaid Quilt Set from Target
for $69.99.  I had looked for similar bedding and this was the best price I found.  The quilt came with one matching sham.  I found the blue and red star sham and baseball sham (originally from Pottery Barn Kids) at
DownEast Home
for $1 each!  I bought the
sheets
and blanket for the bed at WalMart for $30.
I wasn't able to find a matching dresser there, so I headed over to
Deseret Industries
to find one. 
Deseret Industries
is a second hand thrift store with locations all over the nation.  I was initially going to find a dresser and fix it up, but with not a lot of time, I decided I would just purchase one that was ready to go. 
Deseret Industries
has a line of new furniture called The Homestead Collection.  It is all solid wood and comes put together.  It was the best price I could find on a new, solid wood dresser and I got it for $229!
The wooden football (originally from Pottery Barn Kids) is from
DownEast Home and Clothing
and I got it for $4 a little over a year ago.
 for $5 each.  I thought it was a great way to store extra toys!
While at DownEast Home, I came across this darling basketball hoop (originally from Pottery Barn Kids) for $6!

I bought the curtain rod from WalMart for $12 and the curtains for $16 a few years ago.
Here is the rundown:
Bed: $99
Mattress: $99
Bedding: $69
Sheets/Blankets: $32
Dresser: $229
Lamp: FREE (already owned)
Cork Board: FREE
Baseball Pennants: $13.65
Piggy Bank: $9
Football: $4
Frame: $1
Baseball Mitt Decoration: FREE (already owned)
Pallet Bookshelves: FREE
Red Buckets: $15
Basketball Hoop: $6
Curtain Rod: FREE (already owned)
Curtains: FREE (already owned)
GRAND TOTAL: $576.65
Not amazingly cheap, but definitely cheaper than what I would have spent anywhere else to decorate and furnish a whole room!  I was able to do it all for under the original price of the bed!  Not even my husband can complain about that!  
If you were looking to cut back, I would definitely find a local thrift store and find your bigger pieces of furniture there.  The dresser is what made furnishing this room more expensive.  If I had more time, I would have refinished a dresser and possibly a bed to save a little more money!

Looks like he approves!
(Please excuse the nudity. 🙂 We are potty training!)