When it comes to blogging, there are so many tools and books that will help you along your way. These are the things that we have personally used, loved, and highly recommend to you!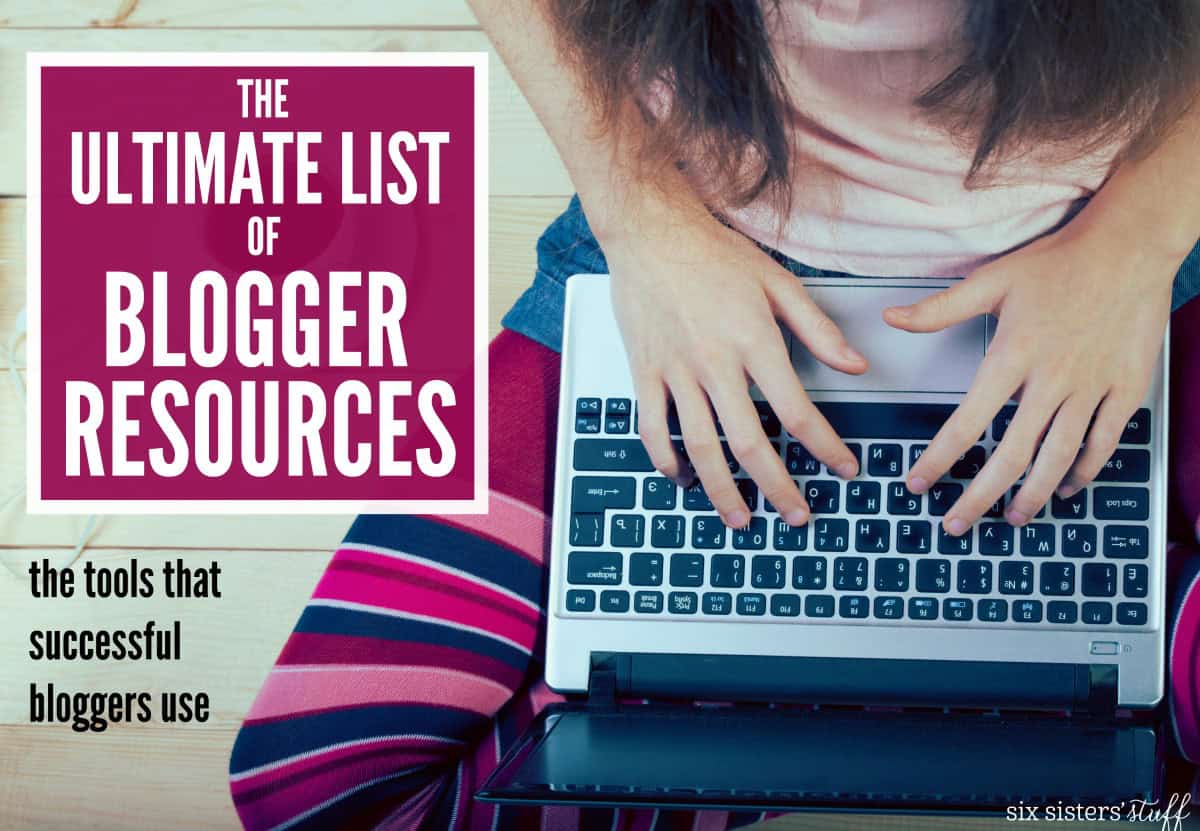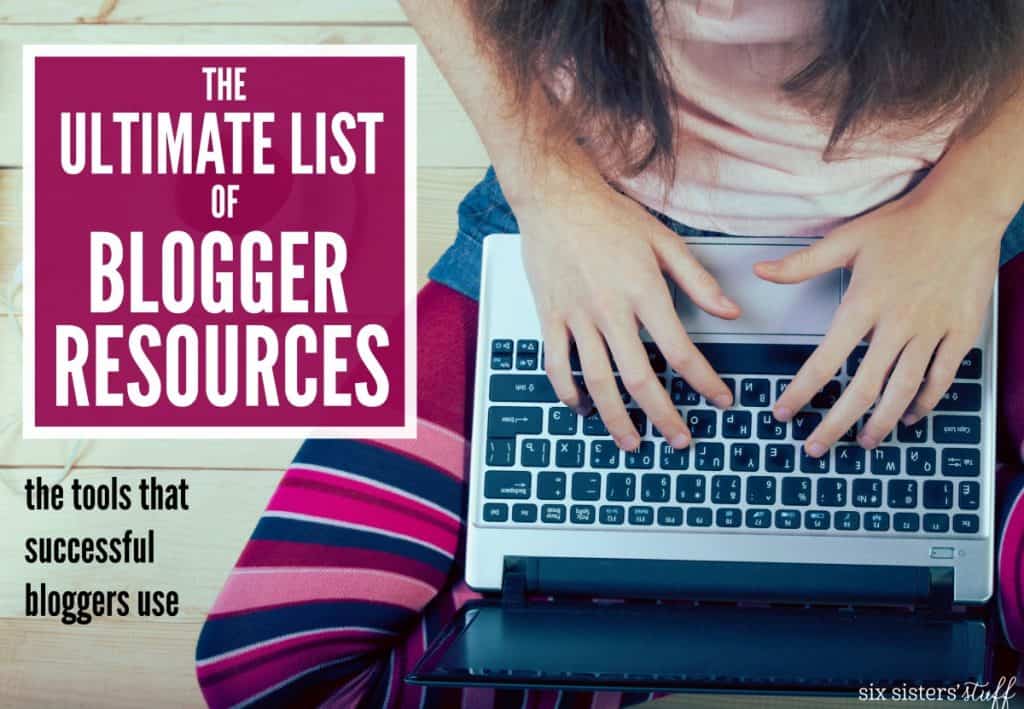 STARTING A BLOG:
Setting Up Your Blog: We made it simple by walking you through the steps to get started – your self-hosted blog will be up and running in no time with this step-by-step guide!
WordPress: this is basically the software that we use to manage our blog. It's user-friendly, totally customizable, and we feel that it's the best option out there for a blog. You can see how to set up your blog with WordPress here.
BlueHost: When you set up a self-hosted site on WordPress, you need a host. A host provides server space for your website so that people can find you on the internet. To explain it in simpler terms: if your website was a car, the host would be a garage (or a place to park your website). We love BlueHost – and walk you through the steps of setting up your website with them here.
Building a Framework – The Ultimate Blogging Handbook: This HUGE ebook/course series is LOADED with amazing content. It will teach you how to get your blog all set up, how to write engaging content, how to build your community, social media strategies, how to monetize your blog, and email marketing. Plus printable to keep you organized and video interviews from people who have turned their blogs into full-time careers and share just how they did it. This is the ultimate package for someone just starting out. Abby, the author of the handbook, went from hobby blog to a SIX FIGURE INCOME in just 2 years.
How I Made My First $40K Blogging eBook: This eBook is amazing! She takes you through her entire first year of blogging and how she went from $0 to $40k and the steps that she took to get there. She holds nothing back- it?s loaded with amazing content and makes you feel like you can do it too (which you can because she shows you how!).
Transferring from Blogger to WordPress: If you don't feel like you are super technical, we would highly recommend hiring someone to make the move from Blogger (or any other platform) to WordPress. We have used this company for a couple of different transfers and they have amazing prices and amazing service.
BLOG DESIGN:
Genesis Framework: Making your website look good is an important part of getting page views and getting people to stick around on your site, but sometimes web design can get really confusing. We love the Genesis Framework because it's a simple platform that website developers can use to create custom child themes (if this sounds over your head, like it is mine, we recommend just working with a website designer who can do all the behind-the-scenes work for you to make your blog look beautiful).
Designer Blogs: We have had them do a couple of website designs for us and we love their work because they are fast, efficient, and affordable. They took all our suggestions and made the website exactly how we imagined it to be. We can't say enough good things about them. They have custom design work and also really inexpensive pre-made themes that are simple to install on your site.
Restored 316 Themes: If you are looking for a simple, clean, and beautiful design for your website, Restored 316 has some of the most gorgeous themes I have ever seen! They are pretty feminine, which may or may not work (depending on the type of site you are going for). And they are very reasonably priced (between $50 and $75).
Template Express: These themes are very inexpensive and very professional looking. There is literally a design for every type of blog out there! I love their selection.
FREE Themes for WordPress: If you don't want to spend much money on a theme right now, this is a great place to start. They have all kinds of themes and designs that you can choose from.
GROWING YOUR BLOG:
Food Blogger Pro: Learn how to start, grow, and monetize your food blog. Open enrollment is now through June 2nd. You get over 300 videos that are made for beginner and intermediate food bloggers, an active community forum where you can talk and learn with other bloggers, exclusive discounts and services for food bloggers, and much more!
10 Ways To Promote Your Posts: Once each blog post is written, no one will see it until you promote it and put it in front of people. Here are 10 things that we do to promote each blog post.
PHOTOGRAPHY:
Tasty Food Photography: This has been my favorite book about food photography that I have purchased. I refer back to it all the time. The tips in this book are amazing. It is definitely worth every penny and then some – I love that it walks you through how to take a picture, angles, how to stage your photos, lighting, and so much more.
Food Photography School: There are lots of great books out there to learn about photography, but this is actually an online course with over 130 videos with everything from styling to composition to editing! I am a visual learner, so this one was super helpful for me!
Canon Rebel T5: We know that DSLR cameras can get expensive, but we have found this version to be fairly inexpensive and TOTALLY worth the investment. It's super user-friendly and if you are just getting started with a DSLR, this is the camera for you. It's what most of the sisters are using right now (the T5i is also another great choice).
Canon EF 50 MM f/1.8 Lens: If you are going to invest in one lens for food photography, let it be this one. This one is less expensive than most lenses, but does a great job. Before we invested in more expensive lenses, this was our go-to lens that we took most of our photos with, combined with the accessory macro kit listed below . . .
55MM Professional Lens Close-Up Accessory Macro Kit: We know that lenses can be ridiculously expensive and sometimes you just don't have the money to invest up front. With the Canon Rebel T5, the lens that it comes with is a 18-55mm lens, which isn't that great for food photography. However, if you buy this lens kit (it's about $20), it turns your lens into the perfect lens for close-ups. I highly recommend it!
Canon EF 100 MM f/2.8L IS Macro Lens: We know that this lens is a little more expensive, but IT IS SO WORTH EVERY PENNY! When we started getting serious about our photography, this was a lens we invested in and it completely changed our pictures and our blog. If you can make this investment, we HIGHLY recommend it!
Camera Tripod: Tripods are amazing for taking perfect photos or completely necessary for when you are ready to start making videos! This simple tripod is our favorite.
iPhone Tripod: If you are going to use your phone to take photos (especially selfies) or make videos, these little tripods are our favorite. If we do a Live Facebook video, these are the tripods that we use.
Backdrops: You can use your kitchen table for a backdrop . . . or you can buy fake ones! We love to switch out our backdrops and these are some of the most reasonably priced ones that we have ever found.
PicMonkey: To be honest, this is what most of the sisters use to edit their pictures. It's super user-friendly and even has a free version (although it's limited). The paid version is very inexpensive and definitely WORTH it, especially if you are just starting out.
Photoshop: If you want to step up your photo editing game, some of us use and love photoshop. It can get a little pricey and it's a little trickier to figure out, but the end results are amazing!
Canva: Another great design tool. I personally feel like it's the bridge between PicMonkey and Photoshop. It has some amazing features for making sweet graphics.
64 GB Memory Card: The bigger memory card you can put in your camera, the happier you will be! Trust me on this one.
EMAIL:
Not sure if you need an email list or email service provider? CLICK HERE to read about the biggest mistake we made starting our blog and why we think you DO need an email list (because email has changed our company and our lives!).
Constant Contact: We love Constant Contact because they offer a FREE 60-Day Trial of their email service – you don't even have to provide them with a credit card number to get the free trial! It's easy to use (their drag-and-drop templates are the BEST and so user-friendly) and it has all the advanced tracking features you could ever need. We LOVE this company!
Invisible Selling Machine Book: If you are interested in using email marketing on your blog, then I highly recommend this book! It is like an email Bible to me! It gives great examples of lead magnets, opt-in forms, email subject lines, etc.
OptinMonster: This is what we use for the pop-ups on our site to get people to sign up for our emails. Our conversion rate since using them has more than quadrupled, so it is totally worth the investment for us. Using them has been a game changer in collecting email subscribers.
PINTEREST:
Viraltag: If you aren't using a Pinterest scheduler yet, it's time!! We highly recommend ViralTag if you are just starting out with scheduling your pins because it's so inexpensive. You can also share an account with a couple of other people, which makes for a much better price!
TailWind: We started with Viraltag, but have recently switched to TailWind because we love it's analytics and simplicity. It has also helped immensely with our continued growth – we are still growing by a couple hundred new followers each day!
Simple Pin Media: Because so much of our traffic comes from Pinterest, we actually hired Kate at Simple Pin Media to run our Pinterest account for us. She does all our pinning, cleans up our boards, watches trends and algorithm changes, and keeps us growing. This was one of the best business decisions we ever made.
How to Master TailWind Course: There are so many benefits to using TailWind, but they can be super confusing and overwhelming. This course teaches you how to navigate all that it offers so that you see the biggest return!
INSTAGRAM:
InstaRevealed: If you are looking to grow your Instagram account, these guides are awesome! They are designed to help you gain REAL followers and build an amazing community of loyal fans on Instagram.
Hootsuite: We actually use Hootsuite to schedule our Google +, Twitter, and sometimes Instagram. There is a free level that uses all the basics you need – or you can upgrade to one of the higher plans that comes with more options.
eBOOKS:
E-Junkie: We LOVE EJunkie for selling our eBooks. It's a small monthly fee ($5/month) and you then upload your PDF file eBook. It then generates a URL for your eBook and buttons that you can add to your site. When someone purchases your book, it takes care of the check out process, collects the money from PayPal and automatically sends the eBook to the buyer. If you are interested in passive income, this is how you do it!
Fiverr: We use Fiverr to make all our 3D eBook covers. They are usually only $5 and take about 24-48 hours to make. It's the best $5 you'll ever spend!
BookBoss: We have personally signed up for this program and can't say enough good about it!!! This is a step-by-step guide that helps you write and launch an eBook in 90 days or less. The couple behind the blog has had amazing success with eBooks and they share all of their secrets with you in this program. eBooks have become one of our top 3 sources of income because of this program.
DIVERSIFYING YOUR INCOME:
Ads: The best place for bloggers to start making money is by putting ads on their site. There are lots of different ad providers out there – you have to find the one that works best for you. We are currently using MediaVine and absolutely LOVE them.
Infolinks: We used Infolinks for a long time, especially right when we started blogging. Infolinks is a fun and different way to make money on your site – it has lots of different options to monetize unused space on your blog. It usually brings in a couple hundred dollars a month and it's easy to install.
Amazon Affiliates: If you haven't signed up to be an Amazon affiliate, it's time to do that now. 🙂 Then you can start to recommend your favorite products to your readers and earn a commission off everything that they purchase on Amazon.
Write an eBook: You have amazing content on your site . . . and most people will only see 1-2 posts of all the hundreds (thousands?) that you may have on your site, so make an eBook of the rest of it! Package it up nicely in eBook form and you will be surprised how many of your readers buy it! eBooks are a crucial part of diversifying our income. Also, be sure to look into BookBoss to help you get started!
OTHER RESOURCES:
99Designs: If you need a new professionally designed logo or graphic, we totally recommend them. There are thousands of professional designers on this site who will give you so many options to choose from.
(Some of these links are affiliate links, which means if you click on the link and make a purchase, we will receive a small commission at no cost to you. Thank you for supporting our blog in this way).