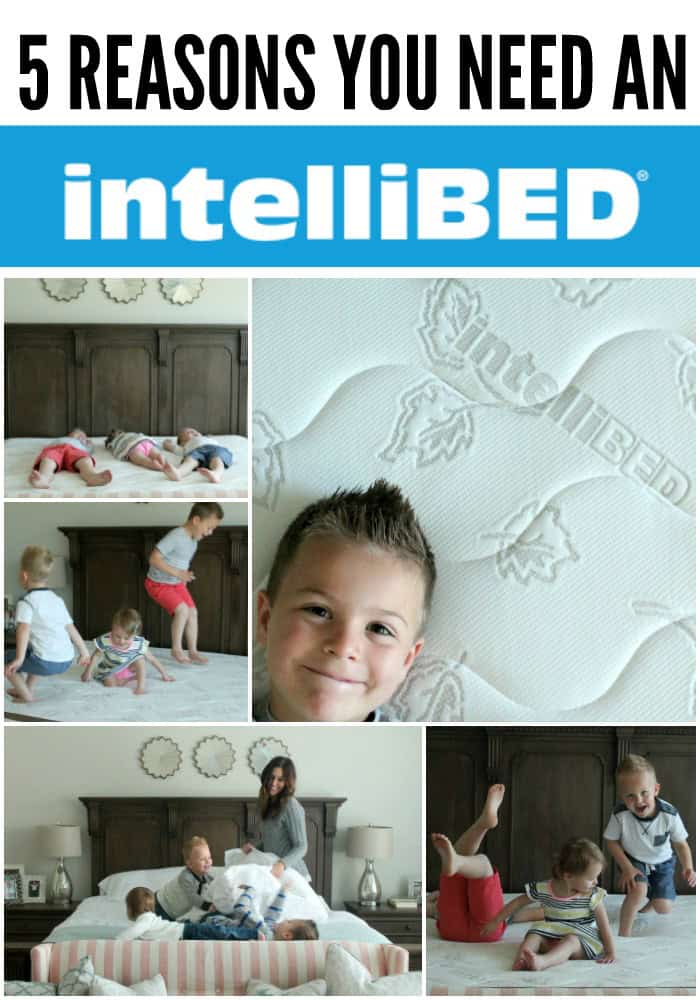 My husband and I have been married for almost 8 years and have been using the same mattress he slept on all through high school for our entire marriage.  It was lumpy, old and so uncomfortable!  I knew we needed a new mattress but never wanted to invest the money into buying one.  My husband hurt his shoulder a few years ago and sleeping on our old mattress didn't do him any favors.  He would wake up so sore every morning and tossed and turned all night.  We knew it was finally time to invest in a new mattress and did so much research.  I can't even tell you how many different mattresses we tried out until we finally found the perfect mattress.
We were so excited when we got our IntelliBED mattress.  It took a few weeks of adjusting and getting use to our mattress, but I will never go back to another mattress again!  My husband and I splurge and stay at our favorite ski resort every year on our anniversary.  I remember going there every year and thinking I would sleep so much better than at home because they had the comfiest beds.  A few months after we got our IntelliBED mattress, our anniversary rolled around and we went on our usual getaway.  I slept so horribly!  After the first night, my husband and I both mentioned to each other in the morning how much we missed our own bed!  Haha!  Since owning an IntelliBED mattress I sleep more soundly, toss and turn less and don't feel any pressure points or discomfort when I sleep!
Here are 5 reasons you NEED an IntelliBED mattress too:


I never knew how important support was when looking for a mattress.  My husband prefers firmer beds while I prefer softer beds.  Our previous mattress was so soft that is was making his shoulder injury even worse!  IntelliBED engineers figured out how to resolve the firm vs. soft problem.  IntelliBED mattresses have Intelli-Gel that provides both firm support for your back AND soft comfort on your hips and shoulders.  This mattress literally has it all!  I was really worried that our IntelliBED mattress would be too firm for me but the Intelli-Gel made all the difference.  It has been the only mattress that my husband and I have ever both loved!


Ahhhhh, comfort.   The reason we love our beds so much!  Before I had kids I was such a deep sleeper.  Before we got our IntelliBED mattress, I felt like I was spending the entire night tossing and turning and never felt like I got a good night's sleep.  All other mattresses rely on foam to cushion your body.  Foam compresses under your hips and shoulders resulting in painful pressure points, which interrupt your sleep cycles and prevent restful sleep.  Intelli-Gel's patended "comfort grid" relieves pressure up to 80% better than foam, including memory foam!  IntelliBED engineers have pressure mapped thousands of customers on the leading memory foam, air chamber and standard pillow-top mattresses using sophisticated pressure mapping systems and can confidently declare Intelli-Gel the low pressure champ!
I put this theory to the test a few months ago after having a miscarriage.  I spent a few days resting in bed for long periods of time and could tell that I wasn't feeling painful pressure points.  Whenever I was sick or resting in my bed for long periods of time on my old mattress, my body would ache and I would have to reposition myself constantly to avoid those pressure points!  Just one more reason I am completely obsessed with my IntelliBED mattress.


In the last year or two, I have been hearing more and more about mattress off-gassing.  The biggest health concern with conventional mattresses and their synthetic materials is off-gassing. Most mattresses use some type of foam, and most foam is treated chemically. When you open a new memory foam mattress topper, a strong smell is noticeable for weeks. This is a result of the toxins from the chemicals slowly seeping into the air.  If you sleep on memory foam, you are inhaling these toxins from the mattress foam off-gassing. These can cause headaches and have other health effects. The best mattress materials are not synthetic. The best materials are organic and non-toxic.  The exclusive Intelli-Gel cushioning material is a co-polymar which is made from food-grade materials.  It's been proven in hospital usage to be non toxic and anti-microbial.  Intelli-Gel is so safe, it is used in serious would care situations like supporting burn patients and curing bed sores.


I have three incredibly active kids.  The first thing they do every morning is run upstairs, jump on my bed and wake me up (it's a love-hate wake up routine haha).  I used to hate when my kids would jump on my old bed because I worried it would fall apart and I would be left without a mattress!  Did I mention that IntelliBED offers the best warranty of all major brands?  Foam breaks down too quickly – up to 40% over the first two years of use.  IntelliBED offers an industry leading 30-year warranty!  Tempered-steel innersprings and Intelli-Gel won't break down like memory or polyurethane foam.  Not only do you get the best comfort and support, you get the consistent comfort and support for years to come!  This mattress is likely the last mattress I will ever need to buy, and 30 years from now I will probably buy the latest model haha!


My husband and I couldn't be at further ends of the temperature spectrum.  I will literally be wearing a full on sweat suit while he is sweating to death wearing basketball shorts.  Haha!  The great thing about Intelli-Gel is that it cushions your body and conducts the heat and transfers it away from your body.  Memory foam and latex mattresses trap the heat against your body, causing you to feel overheated as you sleep.  Intelli-Gel sleeps very temperature neutral so you don't feel like you're sleeping hot or cold.  IntelliBED mattresses have a hollow-collumn design of Intelli-Gel that allows airflow to occur better than any other mattress.   I can honestly say that my husband and I have both noticed such a difference sleeping on an IntelliBED mattress.  I am no longer freezing all night and he isn't sweating to death.  Hallelujah!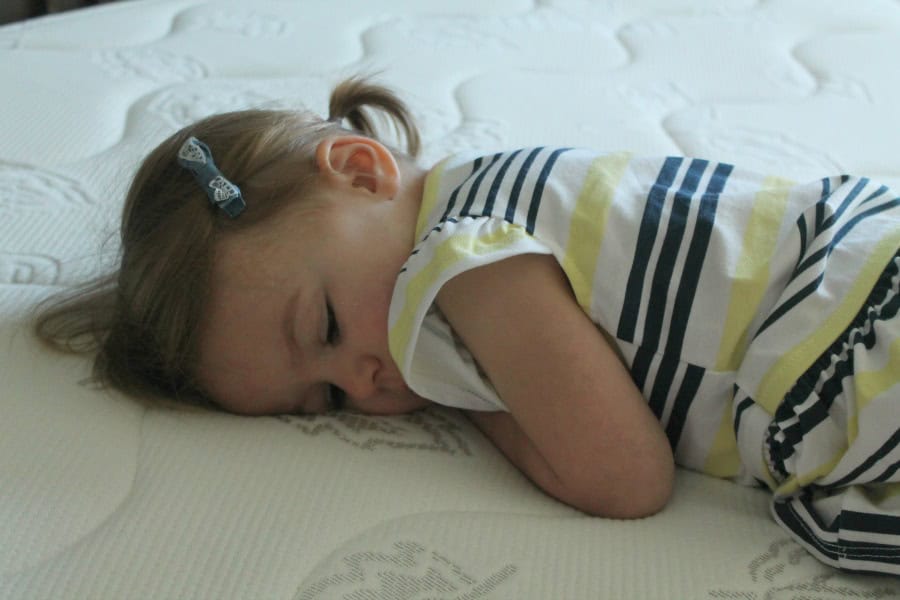 ….. and how cute is my wild two year old relaxing on our IntelliBED?  It was just too cute not to share. 😉