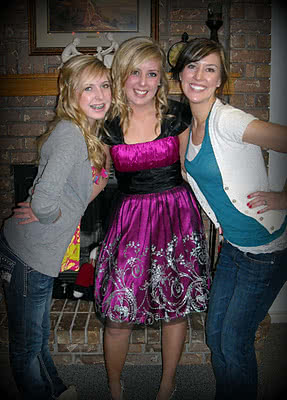 -12 Days of Christmas Traditions-
Day 6: Lauren
"Ornament Exchange"
 Hi- I'm Lauren and I am the 5th sister (that's me in the middle). I am currently a senior in high school, involved in Student Government, and play on the tennis team. I am so excited to graduate in a couple of months and head to college! The tradition that I am sharing with you today is one that we started a couple of years ago. My older sister Camille heard about this tradition from her friend and it is something that we decided to do with our sisters.
 All the sisters (that can make it . . . we missed you this year, Kristen! Can't wait til you can come next year) and our mom get together on the Saturday after Thanksgiving (once we have all recovered from Black Friday shopping). We usually meet at a fun restaurant for dinner and then after we eat, we do the ornament exchange. Each of us brings a wrapped ornament- it can be one that you purchased or one that you made- and then we put all the wrapped packages in the middle of the table. We usually draw numbers to see who gets to pick their ornament first and then we just all take turns picking a package until everyone has an ornament. It's a fun way to have lots of unique and special ornaments on your tree each year . . .
 We have decided that when our own daughters turn 8 years old, they can join in the exchange and come to dinner with us and we will just keep doing it every year until we are old. 🙂 It's a fun reason to get together with the girls, eat yummy food, and have lots of laughs.
Here we are at this year's ornament exchange . . . not our best picture. 🙂 Ha ha! Love you girls!
(That's our cute mom on the top row in the middle. She seriously looks like she could be one of the daughters! Love you Mom!)
Hope you have a Merry Christmas!
-Lauren