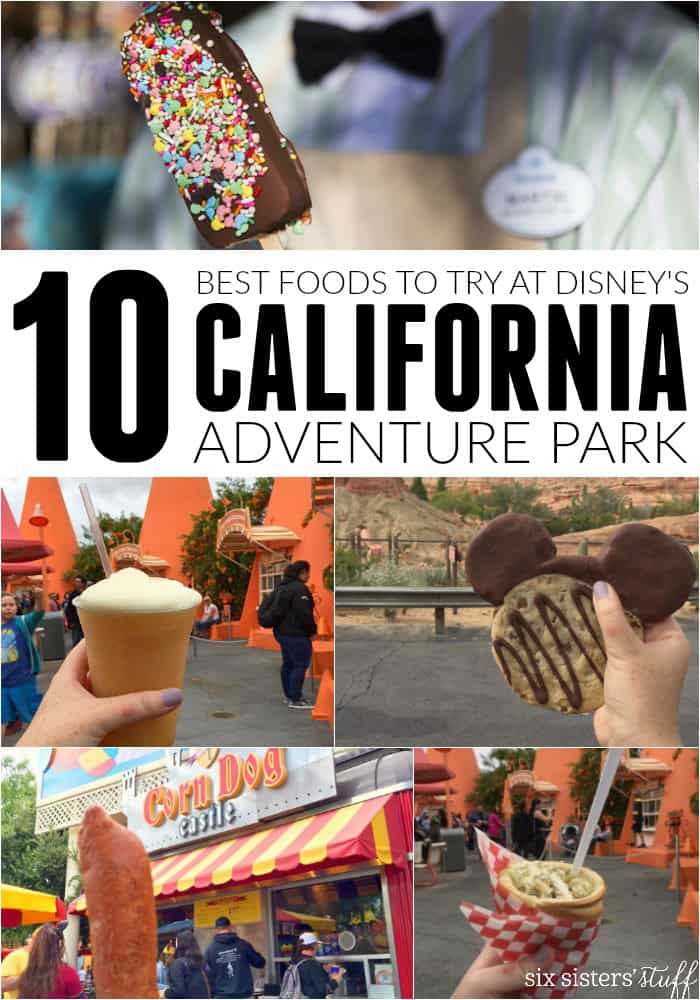 You know by now, we are HUGE Disney fans. Even though we live in Southern California right now, we only make it there a few times a year (thanks to my husband's crazy schedule and the fact that the twins are barely 5 months old…). My husband surprised me with tickets for Mother's day, and I was pretty excited to go. We knew we wouldn't ride a whole lot of rides, but the older I've gotten the more I appreciate the AMAZING food they have in both parks. This post is dedicated just to the California Adventure park, but I'm sure we'll have a Disneyland post up soon! 😉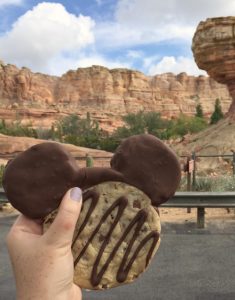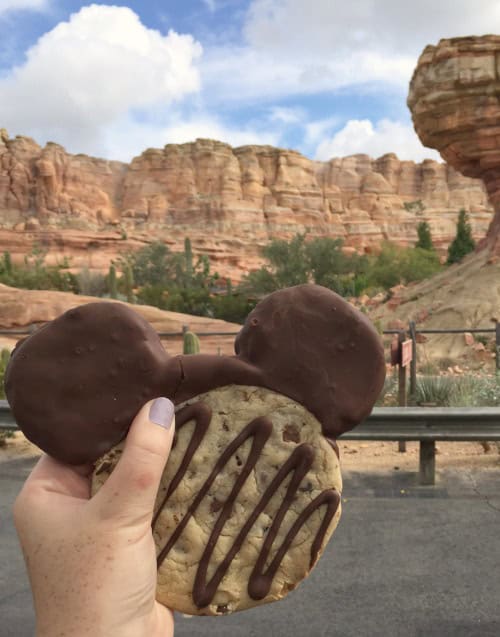 Cookies: Literally the first stop we made was to "Trolley Treats," right down Main Street of the California Adventure park. They are technically not solely available in California Adventure, but they are by far my favorite desserts in the park. I'd suggest trying the white chocolate raspberry cookie, or the giant chocolate-dipped chocolate chip (plus, it's shaped like a Mickey head!).
Chili Cone Queso or Chicken Verde: (Found in Cozy Cone #3) This is a great lunch while you're in California Adventure. The cone is basically just a delicious pretzel, and then it's filled with your choice of chili or chicken. They even have a special right now – the bacon mac & cheese cone. You better believe that's what I'm going for next time.(photo cred: Disney Parks Blog)
Lobster Nachos: Basically every seasoned Disneyland foodie told me that these lobster nachos are incredible. I was so excited to try them, but was devastated when I found at that the Cove Bar (where they are served) stops seating at 6:45. So, if you're wanting these nachos, you've been warned. Haha!
Corn Dog: A classic California Adventure Park food – a corn dog from Corndog Castle. I don't even like corndogs, and I still finished mine in about 3 minutes flat (so if that tells you anything about how good it tastes…).
Red's Apple Freeze: (Found in Cozy Cone #4) Another favorite of our family's (we even re-created the recipe at home) – Red's Apple Freeze. It's the perfect refreshing drink on a hot day at the park!(photo credit: DisneyWorld Website)
Turkey Legs: They're gigantic and meaty, and just part of the experience! They are quite tasty, but this is one you could definitely share. You can find these in the park in a few places, but we think the shack on the boarwalk across from Toy Story Mania is the cutest.(photo cred: DisneyFoodBlog)
Ghiradelli Sundae: You can't go wrong with any of their sundaes, but I love the Gold Rush Sundae the best. So much so that I finished it before I was able to get a picture!(photo cred: DisneyFoodBlog)
Cozy Cone Churros with Dipping Sauce: (Found in Cozy Cone #1) We all know Disneyland churros are something magical, but I love these churros that are bite-sized and DIPPABLE even more!(photo cred: Disney Parks Blog)
Clarabell's Hand-Dipped Ice Cream Bars: Just off Buena Vista Street, you can get an old-fashioned hand-dipped ice cream bar – and choose your toppings! They are perfect for when you're wandering the park in the heat of the summer!(Photo Cred: VisitAnaheim.org)
Clam Chowder in a Sourdough Breadbowl: Clam chowder on Pacific Wharf served in a fresh-baked Boudin Sourdough breadbowl. The line is long, but it is worth every minute (especially when it gets a little colder in the evenings!).
Planning a trip to Disneyland soon?

Check out Get Away Today for amazing deals on your next vacation!