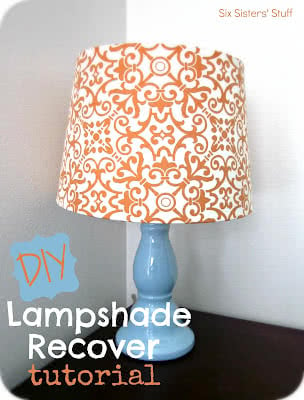 I have been looking EVERYWHERE for a cute, inexpensive lampshade to match our little guy's nursery.  I found a few that could possibly work, but saw a $40 price tag (just for the shade!) and finally settled on making my own!
Here is how to recover your own lampshade:
(base from a thrift store for $2 and lampshade from Target for $8)
Supplies:
lamp shade
fabric (enough to wrap around your shade)
scissors
pen/pencil
newspaper
fabric glue
spray glue
hot glue gun/glue (optional)
Step 1:  Lay newspaper out flat on a table.  Start with lampshade on one side and start rolling it along the newspaper tracing the top and bottom as you go.
Step 2:  Cut out the lampshade shape you traced from you newspaper.  Wrap around the outside of your lampshade to make sure it fits properly.  Trim down edges as necessary.
Step 3:  Lay your newspaper cut out on top of your fabric.  Trace around the edge of your newspaper adding a 1/2″ to each side.  Having an extra 1/2″ on each side will allow you to fold the fabric over the edge of your shade so you can glue it on.
Step 4:  After your fabric is cut, lay it face down and spray a thin layer of spray glue/adhesive to the back side.  This stuff is very sticky and dries permanently, so make sure to not let it get on things you don't want to be sticky.  I found it works best to lay down a tarp outside and spray my fabric on top of that.
Step 5:  After you have sprayed the back side of your fabric, quickly put it on the outside of your lampshade.  Make sure to smooth out all bumps and wrinkles.  If your fabric is patterned, make sure that your pattern is straight.
Step 6:  Fold over one of the edges of the end of your fabric so it overlaps, creating a seam on your lampshade.  Use a little spray glue or fabric glue to make sure your fold will stay in place.
Step 7:  Fold the edges of your fabric over the edge of your lampshade and glue down using fabric glue.
Step 8: (Optional)  Secure any loose edges with hot glue making sure they will stay in place.  If you feel like your fabric is on your lampshade well enough, you can skip this step.
You're finished!
Grand Total: $14.00!
Looking for other easy, inexpensive craft ideas?
Check out our Craft Index!