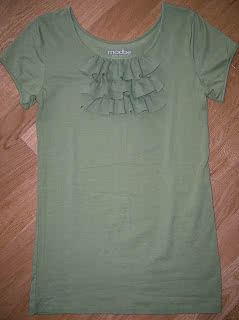 So
DownEast
was having a huge clearance sale on some of their long shirts and how can you say no to a $4 shirt? However, I have a MILLION solid colored shirts . . . I wanted to do something to spice this shirt up a little bit! I saw
this tutorial
at Tea Rose Home and it inspired me to add ruffles to my shirt. 🙂
I only ended up adding three ruffles . . . she has a lot more on her shirt . . . but I felt three was good for now. I didn't want to get too crazy!
Also, I know that she had two of the same shirt, but I just went to the D.I. and found a shirt that was practically the same color to do my ruffles with.
Guess what else? I totally sewed it by hand. Old school!! My sewing machine and I are still getting to know one another and sometimes I don't feel like I have very much control when I try and use that bad boy . . . so this was done while I was watching The Voice on TV . . . which I really liked, by the way! It was kind of entertaining!