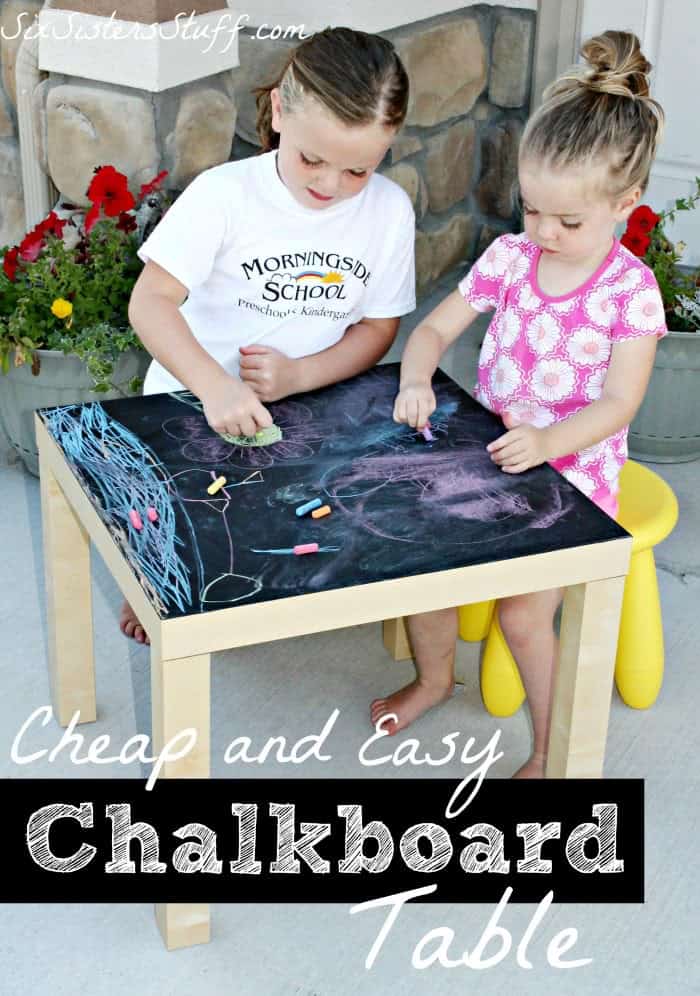 Cheap & Easy DIY Chalkboard Table- Plus 10 Other Chalkboard Paint Crafts!
I have one daughter starting Kindergarden and one daughter starting preschool and they are so excited! I decided to make this little chalk board table to help them with letters and words. They also just loving coloring!  The best thing about this table is that it is inexpensive and doesn't require any tools! Here is all I did:
I went to IKEA and bought their side table for only $9.99 – You can buy it online HERE
When you get the table, all you have to do is screw on the legs. You don't need a single tool to do it!
It is a stable table. My 3 year old kept climbing on it and it didn't budge!

Next I taped the edge with Scotch Blue tape and newspaper. Make sure the edge is sealed tight or paint might get in!
I got some chalkboard spray paint at Walmart for only $3.97. You can get it online HERE or any craft store.
This step is so easy! Follow the instructions on the spray paint (most will say shake for about 2 minutes before using). Then spray the top part of your table until it is covered in paint.
I did a second coat on my table just to cover up anything I missed.
When it was dry (about 24 hours) I took off the tape!
I then turned a piece of chalk sideways and covered the "chalk board" part in chalk. Then I erased all the chalk and let them color.
I also bought the little kid stools at Ikea for $7.99 – you can find them HERE – They fit perfectly with the table.
Check out these other Chalkboard Paint crafts!
It's time for another fun, monthly blog hop–featuring 10 of our favorite creative bloggers! This month's theme is all things CHALKBOARD, and we just know you'll have a blast with these projects. We?d love for you to pin our collage below, check out our INSERT NAME OF YOUR PROJECT HERE and then go see all the other fabulous projects created by some of our friends!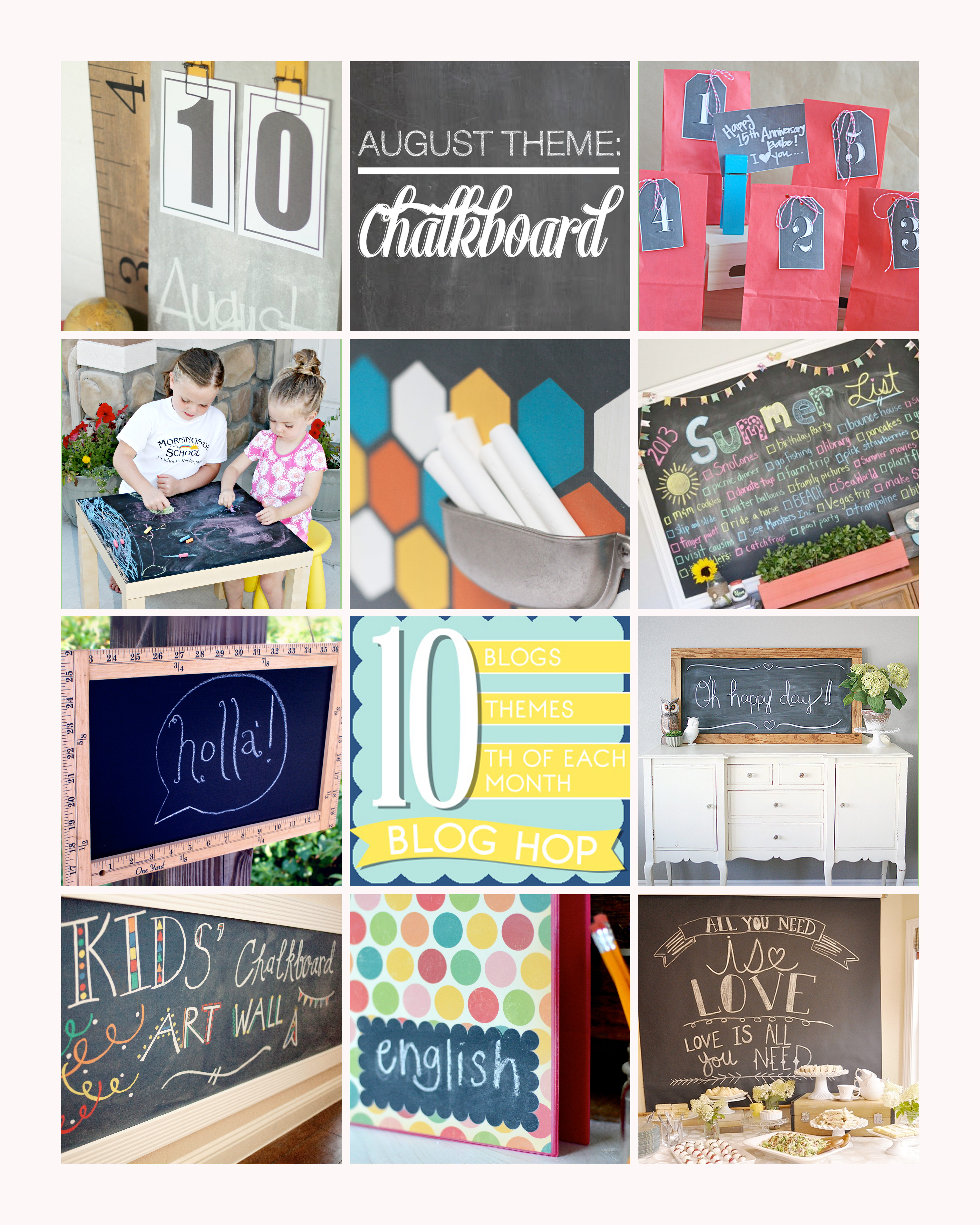 To see each fantastic Chalkboard Project up close, join the Blog Hop!

1 ? Lolly Jane sharing a Chalkboard Calender
2 ? Thirty Handmade Days with an Anniversary Idea + Collection of Printable Chalkboard Tags
3 ? Six Sisters Stuff sharing a Cheap and Easy Kids Chalkboard Table
4 ? Landee See Landee Do sharing a Hexagon Chalkboard
5 ? Little Miss Momma sharing a Jumbo Chalkboard Tutorial
6 ? Or So She Says sharing a Vintage Ruler-Framed Chalkboard Sign
7 ? Eighteen25 sharing a Super Simple XL Chalkboard
8 ? Capturing Joy sharing a Kids Chalkboard Wall Art
9 ? Simply Kierste sharing her Chalkboard Binder Labels
10 ? Your Homebased Mom sharing a Chalkboard Party Backdrop