Our family loves frosting.  I know, to some it may be gross, but we love a cake with thick, delicious buttercream!  However, the thought of that much frosting on a cake makes my husband gag.  He isn't much of a frosting fan!  What is a cake without frosting?!  I thought I would whip up a cake that had more of a glaze than a frosting and he absolutely loved it!  This cake is so light and fluffy and the cream cheese topping is to die for!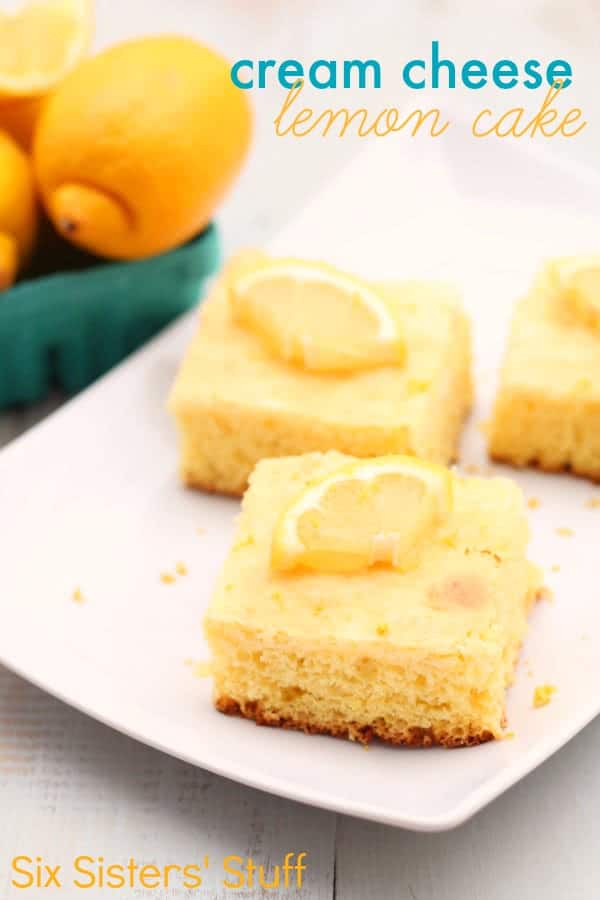 Cream Cheese Lemon Cake Recipe:
(Makes 15-20 servings)
Ingredients:
1st Layer:
1 box lemon cake mix
1 cup applesauce
1 large egg
Zest and juice of 1 lemon
2nd Layer:
2 (8 ounce) packages cream cheese, softened to room temperature
2 large eggs
1 cup powdered sugar
1 teaspoon lemon extract
Directions:
Preheat oven to 350 degrees F.  Mix all of the 1st layer ingredients together and pour into a greased 9×13-inch cake pan; set aside.  In a large mixing bowl, beat together all the 2nd layer ingredients until smooth.  Pour over the 1st layer in the cake pan and spread evenly.  Using a butter knife, cut into the layers making "S" shaped strokes to swirl the two layers together.  Bake for 35 minutes or until the cream cheese layer is barely golden.  Let cool completely before serving.
Recipe adapted from Food.com
Looking for more delicious lemon recipes?
Here are a few of our favorite:
Gooey Lemon Bars
Jello Lemon Bars
Creamy Lemon Bars
Luscious Lemon Cake
Lemon Oreo Cheesecake Bars
Check out the NEW Six Sisters' Cookbook!

With over 150 recipes, we have put together 52 menu plans to make meal time a lot easier.
You can order our book HERE!