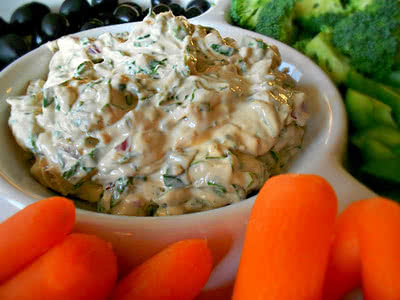 I am always looking for something yummy to dip raw veggies in (sometimes it's hard for me to eat them plain . . .). I really love the taste of spinach dips, but I am not crazy about frozen spinach. I came across this recipe for a dip using FRESH spinach and decided to give it a go . . . it ended being the best dip that I'd had in a long time!
 And with only 5 ingredients, it's simple to throw together!
Ingredients:
1 (16 oz) container sour cream (I used fat free)
1 (8 oz) package cream cheese (I used fat free)
10 oz fresh spinach, washed and drained very well and shredded into smaller pieces
1 (2 oz) envelope dry Onion Soup Mix*
1/2 medium red onion, peeled and finely chopped
Directions:
Mix all ingredients together, adding spinach very last. Cover and chill in the refrigerator until ready to serve. I found that it tastes best if you add make it a couple of hours ahead and let the flavors combine. This tastes great with vegetables and crackers.
*Don't have an onion soup mix on hand? You can also use these spices in place of the soup mix:
1 tsp dried onion flakes
1 tsp onion powder
1 tsp seasoned salt
1/2 tsp black papper
1/4 tsp cayenne pepper (optional)
Join us on
Facebook
for our latest recipes!