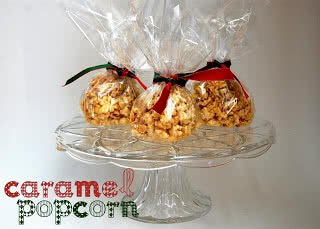 -12 Days of Christmas Traditions-
We are so happy to introduce you to our friend Lindsay over at
Southern Lovely
! This girl is incredibly talented and we are addicted to everything she shares on her blog. Today she is sharing one of her family's traditions . . . take it away, Lindsay!
Day 4: Lindsay @ Southern Lovely
"Caramel Popcorn"
Hey!  I am so happy to be here on the fabulous Six Sisters blog!  My name is Lindsay, & I blog over at
Southern Lovely
.   I am a busy mom of three, who enjoys creating beautiful items for much less.
One of my favorite holiday traditions to do with my children, is make fun, festive treats.  Either for passing them out to neighbors & teachers, or consuming some for ourselves. 🙂   Since my girls have gotten older, this activity has become much easier.  I remember a few years ago, this was a lot more messy, but still just as memorable.  I love creating these memories with my children, and hope to continue this tradition for years to come.
Today I am going to share a family favorite, Caramel Popcorn.
My sister-in-law passed this recipe along to me several years ago, and we have loved it ever since.
With aprons on & hands cleaned, my little helpers were ready to get started
Ingredients needed:
Brown Sugar
Marshmallows
Popcorn
ButterStart by popping one bag of popcorn, then set aside
In a bowl combine–
1/2 cup cup brown sugar, 1 cup of marshmallows & 1 stick of butter

Microwave on high for 2 minutes.  Stir together, then cook an additional minute.

Stir together again until smooth

Pour popcorn over melted mixture

Continue to stir until all the popcorn is covered

Form into small balls.
This recipe should make 4-5 large popcorn balls.

Wrap in a cellophane bag, add a ribbon, and you have a really tasty & adorable holiday treat!
Caramel Popcorn:
1 stick butter
1 cup Marshmallows
1/2 cup Brown Sugar
Combine butter, marshmallows & brown sugar.
Cook in microwave for 2 minutes, until marshmallows are melted. Stir well.
Cook 1 more minute.
Cover 1 bag of microwave popcorn.
Thanks for having me here today!  Feel free to stop by
my place
& say hi!
I hope you all make wonderful memories with your families this holiday season!