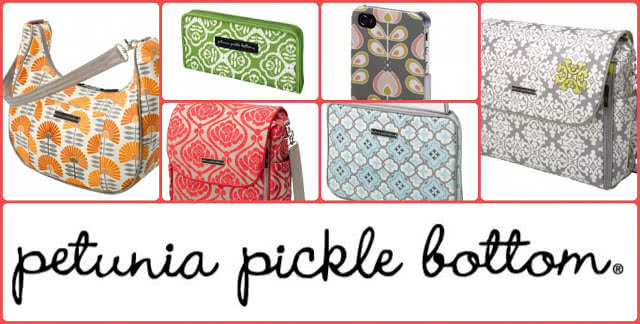 Petunia Pickle Bottom
combines bold, sophisticated designs with everyday functionality.
Petunia Pickle Bottom
has reinvented the diaper bag to suit the modern mom!  Ornate patterns and high-end materials elevate their diaper bags to the level of any designer handbag, and each diaper bag is as useful as it is beautiful.  Each
Petunia Pickle Bottom
diaper bag is lovingly crafted from durable, easy-to-clean materials such as glazed canvas fabric, chenille or brocade
(which is perfect for the spills and messes that come with kids)
!
Along with their full line of high-end diaper bags,
Petunia Pickle Bottom
also offers many designer accessories for mom and baby! 
Petunia Pickle Bottom
provides a variety of stylish carriers, layettes, blankets and other stylish and functional accessories.
Petunia Pickle Bottom
is dedicated to provide sophistication, quality and customer service for modern moms everywhere!  When you purchase a
Petunia Pickle Bottom
diaper bag, you can rest assured that you are investing in a sophisticated, functional product that is truly "baby chic."
With three of the six sisters having babies this year, we knew that we had to have some
Petunia Pickle Bottom
bags to carry around everything it requires to take care of a new babies!  Having two kids, I can now relate when people say you can't have a favorite.  I feel the same way about these gorgeous
Petunia Pickle Bottom
bags!  How do you narrow it down to just one favorite?!  There are so many different styles and patterns, that it is nearly impossible to settle just for one!
We were finally able to narrow it down and each pick a bag!
Elyse
(right)
chose the
Abundance Boxy Backpack in Breakfast in Berkshire
.  This bag is so roomy, you could fit anything you would possibly need with you!  It also has straps attached so it can be worn as a backpack.  You always need an extra hand when dealing with kids, right?!
We were so thrilled with our Petunia Pickle Bottom bags, that we thought our fabulous readers might want one too!