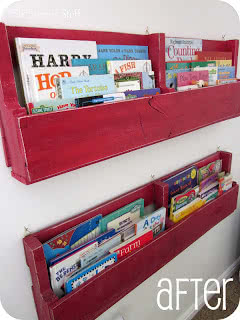 I've been seeing pallet book shelves all over the internet (like this one over at
Little Lucy Lu
) and knew I had to make them for my little boy's room! He loves books but I hate having them scattered all over, so this was the perfect solution. I had been scouring the town look for pallets behind every grocery store and finally found one that wasn't too beat up! Nothing beats free, right? The best part about this project is that it only cost $5 to make!
Here are the steps to make your pallet shelves:
Step 1: Make two cuts in your pallet where the dotted lines have marked. I used a handsaw and it only took a few minutes! Make sure to cut as straight as possible.
Step 2: Pry off and save the boards in the middle of the pallet to nail to the bottom of your shelves.
Step 3: Sand down your shelves as well as the boards you will be nailing across the bottom. My husband used an electric sander and had them all sanded down in about 30 minutes!
Step 4: Prime your shelves. I used Kilz Spray Primer (about $3 at WalMart). Be sure to have some brushes handy in case the primer drips.
Step 5: Paint your shelves. We used cheap red spray paint (only $1 a can!) from WalMart but any kind will do. If you decide to use spray paint rather than regular paint, be sure to buy 2 cans! We sprayed 2-3 coats on each shelf, but if you feel you need a little more coverage, you could add another coat.
Step 6: Sand down the edges. This is completely optional! I just wanted a little bit more of a "rustic" look to go along with the weathered wood. I just used sand paper and sanded the edges by hand.
Step 7: Hang Shelves. We used 3 of these swivel hangers on the back of each shelf so there was one on each end and the middle.
We used "Hercules Hooks" to attach the shelves to the wall. There are a lot of different names for these and you can get them at any hardware store or WalMart. The nice thing about these hooks, is that you can hang things directly into the wall without being in a stud. Each hook holds up to 150 pounds, so this is definitely strong enough to hold books.
I hung them low enough so our little guy could get to his books by himself and he LOVES it!

You're all done!