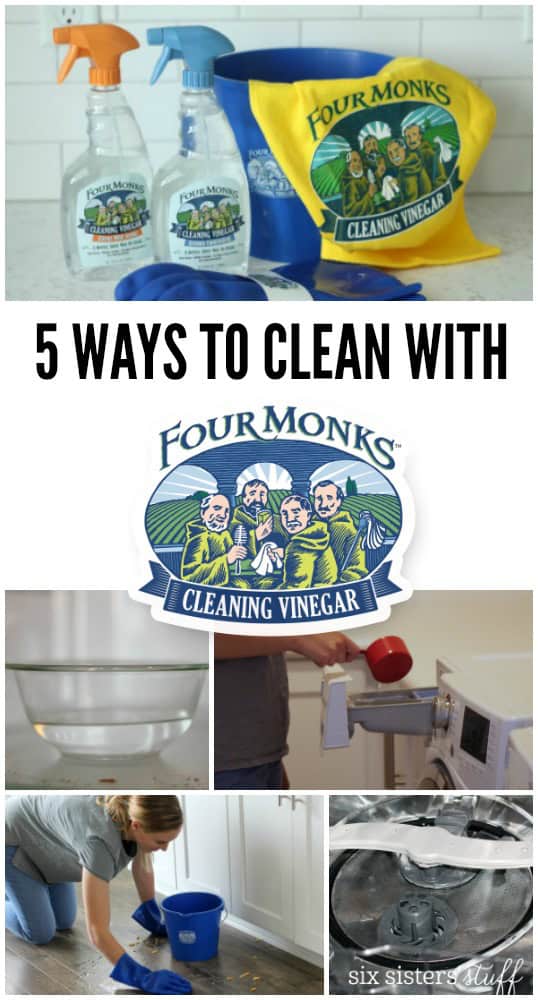 *This post is sponsored by Four Monks? Cleaning Vinegar, but all opinions are my own.*
Having three little kids, I am always look for ways to make cleaning my entire home easier.  I get worried about all the chemicals that are found in certain cleaners, so I was so excited when I found Four Monks Cleaning Vinegar!
Four Monks Cleaning Vinegar is an all-purpose, non-toxic and environmentally friendly cleaning vinegar.  I have heard so many wonderful benefits to cleaning with vinegar but never tried it due to the strong smell it leaves behind.  Unlike, regular cleaning vinegar, Four Monks Aroma Controlled and Citrus Mint have pleasant scents but still have the same stain-fighting power so you can deep clean your whole house!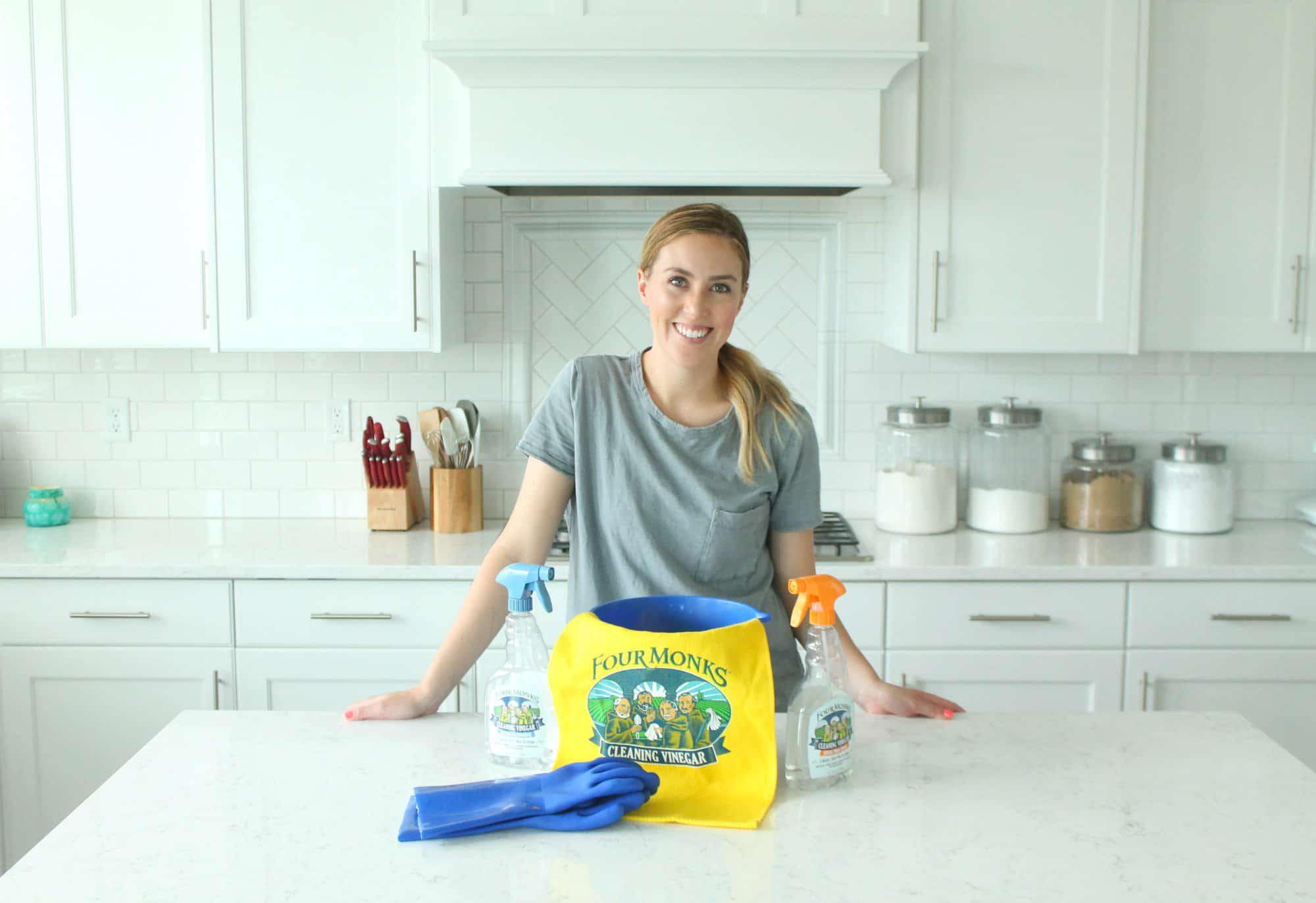 I love thatFour Monks Cleaning Vinegar is safe for the planet, my home, my kids AND it is so affordable!  Because I loveFour Monks Cleaning Vinegar so much, I wanted to show you my 5 favorite ways I use it to keep my home fresh and clean!

 1.  Floors.
My daughter is so cute… until she eats lunch.  Haha!  Lunch for her typically includes tantrums and spilled food all over my floor leaving it slimy and sticky.  I add 1 cupFour Monks Cleaning Vinegar to a gallon bucket of warm water and wipe it up with a rag or sponge.  It easily helps remove dry, crusted on food that typically takes a long time to clean up!


2.  Microwave.
I don't know about you, but our microwave can get pretty gross!  I pour one cup of Four Monks Cleaning Vinegar into a microwave-safe bowl, microwave for 3 minutes and wipe clean!  It easily remove all of the food splatter and gets rid of lingering odors!

3.  Washing machine.
I never knew how dirty our washing machine was until I started noticing a bad odor coming from it.  To clean my washing machine, I simply add one cup ofFour Monks Cleaning Vinegar to a wash cycle and it gets rid of soap scum, cleans the hoses and odor!  The first picture shown was before my washing machine was cleaned withFour Monks Cleaning Vinegar and the last picture was right after (I didn't even wipe it down!).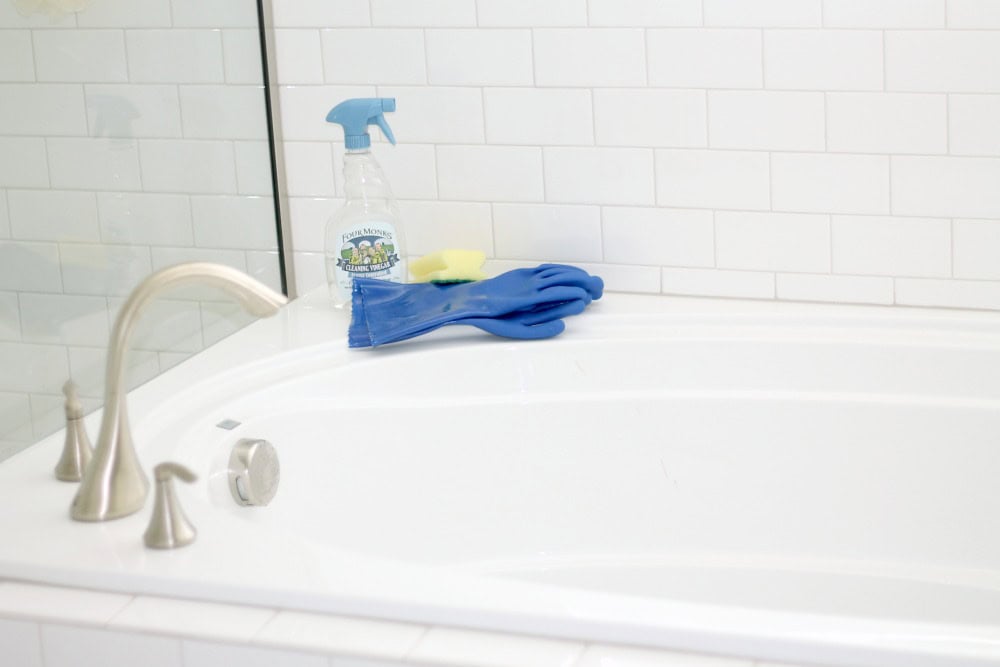 4.  Bathtub and tile.
I always loved having a big, soaker tub until it came time to clean it.Four Monks Cleaning Vinegar has made cleaning my bathtub and surrounding tile so easy!  I simply sprayFour Monks Cleaning Vinegar on the tub and tile and wipe it away with a sponge and warm water!  It leaves everything shiny and smelling fresh!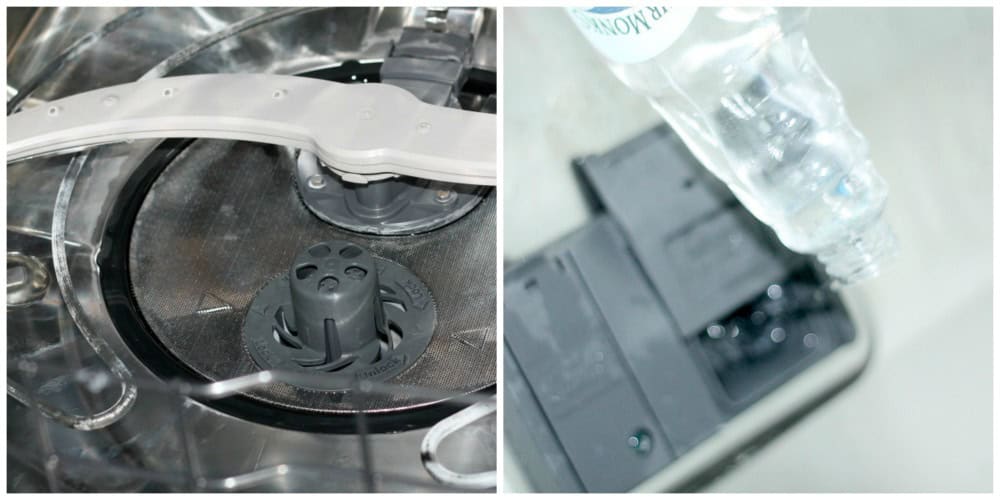 5.  Dishwasher.
I like to get rid of mineral buildup in my dishwasher by pouring 1/2 cup ofFour Monks Cleaning Vinegar into the detergent reservoir and running an empty cycle.  It always makes my entire dishwasher shiny and clean!
Four Monks Cleaning Vinegar convenient 24 ounce spray bottles are available at select grocery stores and mass retailers nationwide, including the vinegar aisle at Walmart Supercenters and in the natural cleaning section at HEB stores!
For more information, a coupon and cleaning tips, visit FourMonksClean.com!
Follow Four Monks Cleaning Vinegar on Facebook and Pinterest!