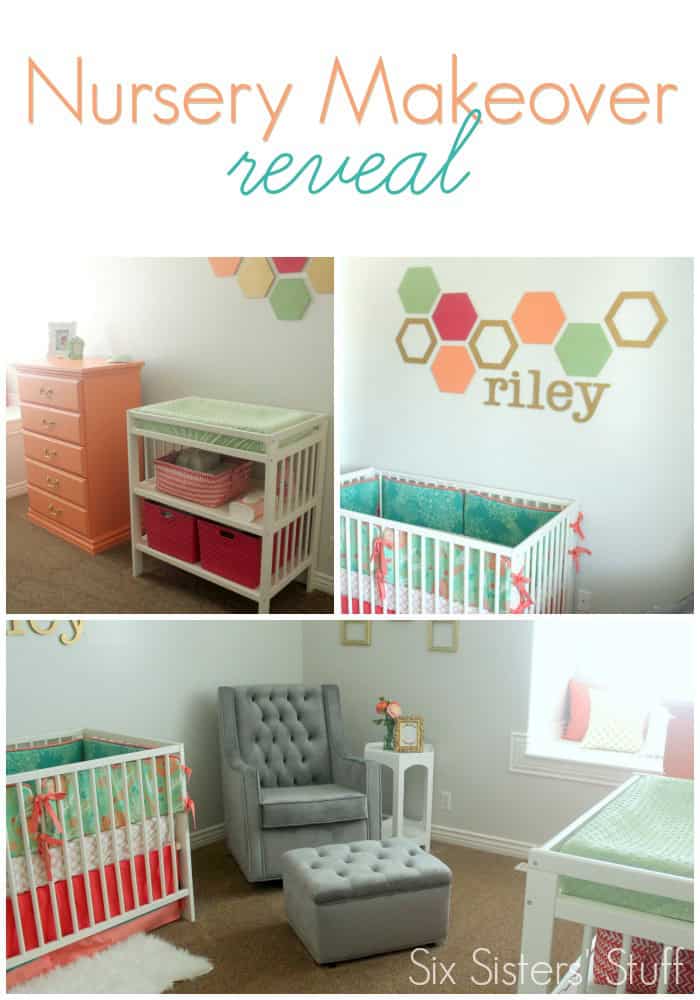 I am so excited to share our nursery makeover with you!
This is what the room looked like when we moved in…. It definitely didn't look baby friendly, but I knew it had potential!
We used Sherwin-Williams Emerald Interior Acrylic Latex Paint in Frosty White for the walls and Sherwin-Williams Emerald Interior Acrylic Latex Paint in Pure White for our trim and ceiling.  I love how light and bright it made the room!
After we painted, we replaced the carpet.  The carpet was almost 20 years old and pretty worn.  You can read more about the carpet we selected here!
After the carpet and paint were done, it was time to start decorating!
I based the entire nursery around my gorgeous bedding from Modified Tot!

I am obsessed!  The owner, Holly, was absolutely amazing to work with!  I told her a few colors I liked and she completely designed all of the bedding!  She is so talented!  You will die when you see her darling crib bedding collections, room accessories, and wall art.  It is all so cute!  You are going to love it!  The bedding is also super high quality and she has a huge variety of gorgeous fabrics to choose from!
The white crib is from Ikea.  I wanted something white and simple, so this crib was perfect!  The faux sheepskin rug is also from Ikea.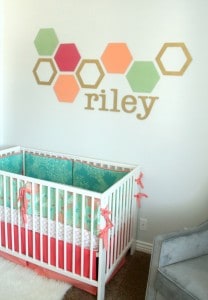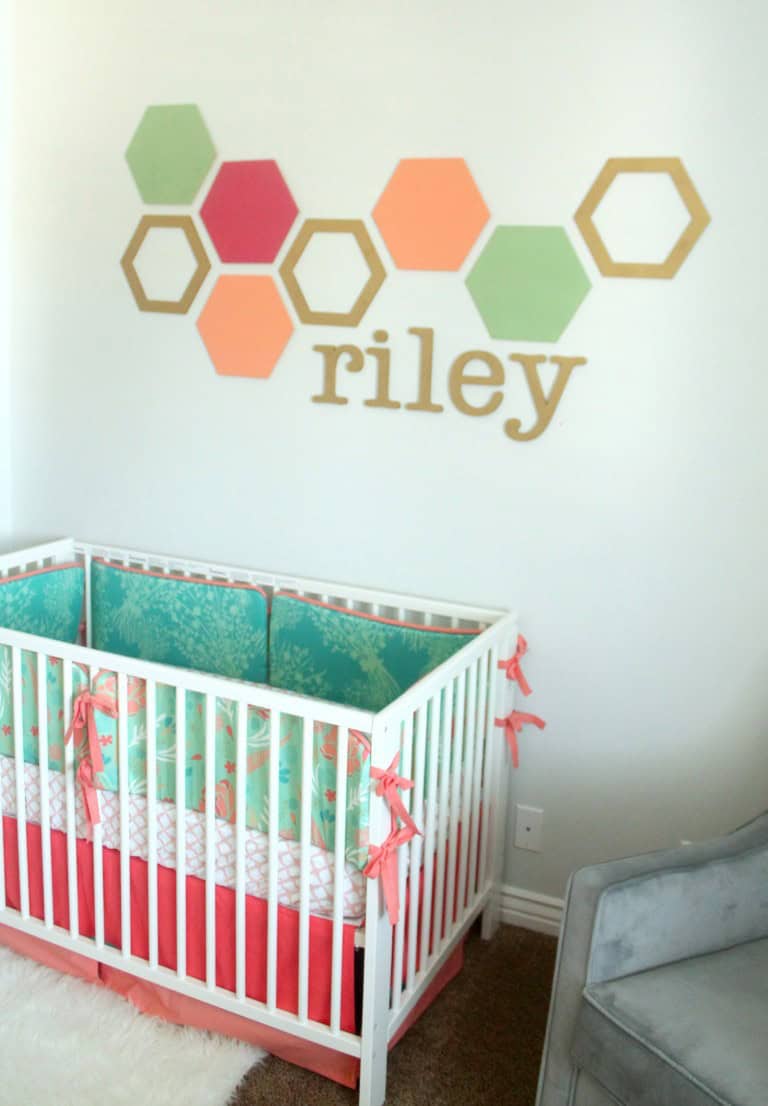 To add some color to the room, I added this cute hexagon wall art above the crib.  You can read more about it here.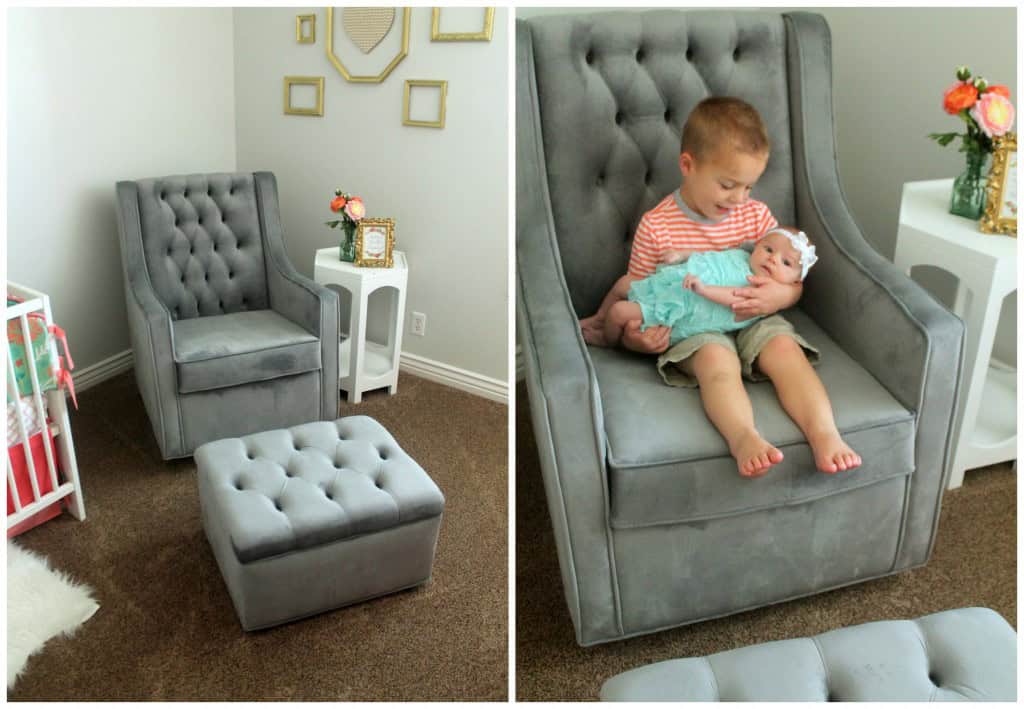 The most popular place in the nursery is definitely in this gorgeous glider from Bratt Decor!  There is nothing better than rocking a sweet, new baby to sleep.  Am I right?!  You can read more about this chair and Bratt Decor here.  This glider is so comfortable and so well made!  They have a huge selection of other gliders and beautiful nursery furniture you will love!
I got the small white table from HomeGoods a few years ago.  The gold frame is from Pick Your Plum (which I spray painted gold) and the flowers and vase are from TaiPan Trading.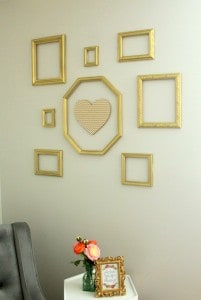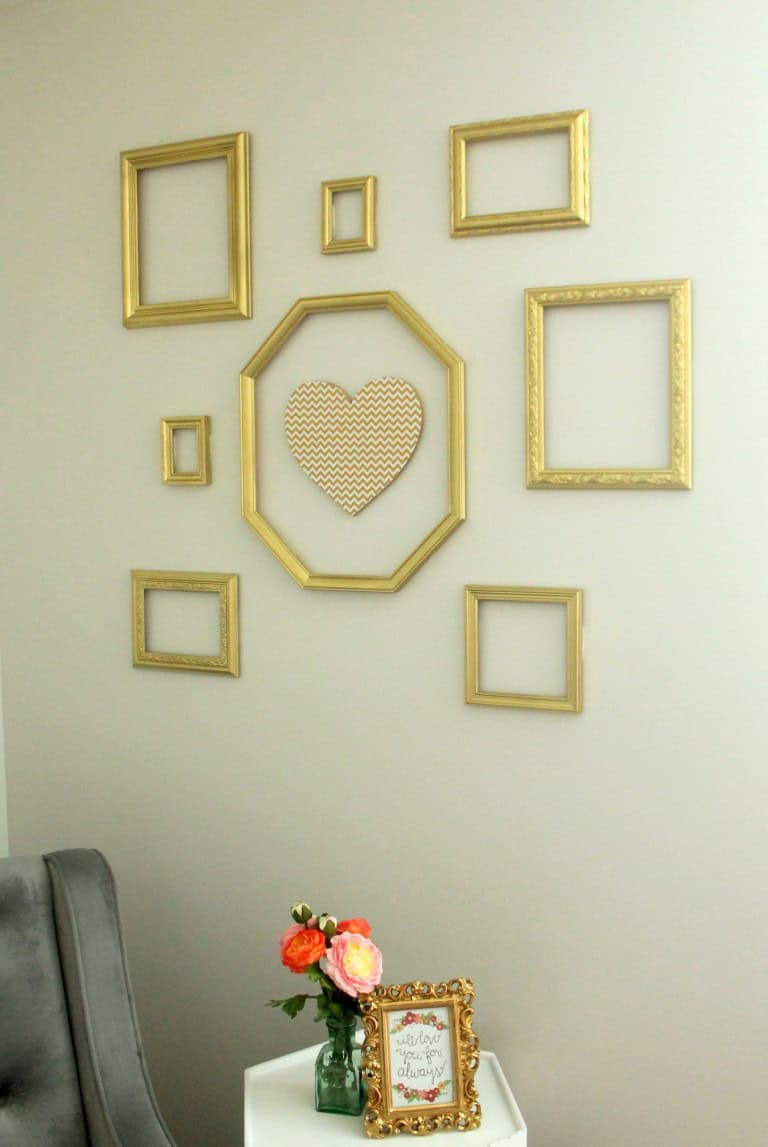 To fill in some space above the glider, I added a gold frame gallery wall.  You can read more about it here.  It was only $30 for the entire project!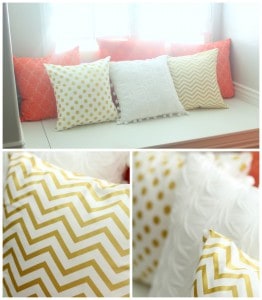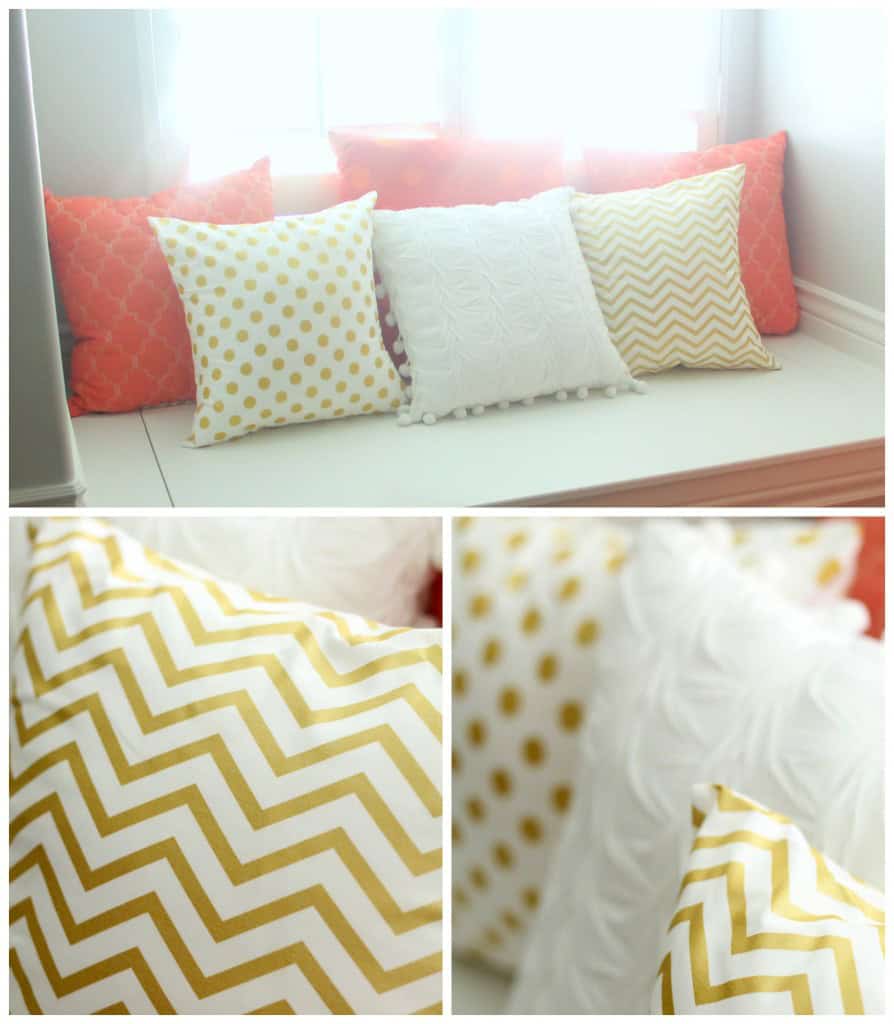 I wanted to have a few pillows in the window seat and LOVE these gold accent pillows from Sarita Lutrell!  They are so gorgeous!  She has a big selection of pillows that are all so cute and affordable!
The coral pillows are from HomeGoods and Nordstrom Rack.  The white pillow is from Target (no longer being sold).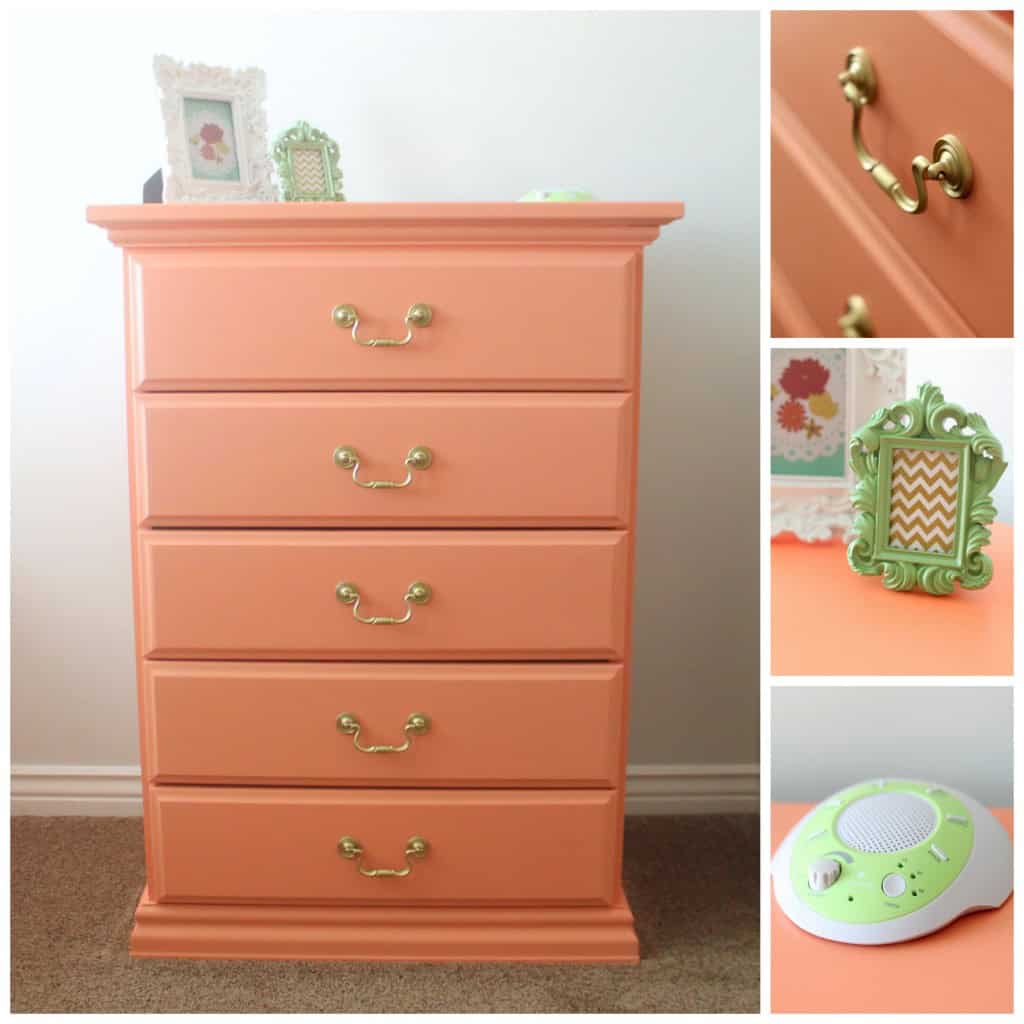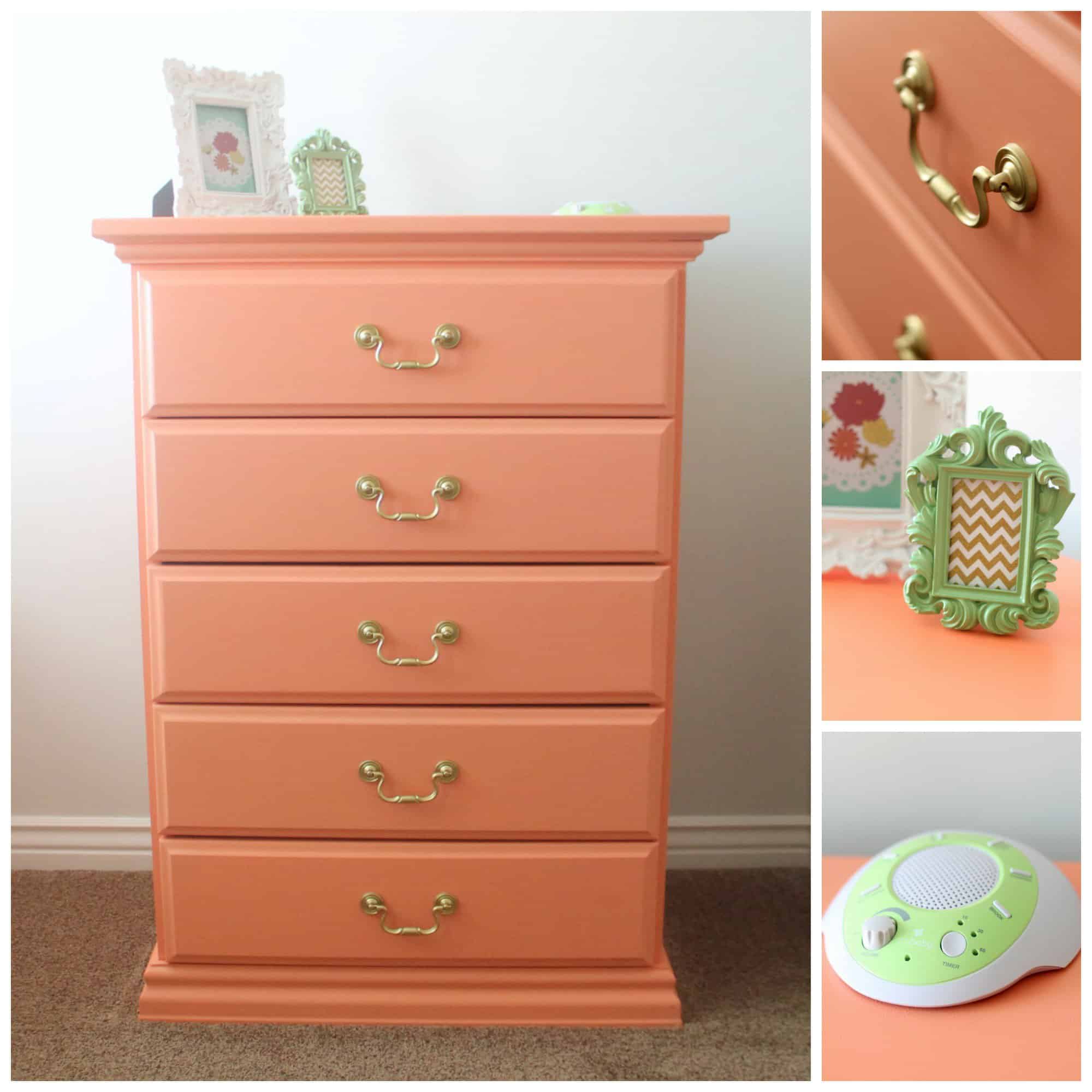 I had an old dresser from my son's room that I refinished and painted a bright coral color.  You can read more about how to paint furniture here.  The white frame is from Ross and the green frame is from Pick Your Plum (which I spray painted).
I know it isn't the most fashionable thing, but that white noise machine is the best thing ever!  My sisters' kids are the best sleepers ever and she swears by using a white noise machine in their rooms.  I didn't use one for my first two kids and decided to give it a try this time around.  My baby sleeps like a rock!  Since she was four weeks old she has been sleeping through the entire night and for up to 12 hours straight!  So if you are in the market, you will love this one!   Best $20 I've ever spent!
Anyway….back to the nursery!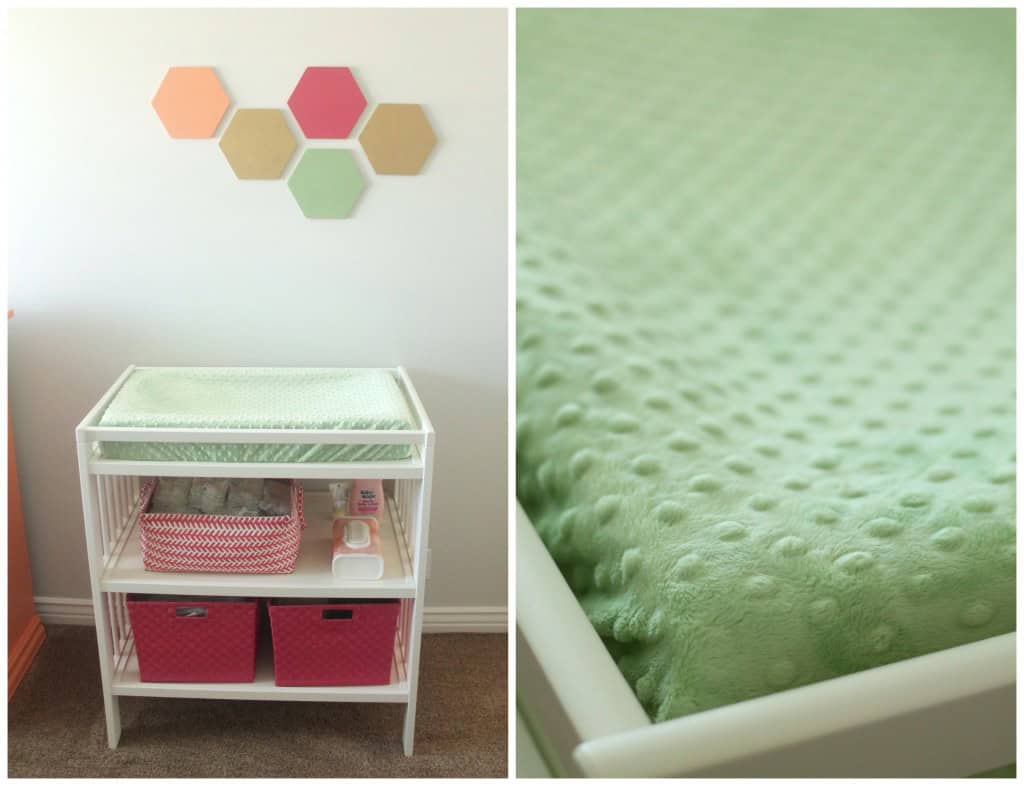 I love having a changing table.  It is so convenient to have somewhere to change diapers so I'm not bending way over or changing them on the floor.  This white changing table is from Ikea.  The baskets are from Ross and Hobby Lobby.
I love this soft, minky changing table cover from Little Owl's Nest!  It is machine washable and is made to last!  They have so many colors of changing table covers, that you are bound to find one that is the perfect match for your nursery!  They are also really affordable!
The cute hexagons above the changing table are from GeometreeDesign and I painted them to match the colors of the crib bedding.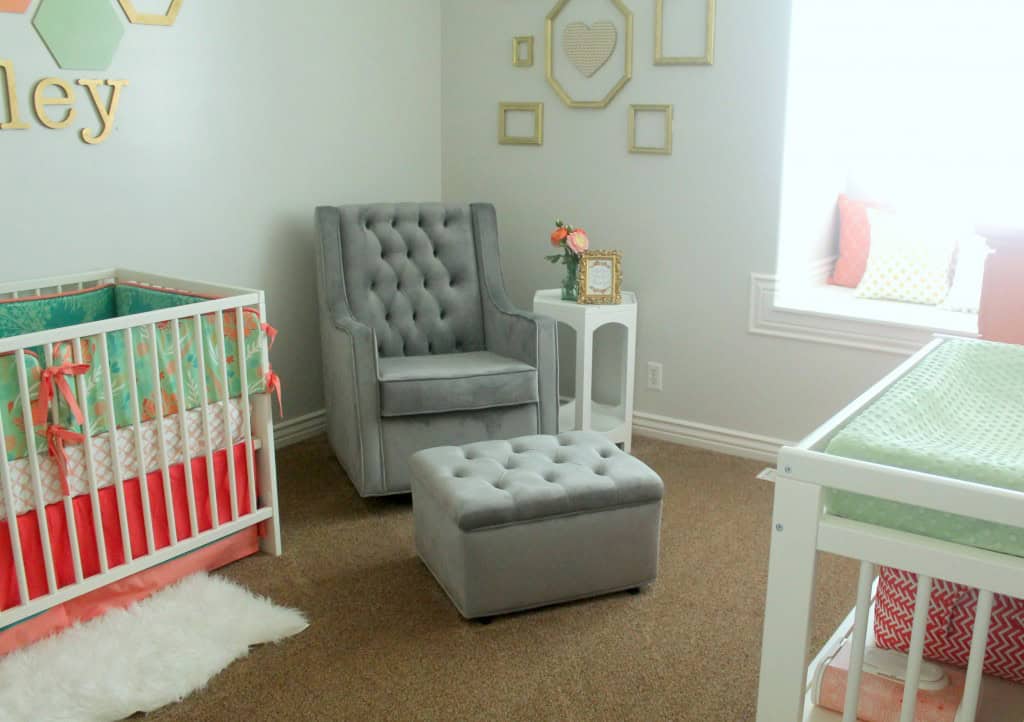 I think that about does it for the nursery!  We think it looks much better than before! 😉