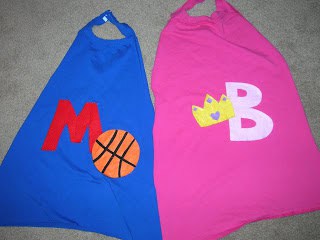 Brynlee has a whole bin full of fun dress-up clothes- princess dresses, fluffy skirts, tiaras, glass slippers . . . the works. Mason has a cowboy hat (poor kid!). So when I saw these easy capes, I knew that I needed to make one for Mason.
Of course Brynlee wanted one too . . . and of course it needed a princess crown.
I found the tutorial
here
.
It is easy to follow and has great pictures. You can't go wrong!
I added my own letters and pictures with scraps of felt and I glued them on with my glue gun. I made both capes in about 30 minutes . . . and the kids wore them for the rest of the day!
Linking to
these
parties . . .