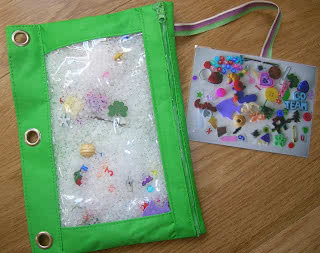 There are lots of tutorials for cute I-Spy bags that require sewing and buying a plastic transparent sheet and measuring and . . . ug. Too much for me. Sometimes I like to be able to sit down and do a project and have it done in just a couple of minutes . . . this is one of those projects! And it is really cheap, too!
Materials needed:
-a pencil case with transparent front
(98 cents at Wal-Mart)
-about 8 oz of poly pellets
(the clear filler stuff- it is the same thing they use to fill stuffed animals!) ($3.99 at Hobby Lobby for 16 oz- enough to make 2!)
-random little toys/objects/buttons/beads that you find around your house
(you will want about 25 things, maybe more)
-hot glue gun
-piece of ribbon
-camera
First take a picture of all your little items that are going in the bag. This is the picture that I used. Also, make a list of all the items (I typed mine up).
I glued my list on the backside of my picture and laminated it so that it would last longer than one day. I then quickly hand-stitched the list/picture to a piece of ribbon and then stitched the ribbon onto the pencil pouch (yikes- don't look closely at my stitching! I was trying to hurry and finish it before church so that I could take it with us!). This way, we won't ever lose the list of what to look for. I also liked the idea of having a picture of all the items so that my 3 year old could find things on her own, without us having to tell her every couple of seconds what item to look for next.
Put your items and your poly pellets in your pencil pouch and zip it up. Then, go crazy on that zipper with the glue gun! You don't want any little poly pellets ever falling out. Can you imagine the mess that would make??? No thank you!
Ta-da!! All done! The other great thing about using a pencil pouch is that you can put it in a 3-ring binder . . . add some fun file folder games and you have a quiet book!!! Sure, it is not as fancy as those cute felt quiet books, but it sure is priced right . . . and only takes a couple minutes to make. 🙂

Want some fun file folder games? I found mine here. You can purchase them individually and print them off, or you can buy a book full of file folder games. Also, you can google "File Folder Games" and there are a couple of cute free ones out there!