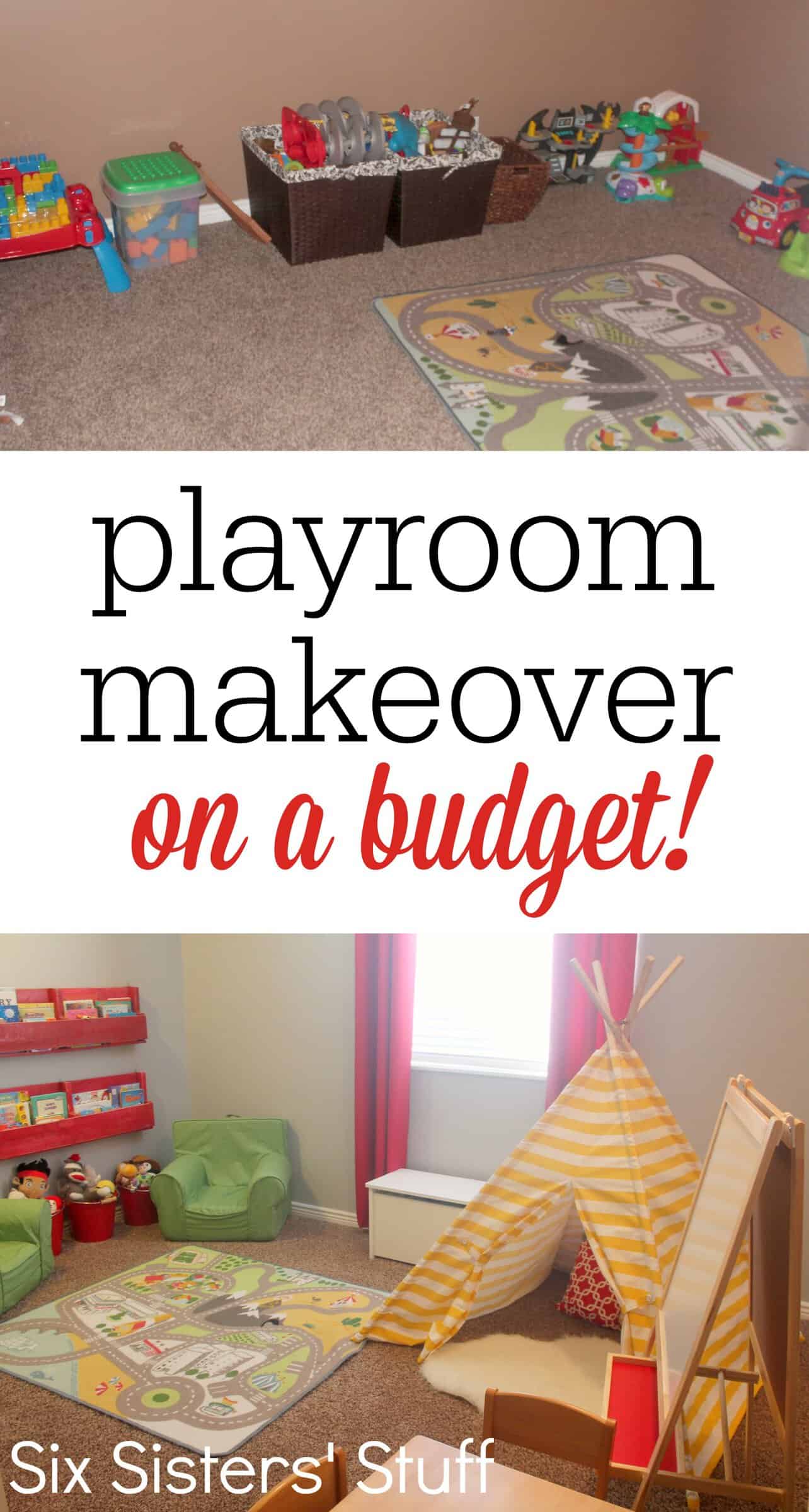 Have you ever had a room in your house that you just absolutely hated?  I had one of those in my basement.  It was dark, dingy and honestly smelled a little strange!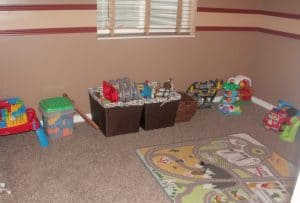 The entire room was brown, including the ceiling.  This room is in our basement so it already felt so small and dark that I wanted to spruce it up a little for a playroom for our kids.  My husband has been such a trooper remodeling our kitchen, living room and so much around our house that I thought I could do this one on my own!  One day, my nesting instincts must have kicked in and before I knew it I had pried off all the moulding off the walls and was ready to get to work!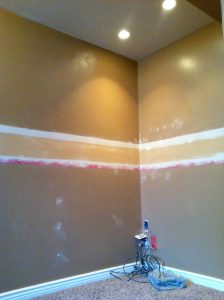 I started by patching all the holes in the walls, sanding them down and painting the entire room.

I painted the ceiling and trim Glidden White on White and the walls are Glidden Pebble Gray.  The paint alone made the room look a million times better!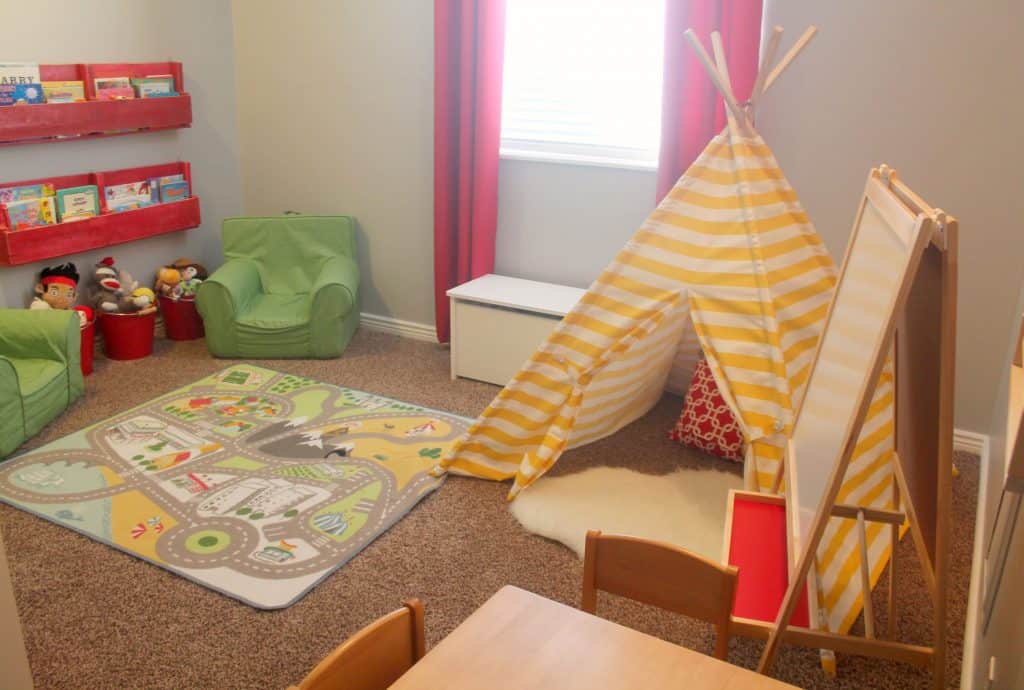 Ta da!  Isn't it so much better?!  It is a pretty small room, so I wanted to use the space a little wiser.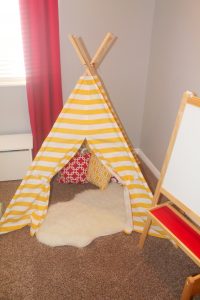 My favorite part  of the playroom is this darling teepee from Tip Top Teepee Shop!  My kids are obsessed with it!  My four year old told me that he wants to sleep in it every night haha!  You wouldn't believe how many darling teepees they have.  You could also custom design your own teepee if they don't have exactly what you are looking for!  It is also so roomy inside that my kids don't even fight from being in too tight of quarters together when playing. 🙂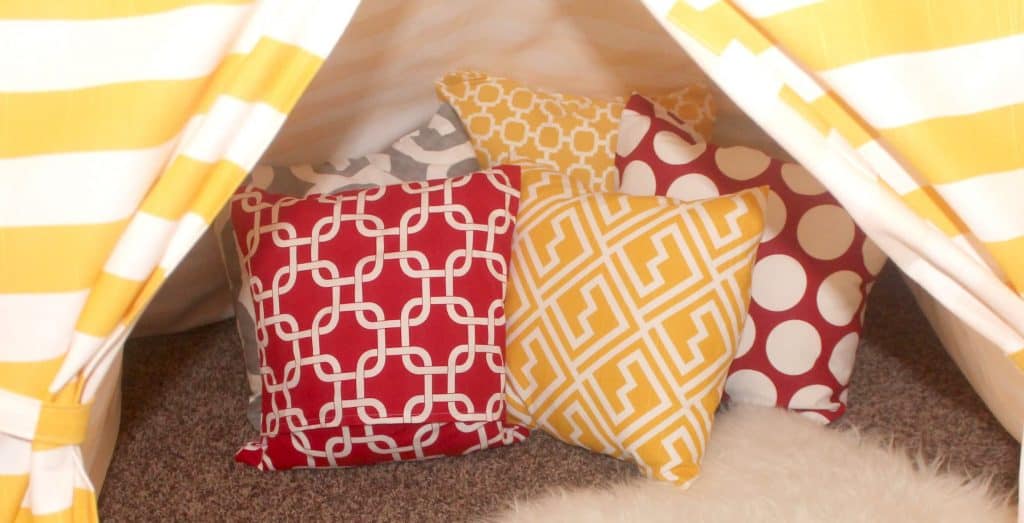 I wanted the kids to have a comfortable place to relax, read and play and these darling pillows from Elemeno Pillows were the perfect fit!  They are so affordable and they have a huge variety of different colors, patterns and designs!  They even have mix and match sets all ready to go.  They are the perfect way to add some color to your home!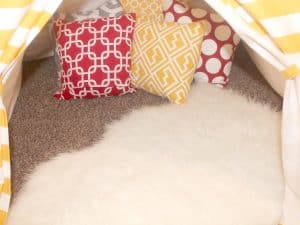 Nothing screams comfort more than a soft, faux fur lamb skin rug!  This darling rug from Basket Fillers by Jamie measures 2 by 3 feet and is the perfect way to add a little warmth and style to any room.  You'll also find tons of darling photography props for newborns in her shop.  Trust me, you'll die when you see how cute everything is!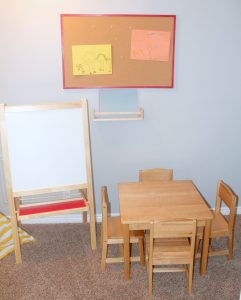 My kids love to color and draw, so I wanted them to have an area to be creative.  The easel is from Ikea and I found the table and chairs set from Walmart.com.  They love playing school or drawing me cute pictures here and it just melts my heart! 🙂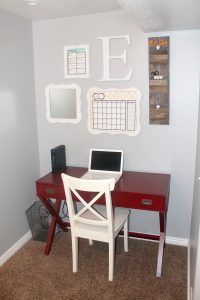 The room had a really small nook in it rather than a closet so I decided to turn it into my little office area.  As a blogger, I work from home but I hate feeling like I neglect my kids.  This gives me a space to work while they play just a few feet away from me!  I bought the chair at Ikea, the desk at Target and the cute frames and monogram from Poppyseed Projects.  My favorite part of the office nook is the darling reclaimed wood craft organizer!  How cute is that?!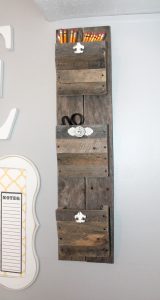 It is perfect for storing mail or other craft supplies.  I use it to store my different office supplies like markers, pens, pencils and scissors.  It is the perfect way to stay organized!  They also have other darling vintage items for your home that you are going to LOVE!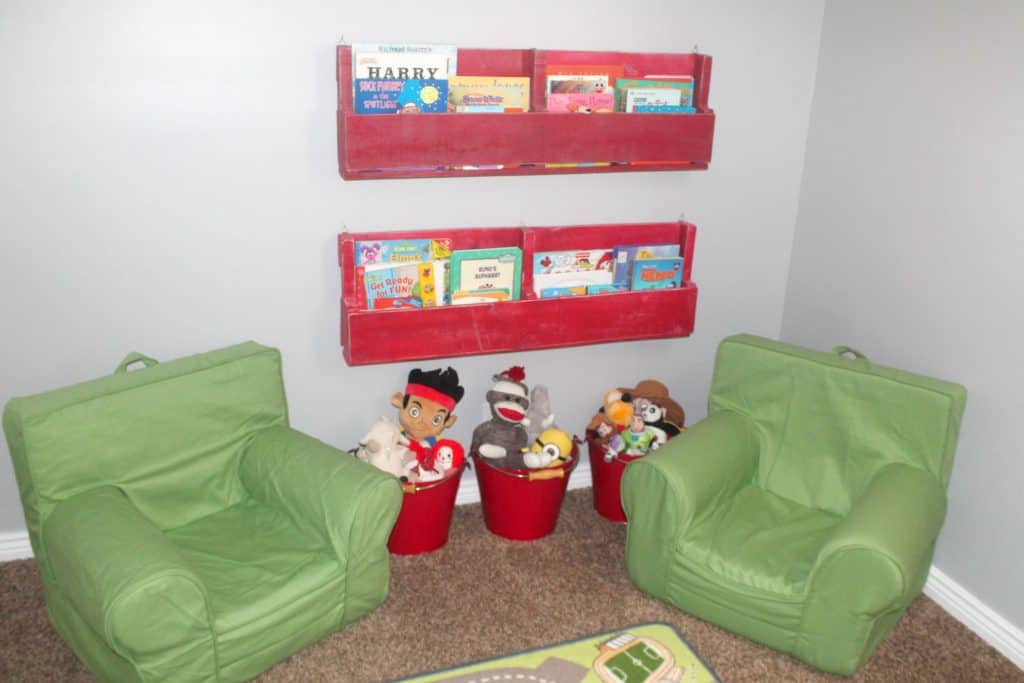 My boys love to read so I wanted a place they could read their little hearts out!  The chairs are from Pottery Barn Kids and my kids absolutely love them!  The red buckets are from Pottery Barn Kids, but I found them at an outlet store for $5 a piece.  They are perfect for storing all their stuffed animals they like to read to. 🙂
You can also find the tutorial to make the pallet bookshelves, here!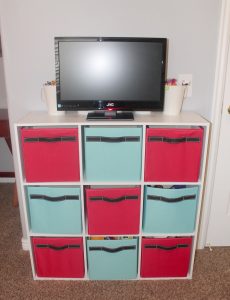 I know some people don't like to have their kids watch TV, but I had an old TV that needed a home and they love watching some of their favorite shows here while laying in their teepee!  I got the white shelf from The Home Depot and the toy bins are from Target.  They are perfect for organizing and hiding so many of our small toys and it was a great way to use the small wall between the door and the office nook.  I also found some small white buckets from Target in the dollar section to store our crayons, markers and other kids craft supplies.  I had to put them up high so my 2 year old didn't get to them!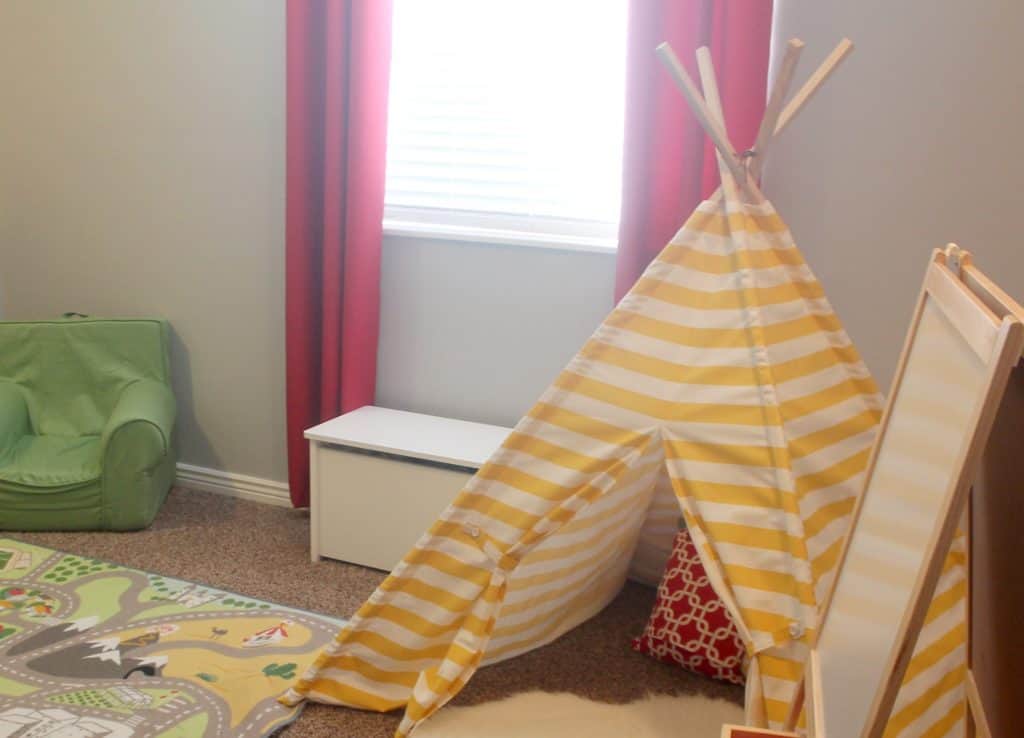 I also took down the gross brown blinds and installed some new white wood blinds.  I did it all by myself! 🙂  It was a proud moment for me! haha!  I also love the white storage chest I got from Walmart, which is perfect for storing toys and has a space so your kids will never smash their fingers in it!
I think that about wraps it up!  Phew!