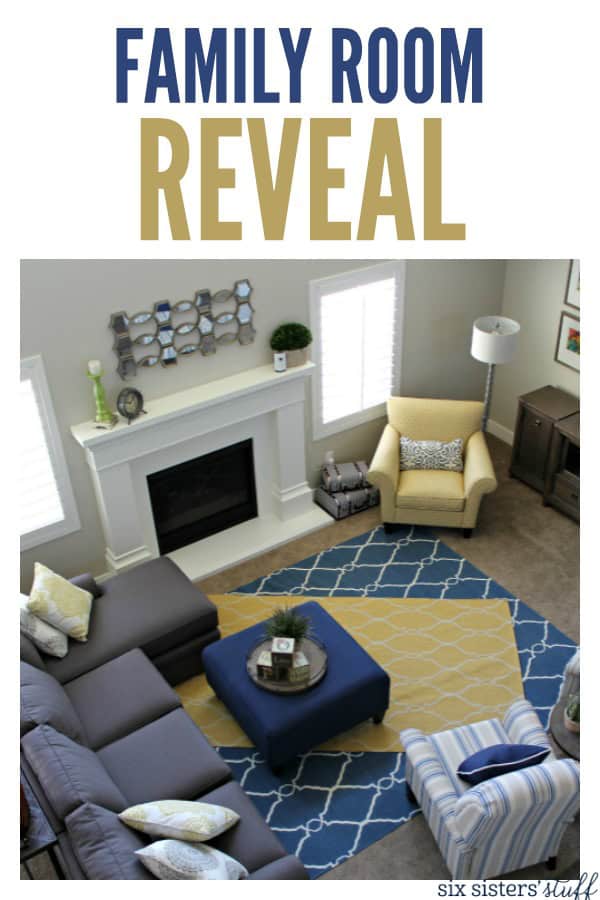 This post is part of a collaboration with La-Z-Boy. Thank you for allowing us to share brands and products we love and trust with you to keep our blog running.
The day has finally come! I am so excited to share with you my family room reveal. If you have missed my other posts about my family room project (5 Decorating Tips from an Interior Designer and How I Designed My Family Room), I recommend starting there.
My ultimate goal with this room is to have a space that is not only kid-friendly (with 3 kids under the age of 8, it has to be able to withstand their craziness), but also bright, open, happy, comfortable, and inviting. I had a lot of expectations . . . and I feel like every single one was exceeded!
So, you may remember that this is what Jill (the interior designer from La-Z-Boy – which is a FREE service that La-Z-Boy offers) and I put together for my family room: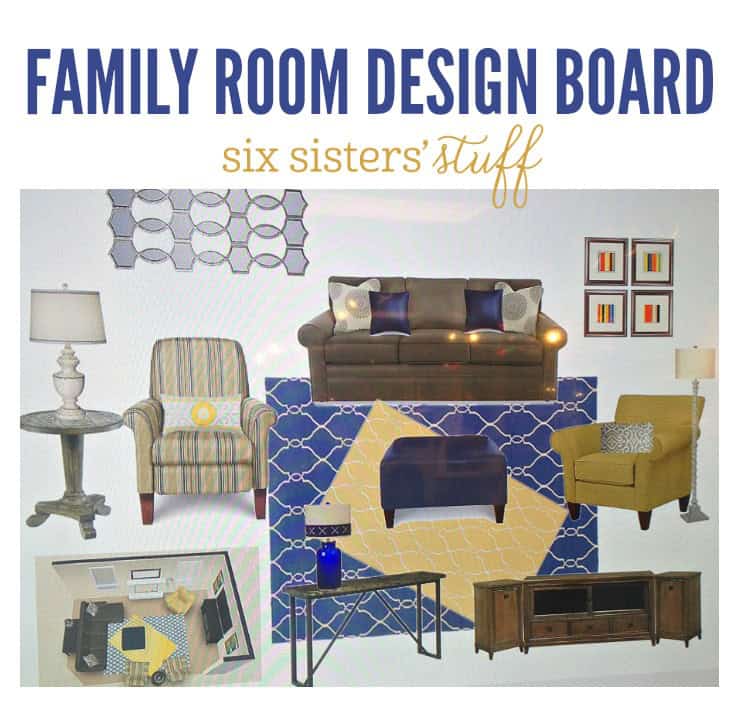 Here is what I was working with: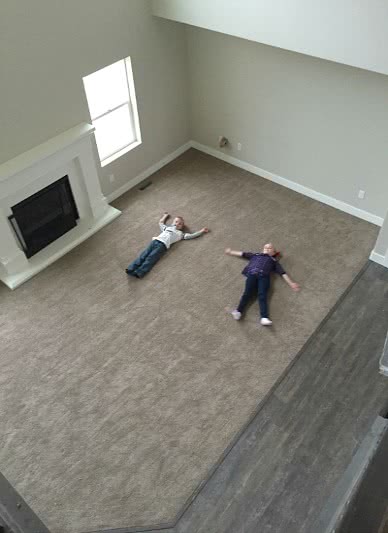 We sold all our old furniture before moving into this house so that we had a fresh slate to work with.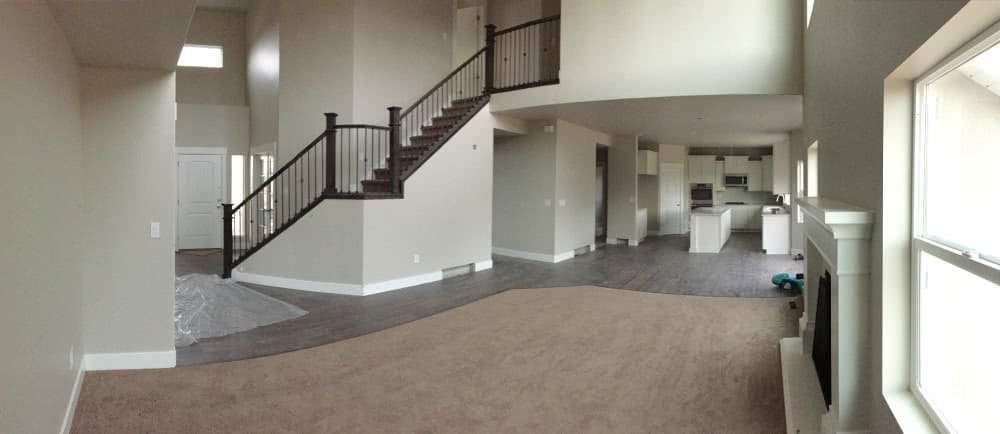 The La-Z-Boy truck pulled up to my house to start unloading all the furniture that I had designed and hand-picked (like the sectional that fits perfectly!) and I kept snapchatting my family to share with them how it was going: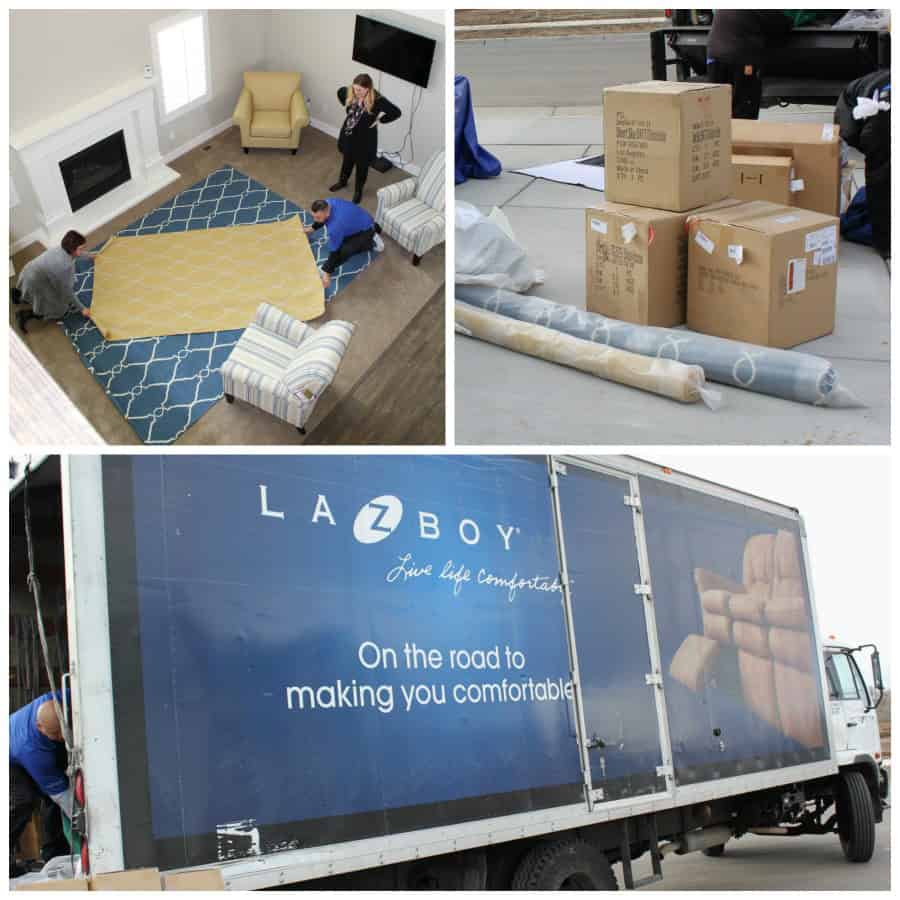 And here is the finished product . . . . . . . .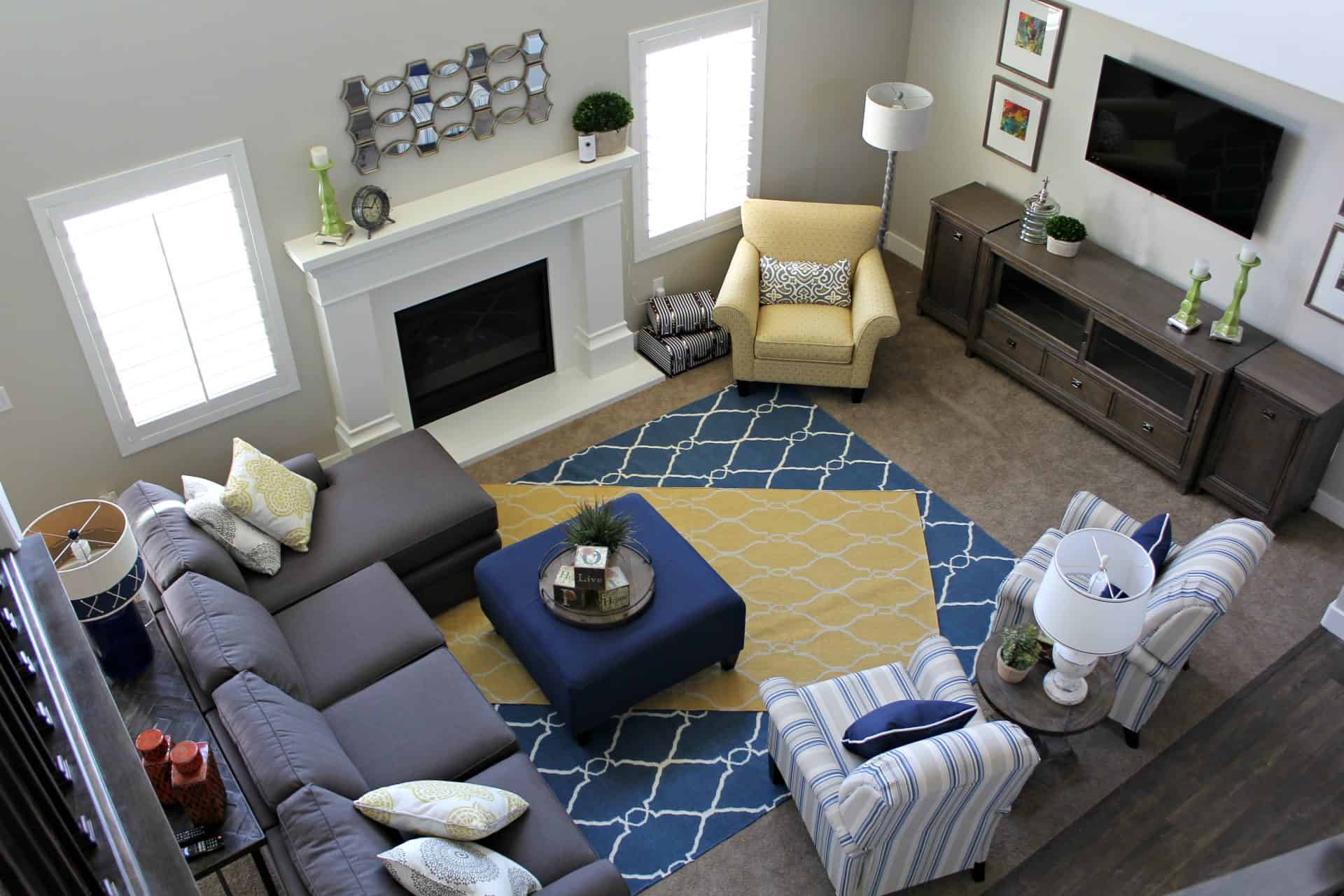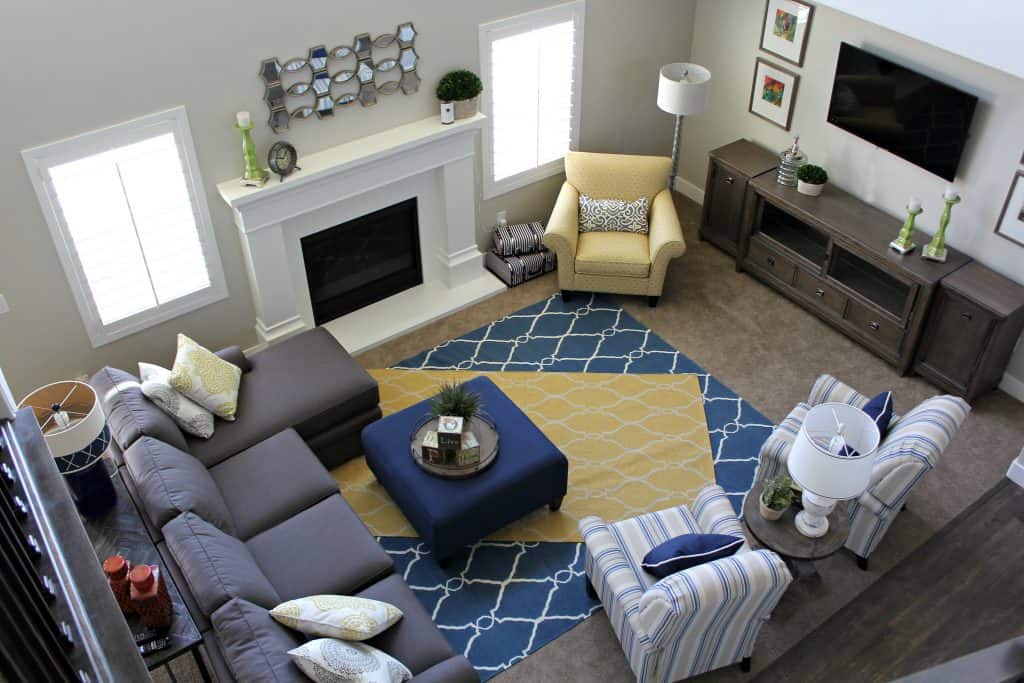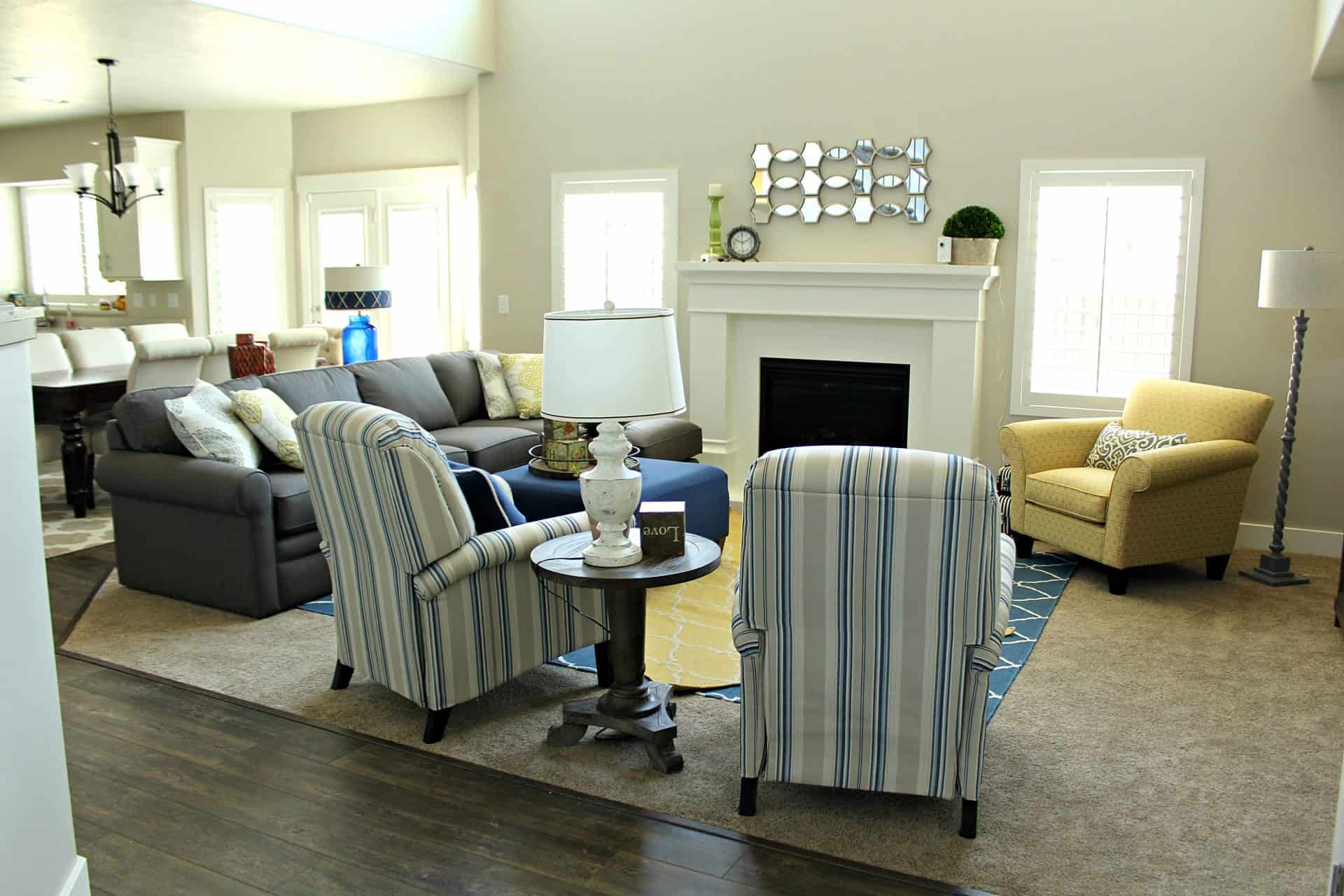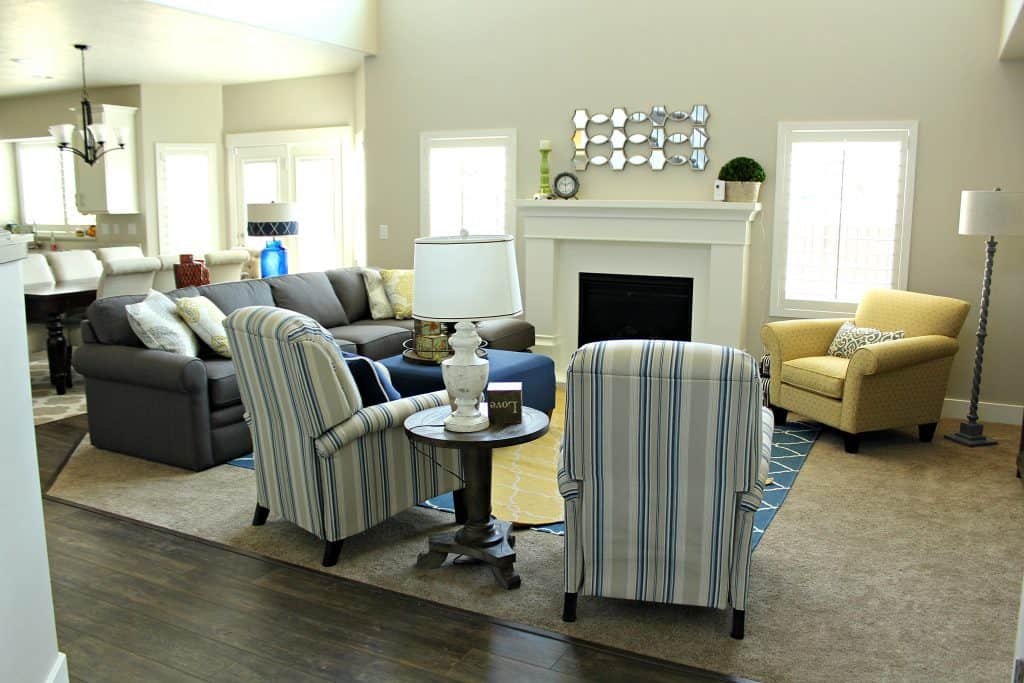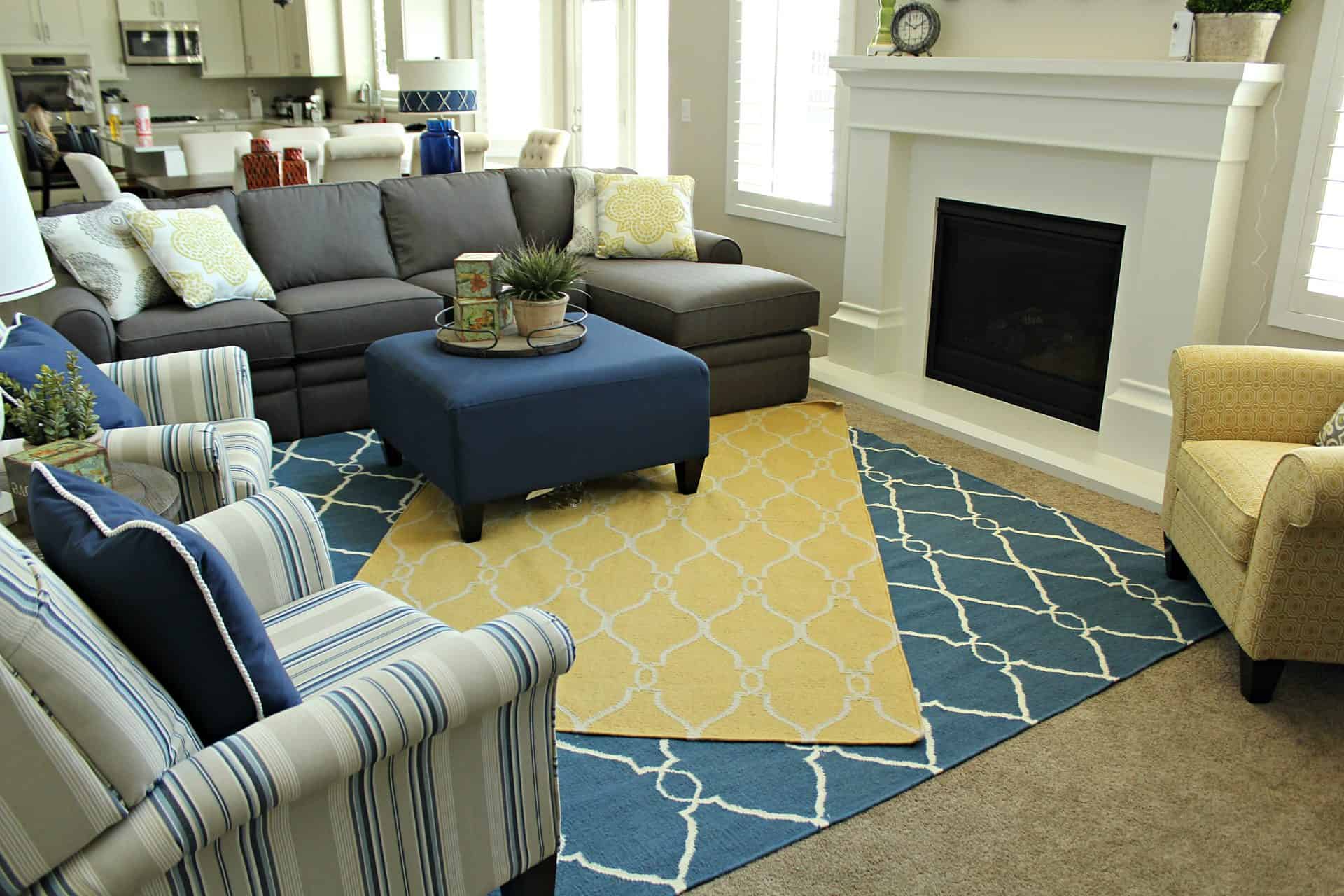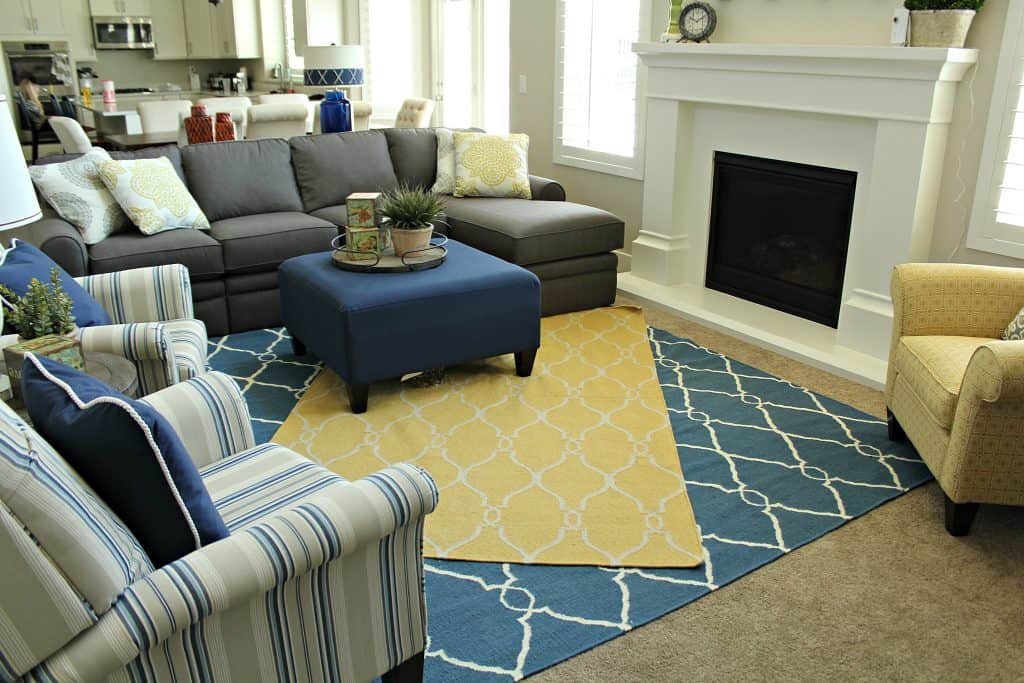 We worked in the double rugs and I love how it adds so much color!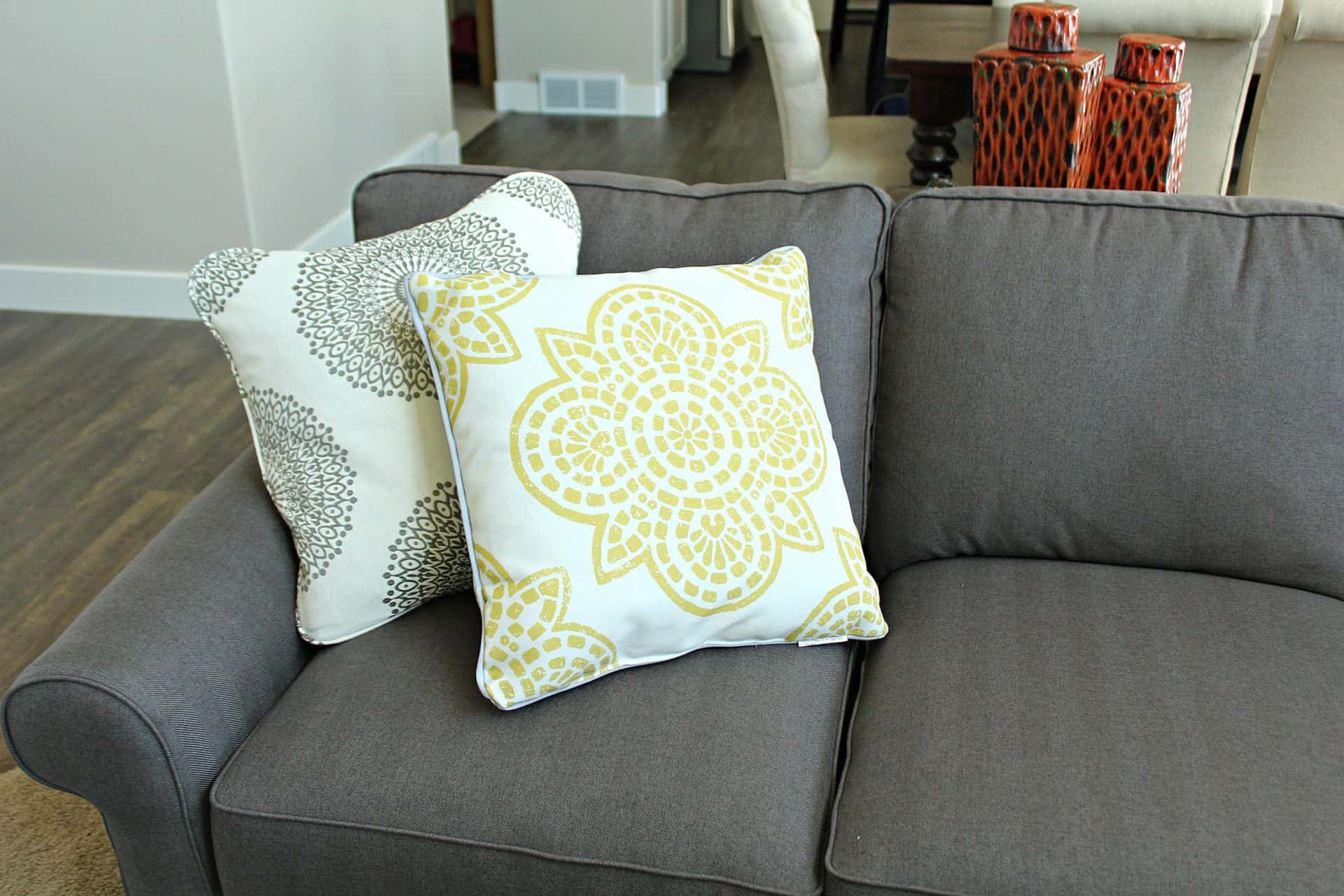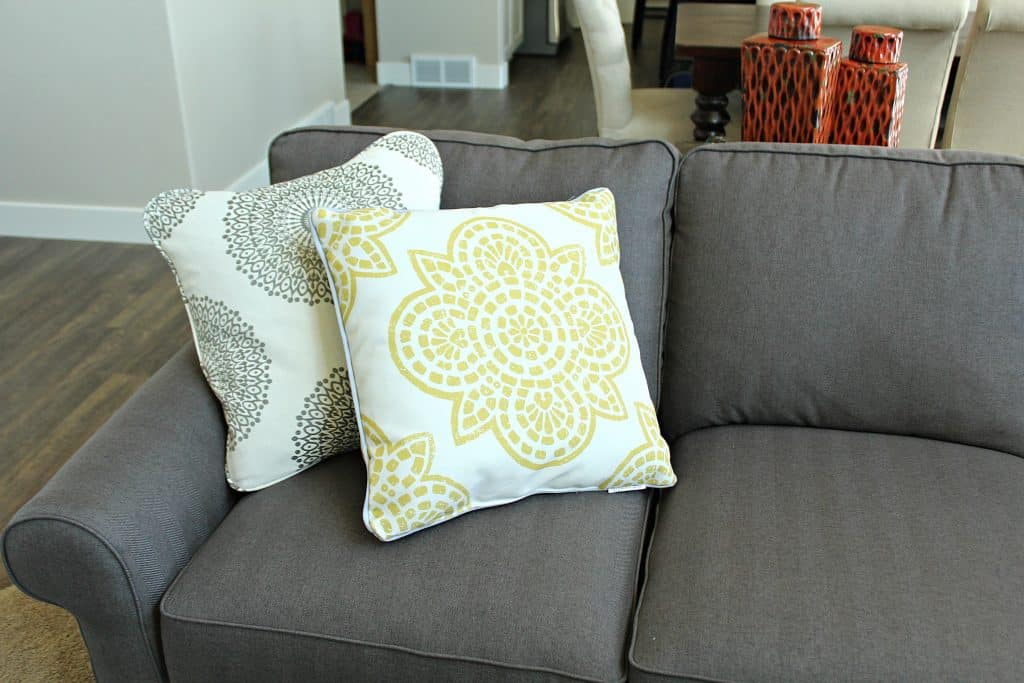 I love the way that the pillows turned out.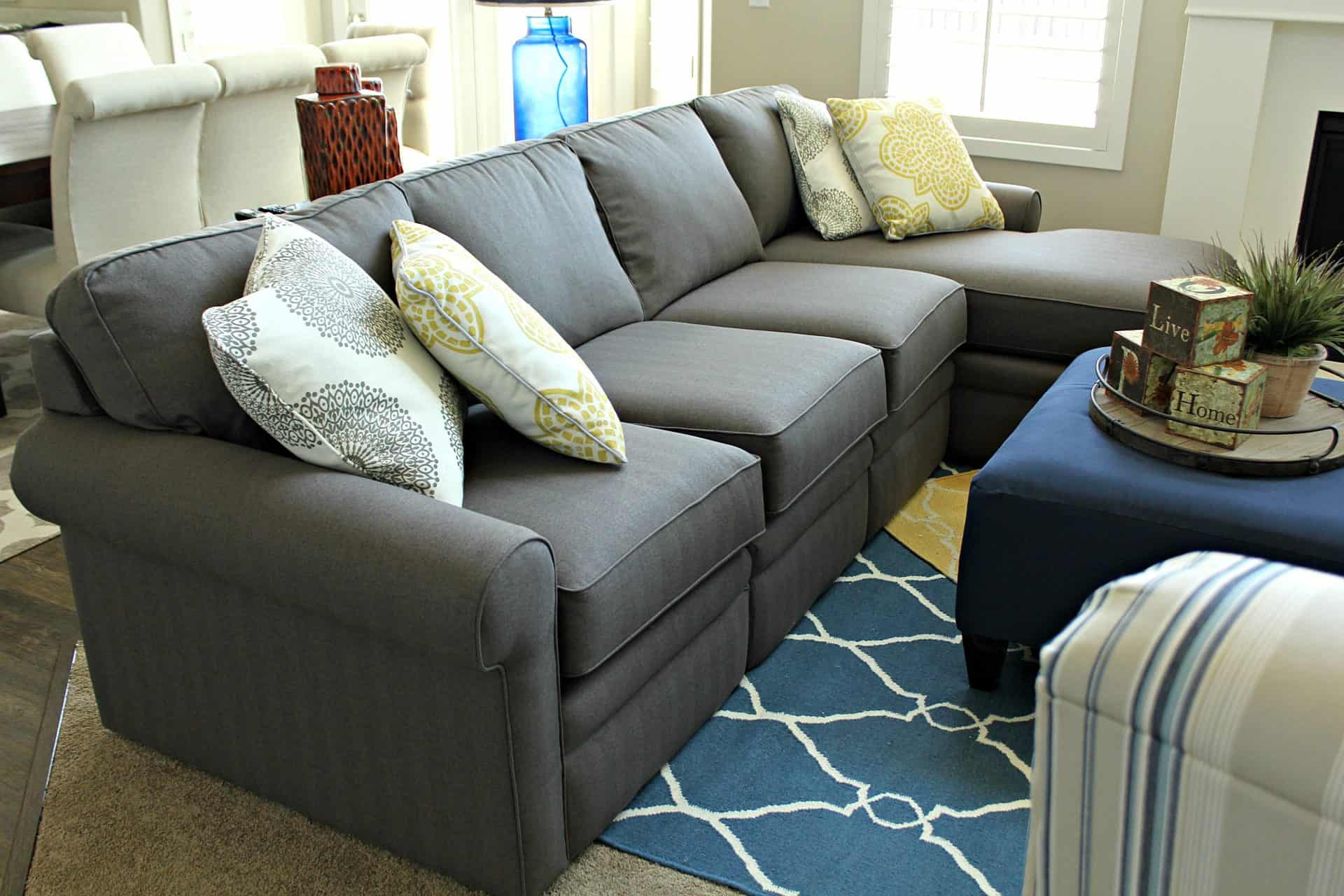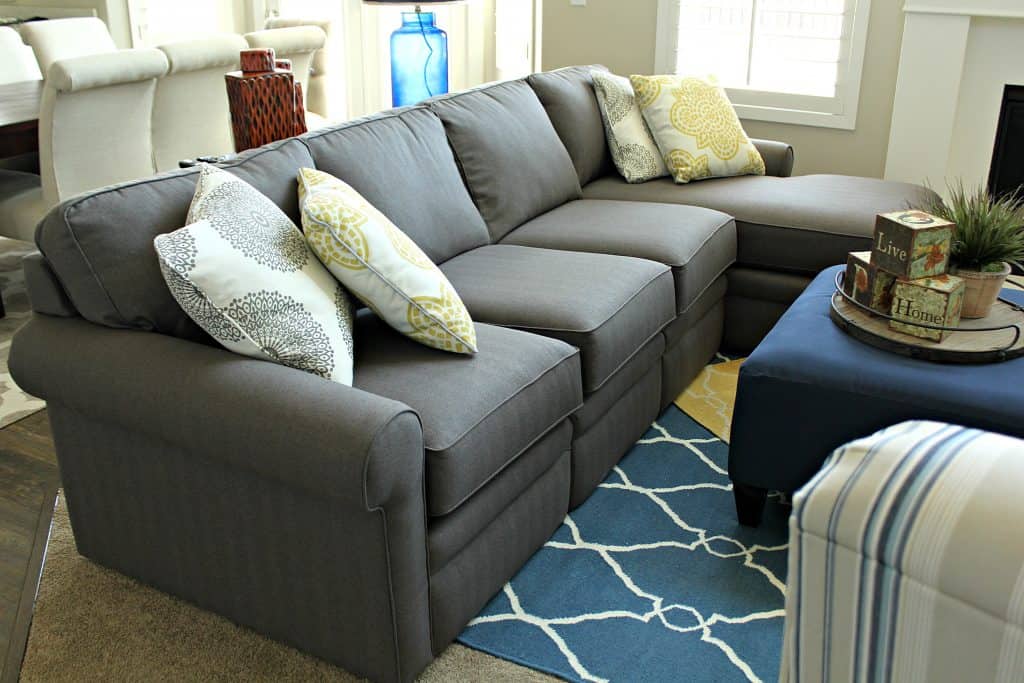 The couch is the Collins Sofa (it comes in over 1000 different fabrics!) with a left-arm sectional attachment, which fits the space PERFECTLY. I love this couch because it's the perfect depth (my husband LOVES it) and the fabric that I ended up using is so incredible durable – this couch is built to last!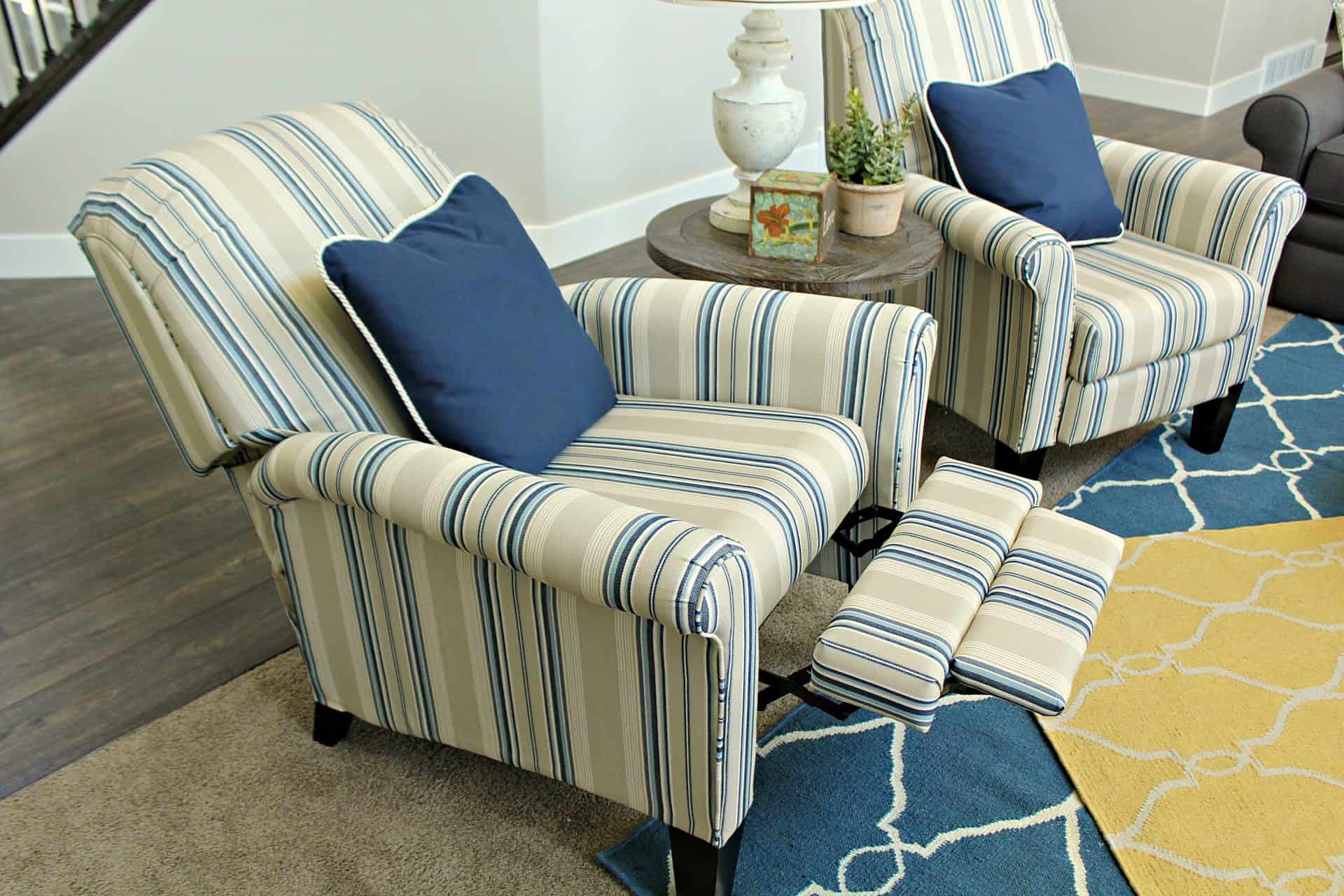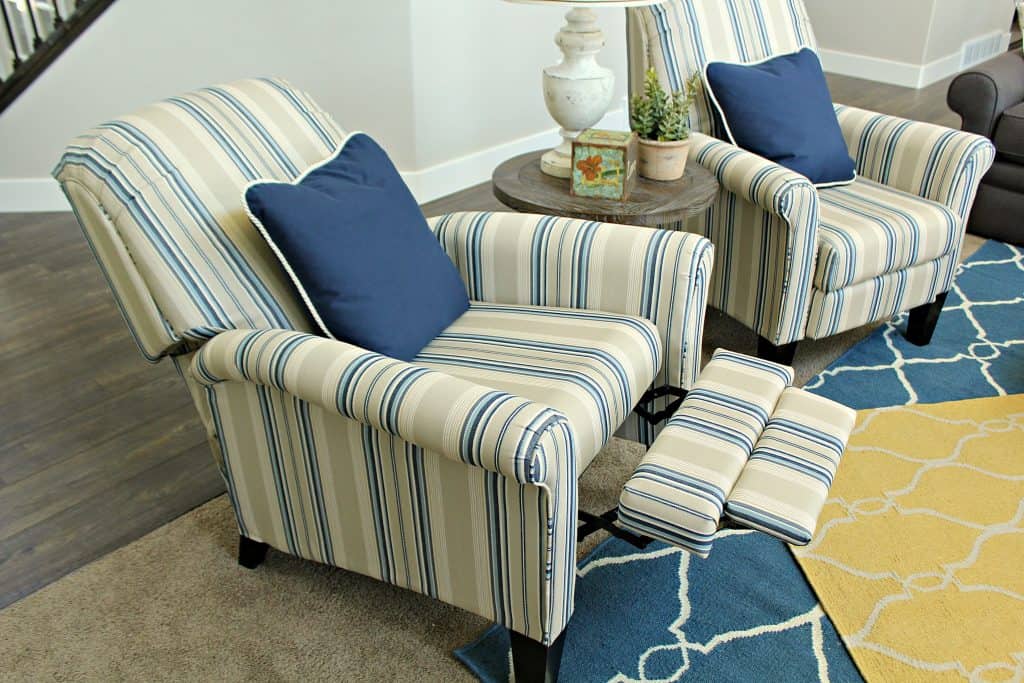 These chairs are the Fletcher High Leg Recliner . . . yes, they recline! You just have to push on the back and the recliner pops up and it's amazing! Definitely not your grandpa's recliner chair – these are sleek and sophisticated! They also come in over 1000 fabrics, so you can find the perfect style to match your home.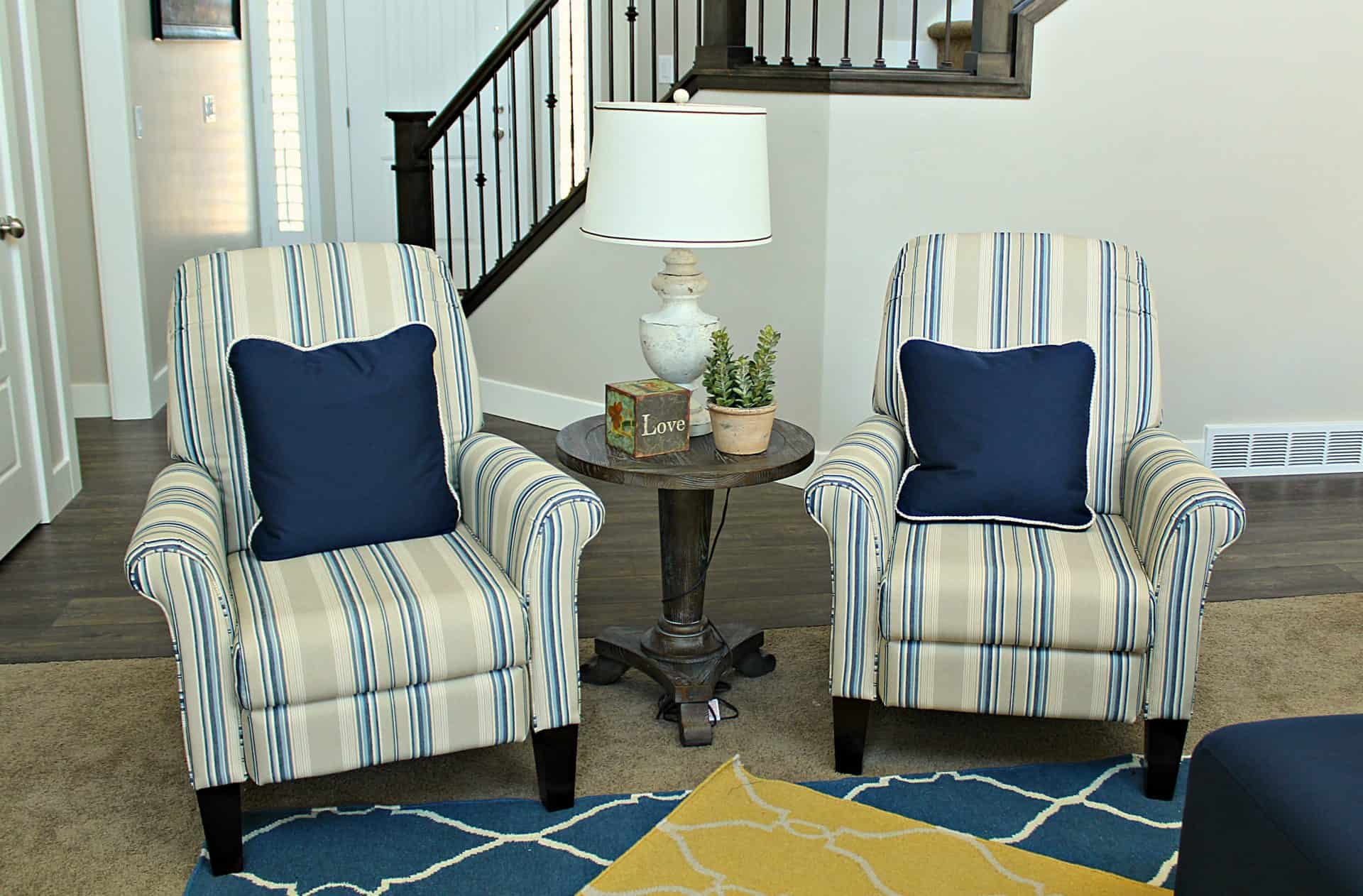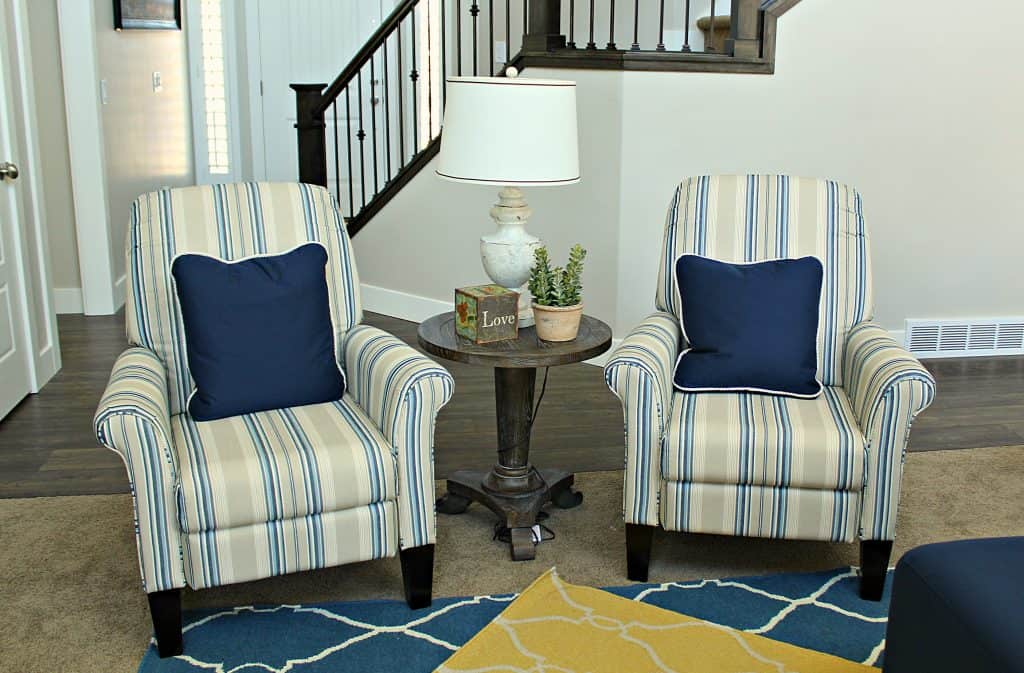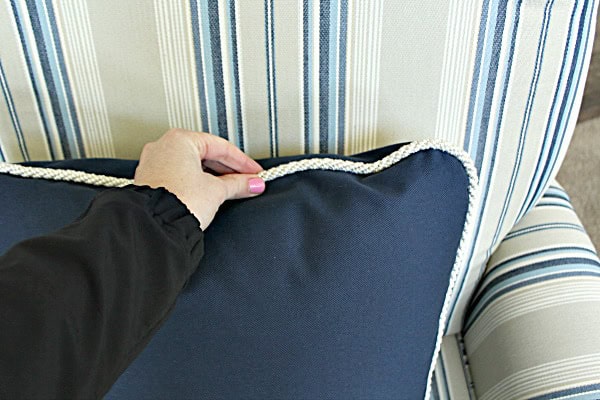 Jill didn't miss a single detail! She felt that these pillows just needed one more thing, so she suggested that we add this cording around the edges. It was incredible how customizable everything was.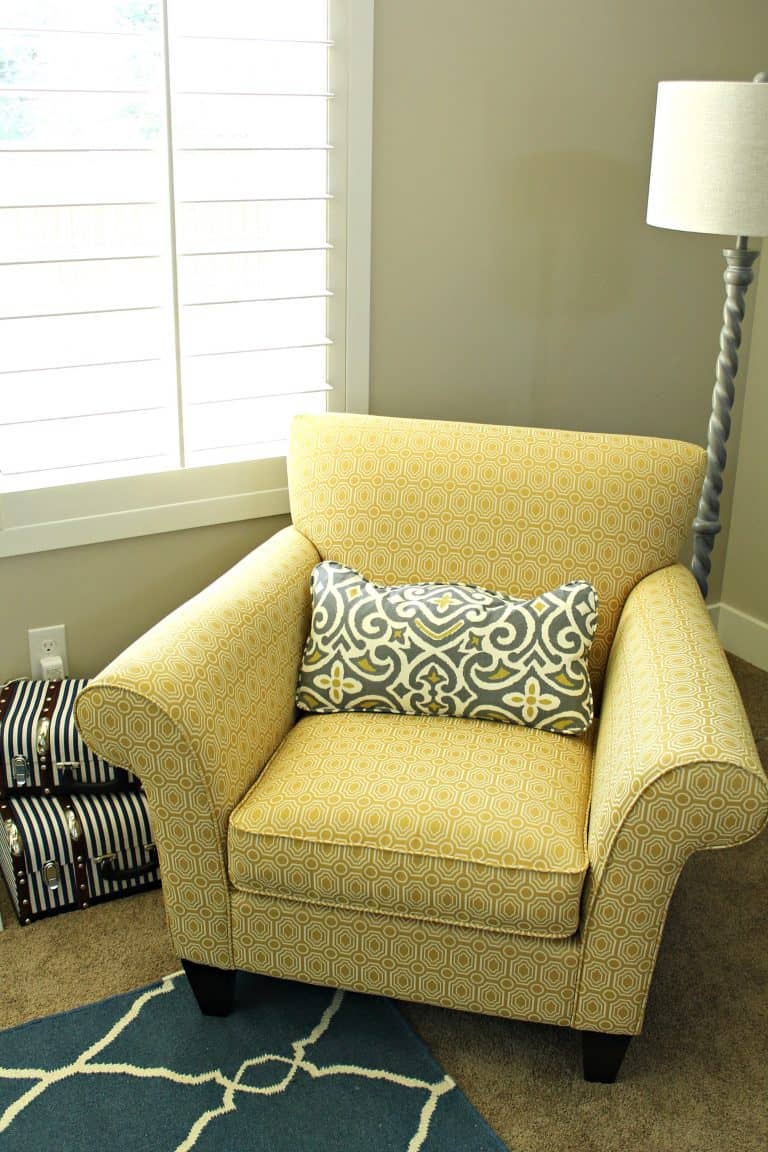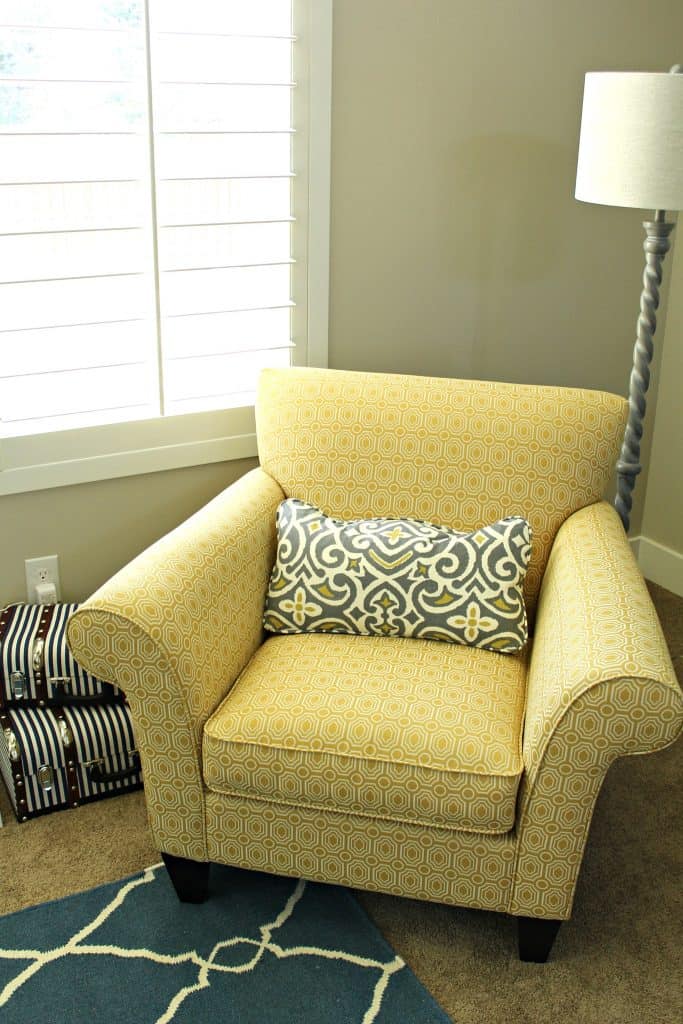 This bright yellow Aria Stationary Chair is probably my favorite spot in the whole house. It's the perfect reading spot! I thought that the yellow might be a little bright, but it just makes this corner pop! And Jill is a pattern-mixing genius – I love the pillow that she helped me choose to go with the chair.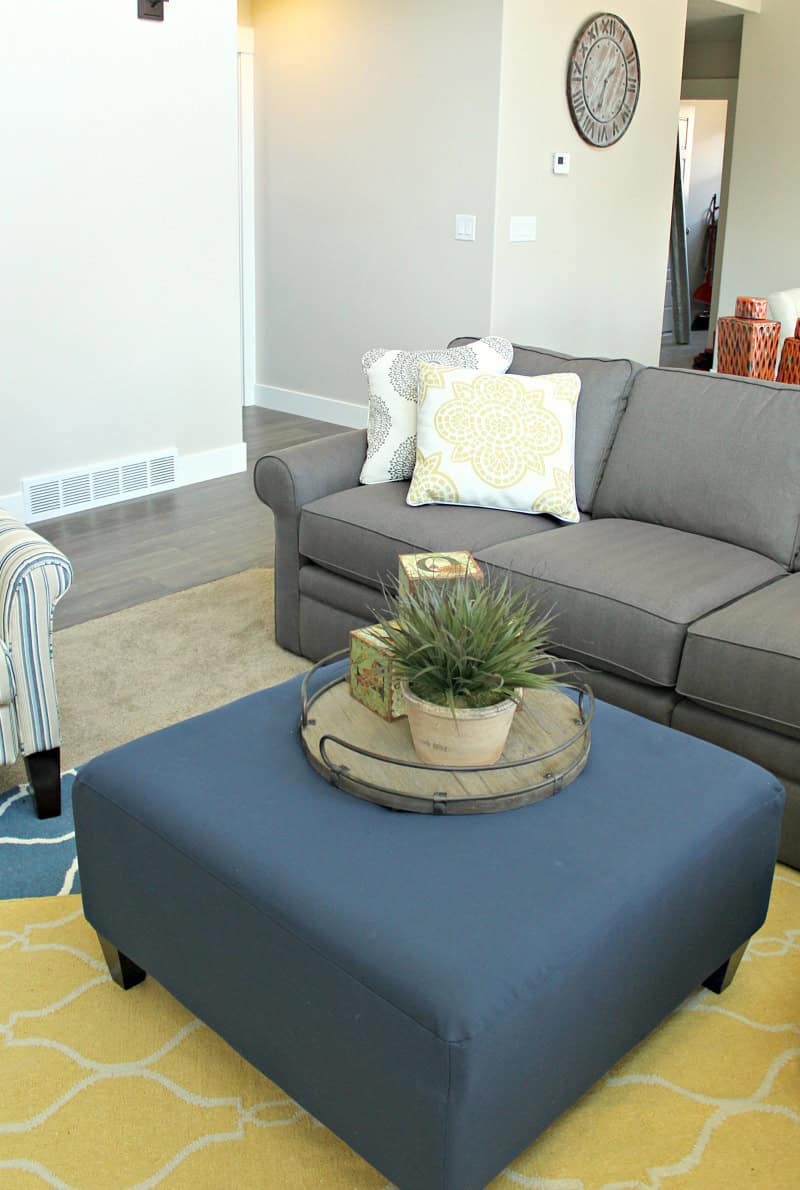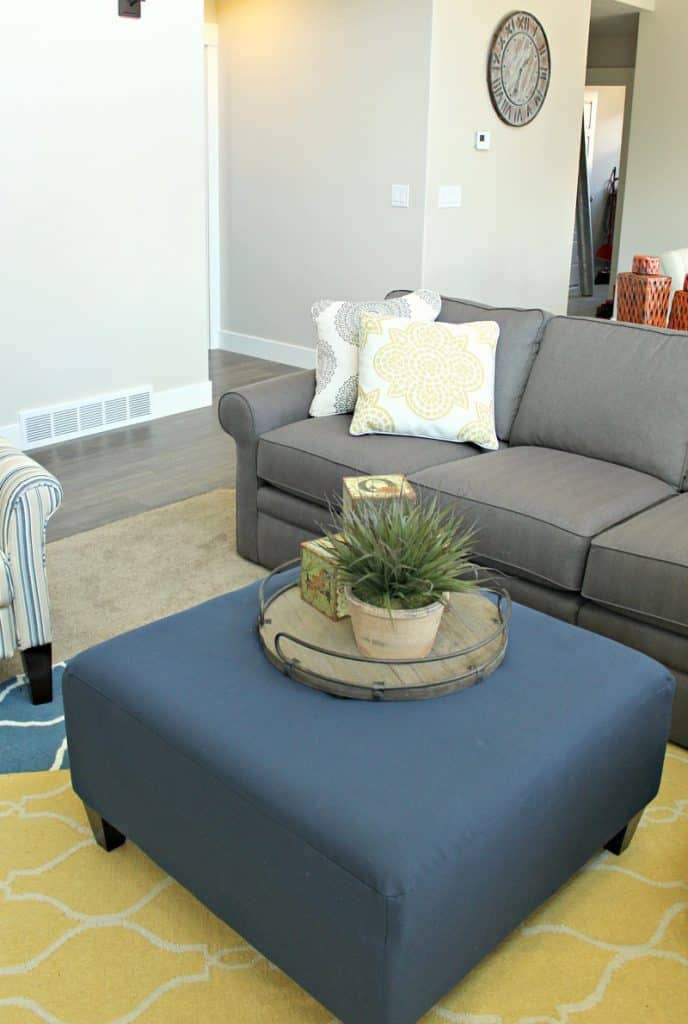 I knew that I wanted an ottoman to go with the sofa and I loved the idea of having a bright blue one! This Jordan Ottoman is actually the same exact color as my blue pillows. And this fabric has been so durable!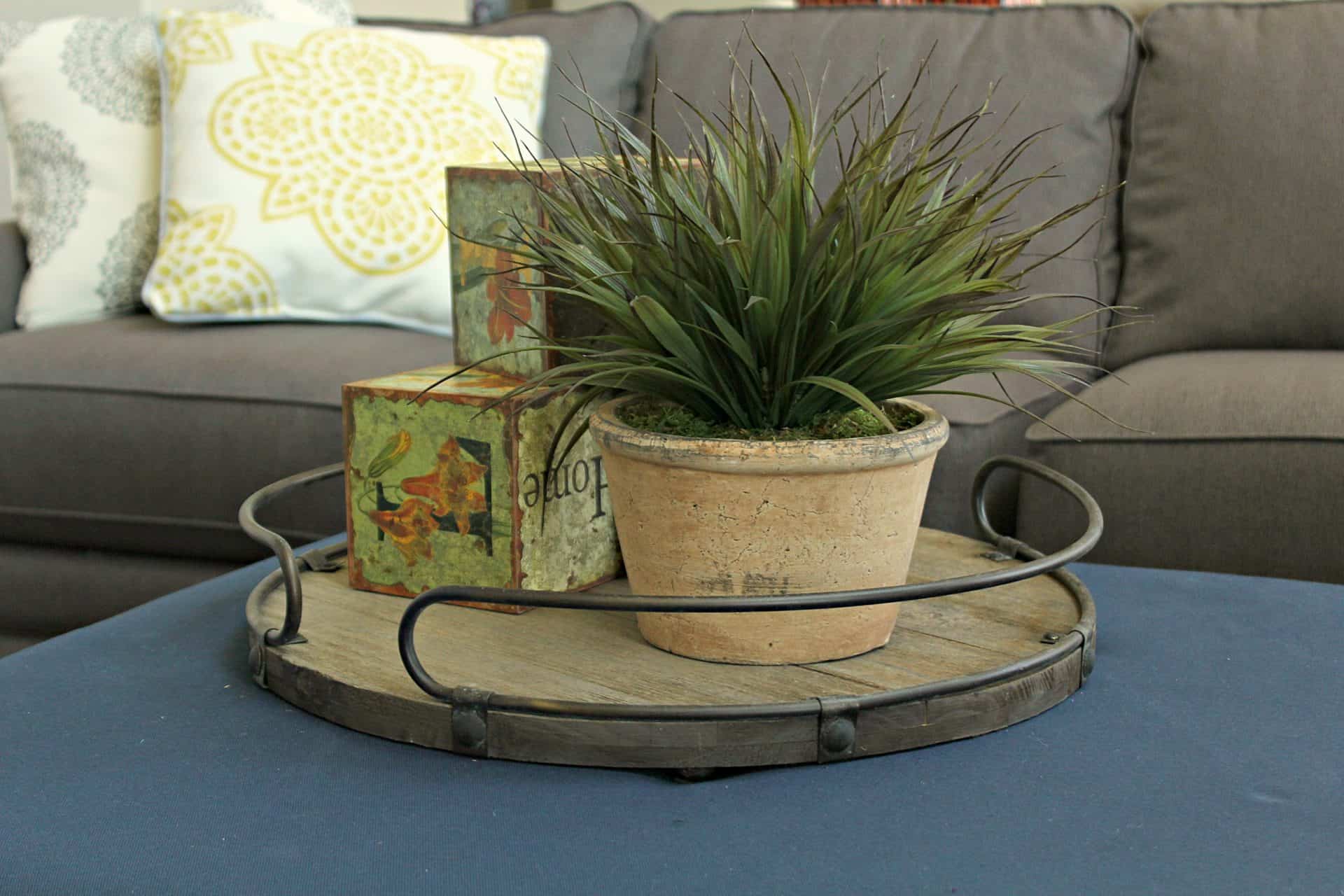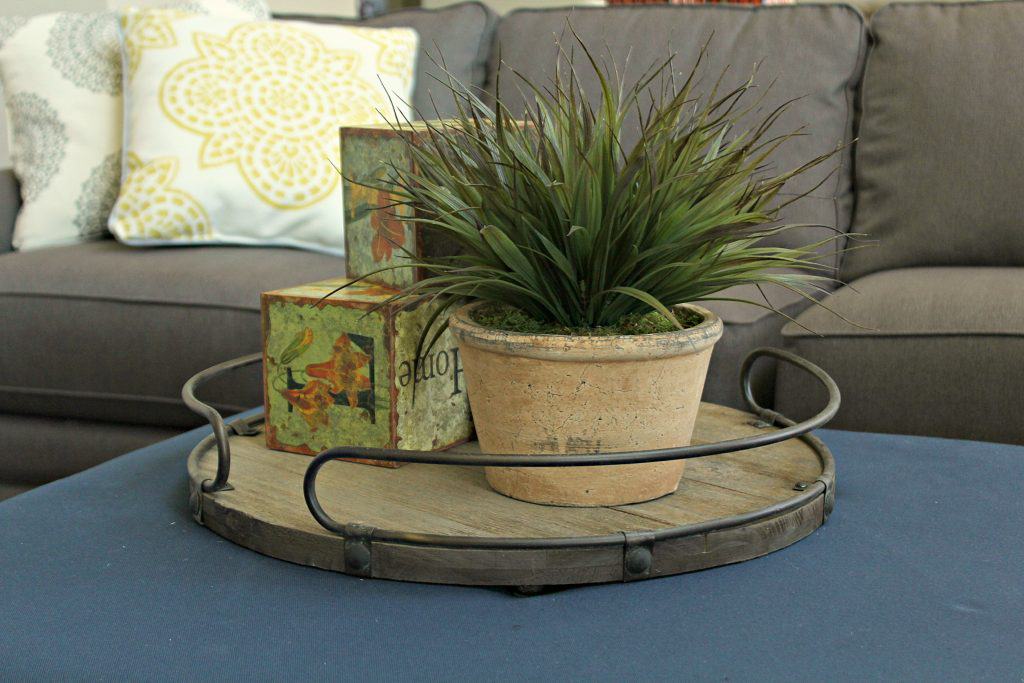 Also, when you head into your local La-Z-Boy store (you can find the nearest location HERE), you will see the amazing selection of accessories and decor that they carry too! Like I said in my last post, it's a one-stop shop!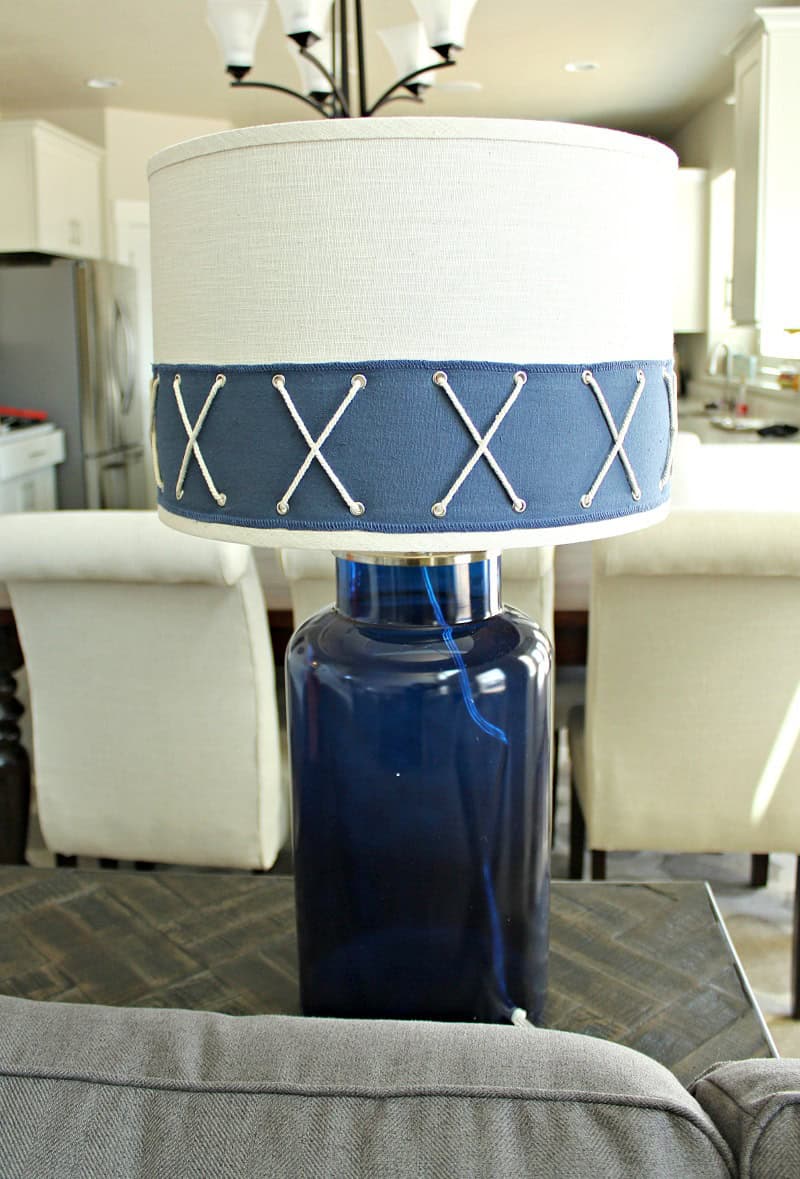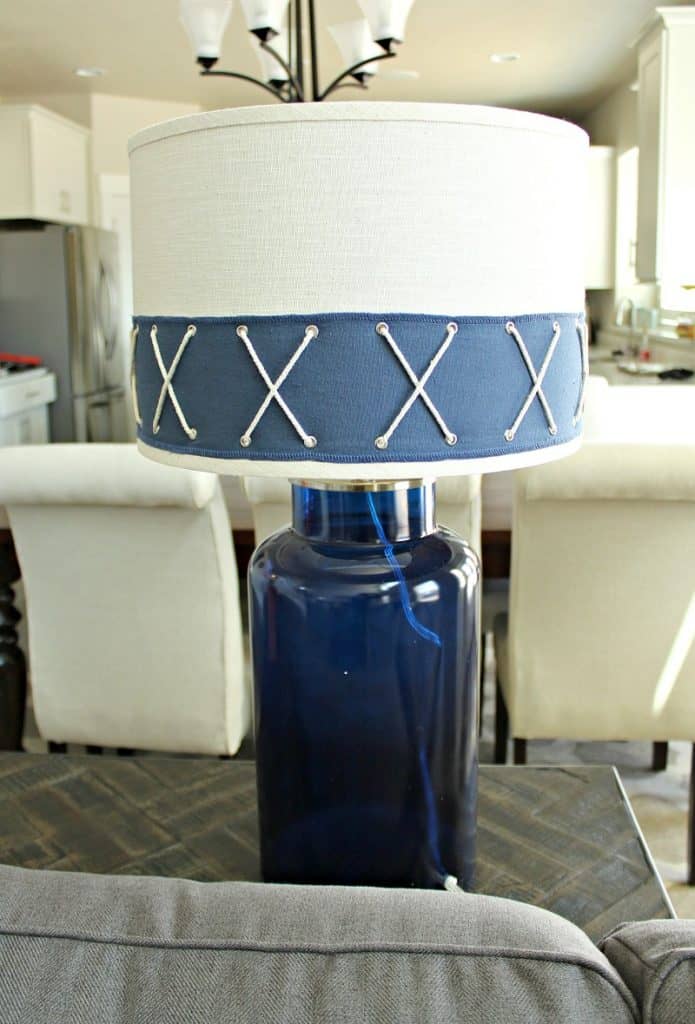 Remember how I said I love all things nautical? This lamp was seriously one of my favorite La-Z-Boy finds!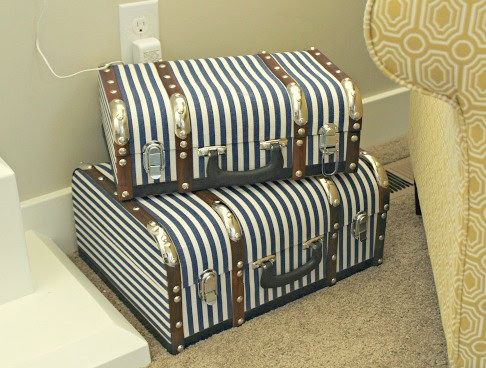 Every detail, even right down to these little suitcases, coordinated perfectly!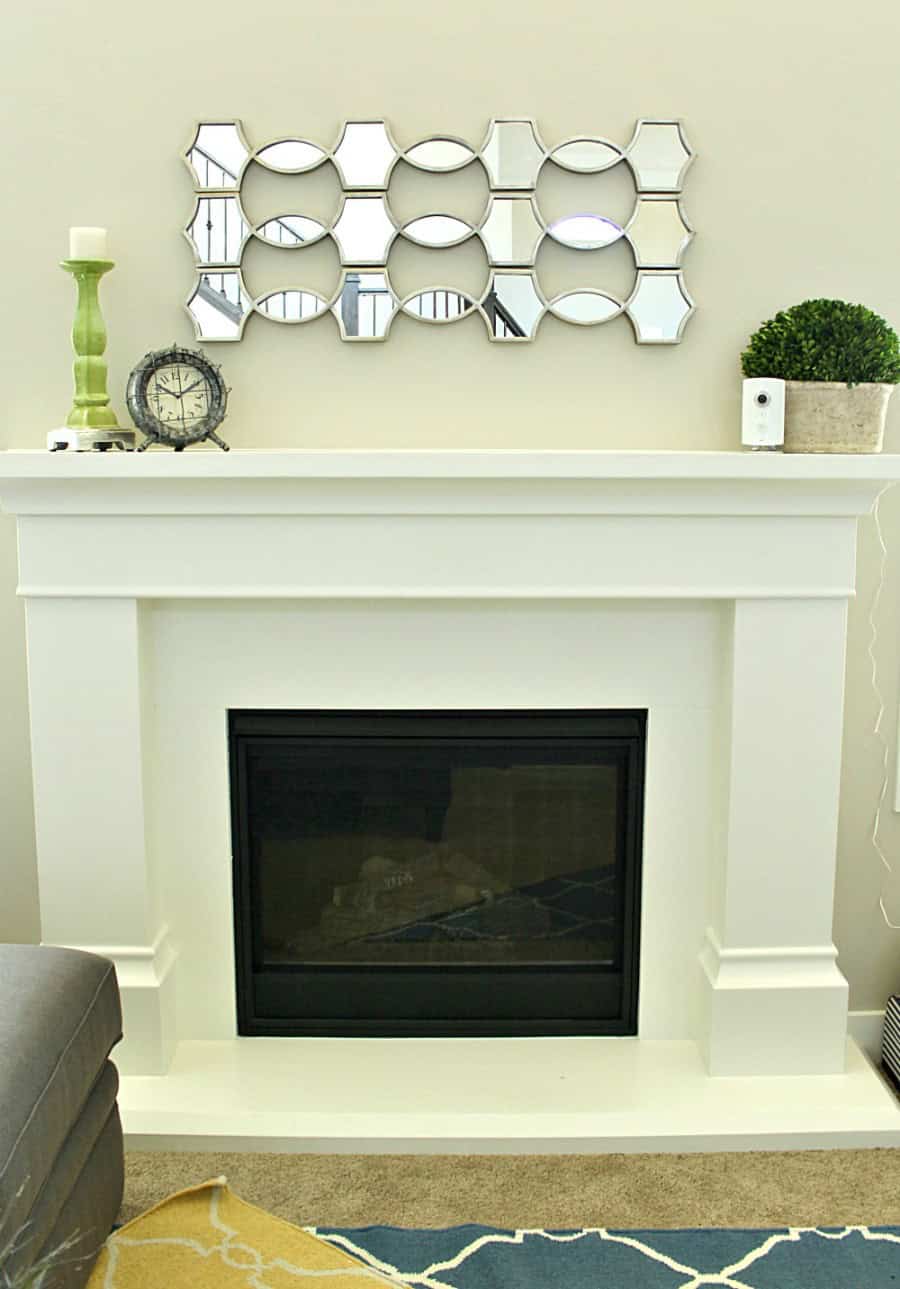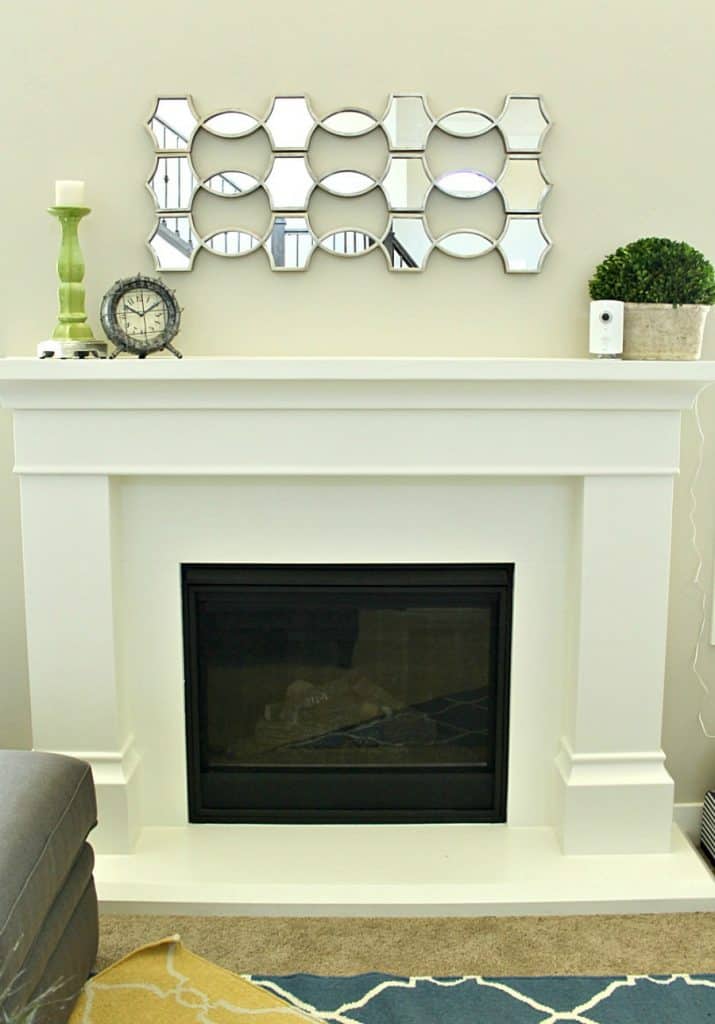 That mirror is actually three separate mirrors – I just love them stacked on top of each other!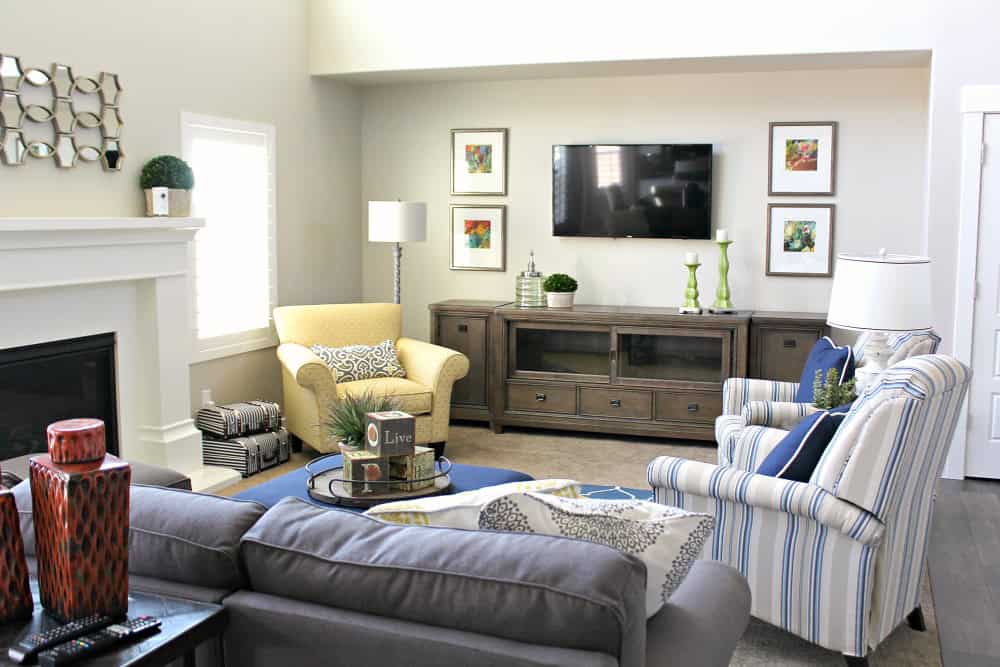 In all honesty, working with La-Z-Boy was one of the best customer service experiences I have ever had. They bend over backwards for their customers and truly want to help you design the perfect space that not only fits your needs, but exceeds all your expectations.
La-Z-Boy is so much more than recliners – it's one of the best furniture companies out there with SO many incredible options to cover every taste, style, and preference. And their furniture is SUCH high quality . . . it's worth every penny!
If you are in the market for new furniture for any room of your home, I HIGHLY recommend checking out La-Z-Boy! Now what room should I do next?! 😉
I did receive product to review as part of this collaboration, but all opinions are 100% honest and my own. I absolutely recommend working with La-Z-Boy to anyone!