Freezer meals have been around for a long time. They're a staple for busy moms who simply don't have the time or patience to cook an elaborate dinner every night, and to tell you the truth, freezer meals can be even more delicious when they're prepped correctly. There are few things better than a meal that takes zero brain power to think about, uses hardly any dishes, and can be ready within 30 minutes depending on how you want to cook it.
Plus, if you're planning freezer meals correctly, you can make a bunch of them at once and save even more time and money in the long run. These frozen meal ideas are a good idea for busy weeknights, working parents, first time moms, and anyone who wants to spend less time in the kitchen. The best part is that you'll always have a home cooked meal ready to go!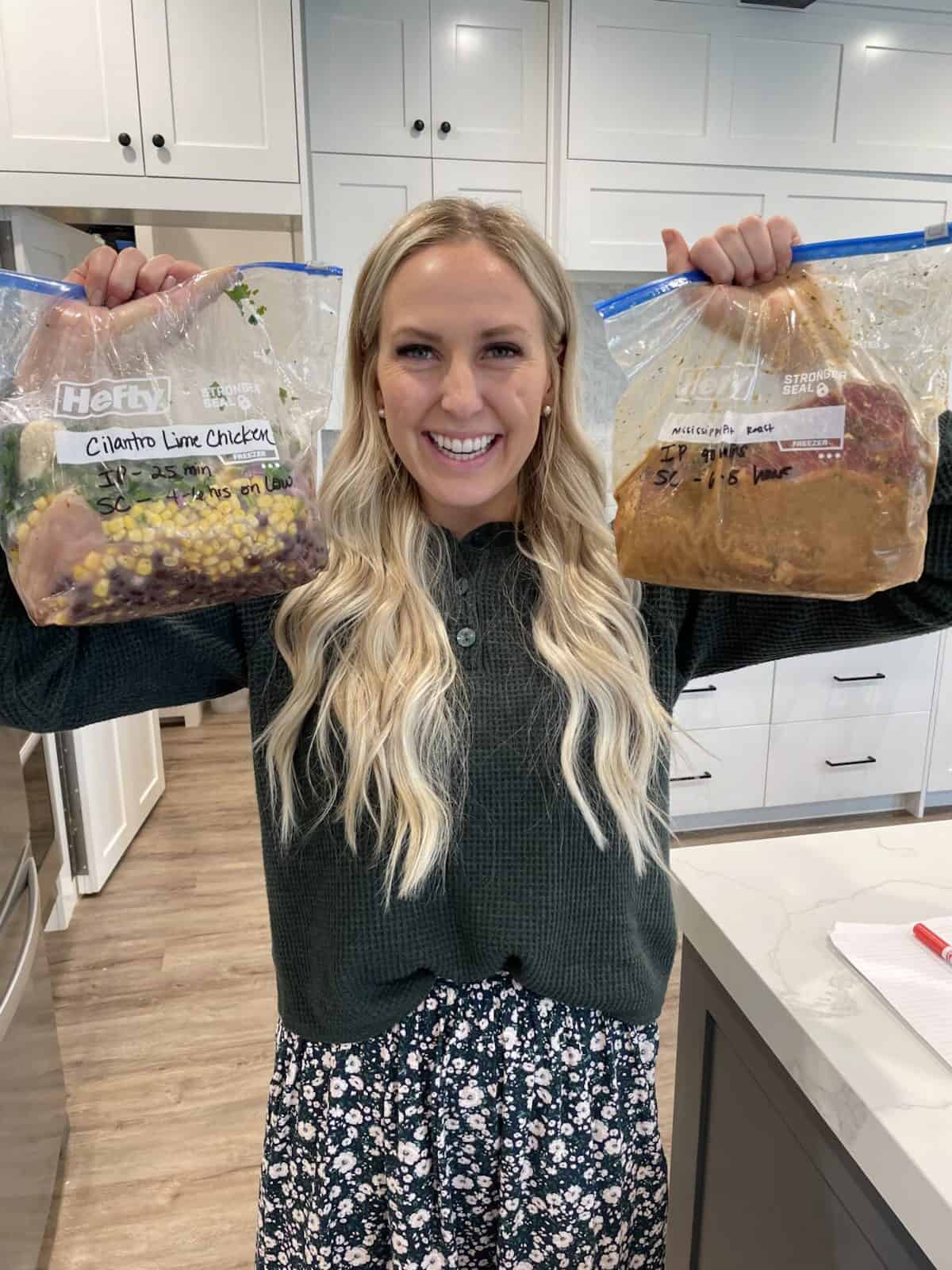 Now, we know what you might be thinking. You might be thinking that healthy freezer meals are expensive or that they take too much time to prep. But we're here to tell you that neither of those things have to be true! With a little bit of knowledge and some careful meal planning, you can easily create delicious and affordable freezer meals that will make your life so much easier.
So, without further ado, let's get into how to plan easy freezer meals!
Step 1: Do Your Research
Before you jump into your freezer meal preparation process, you'll need to do a little research. Look up freezer meal recipes on Pinterest and your favorite blogs to get some inspiration and compile the recipes that look best to you! We have an entire section of our blog dedicated to freezer meals, so you can check that out to gather some ideas.
Step 2: Choose Your Recipes and Make a Shopping List
Once you've gathered some inspiration, it's time to start narrowing down your recipe options. When choosing recipes, remember how many people you'll be cooking for and how often you'll need to pull a meal out of the freezer. If you have a family of four and plan on eating one freezer meal per week, choose seven recipes that will last you those seven weeks.
Another thing to remember is knowing how you will be cooking your freezer meals. If you love using your Instant Pot, we have over 100 Instant Pot Freezer Meal Recipes. If you love using your slow cooker, be sure to check out our 100 Slow Cooker freezer meals.
As you're looking through recipes, make a grocery list of all the ingredients you'll need to buy to make those meals. This will save you so much time at the grocery store!
Want us to send you 8 Slow Cooker Freezer Meal recipes for free that includes the shopping list for all the ingredients? Click here and we will send it right over!
Step 3: Shop for Your Groceries
Now that you have your grocery list, it's time to hit the store! When you're shopping, be sure to look for sales and coupons to help you save money on your groceries. One way I save money while grocery shopping is doing it all online and picking it up. This way, I'm not tempted to buy things I don't need!
Step 4: Prep The Ingredients
This is the fun part! Now that you have all your ingredients, it's time to start prepping your ingredients. Depending on the recipes you've chosen, this could involve chopping vegetables, browning meat, cooking ground beef, or mixing up sauces. Do whatever prep work is necessary for each recipe so all you have to do when it's time to cook is pop everything in the oven, slow cooker, or Instant Pot and let it do its thing. You'll have healthy meals in no time!
Step 5: Assemble the Freezer Bags
Once your ingredients are prepped, it's time to start assembling your freezer meals. To do this, simply label each freezer bag with the name of the recipe and the cooking instructions. Then, add in all the ingredients for that recipe. If you're using a gallon-sized freezer bag, you can usually fit two recipes worth of ingredients in there. Just be sure to leave some room at the top so the bag doesn't explode in your freezer! Ziploc bags are my go-to for make-ahead freezer meals.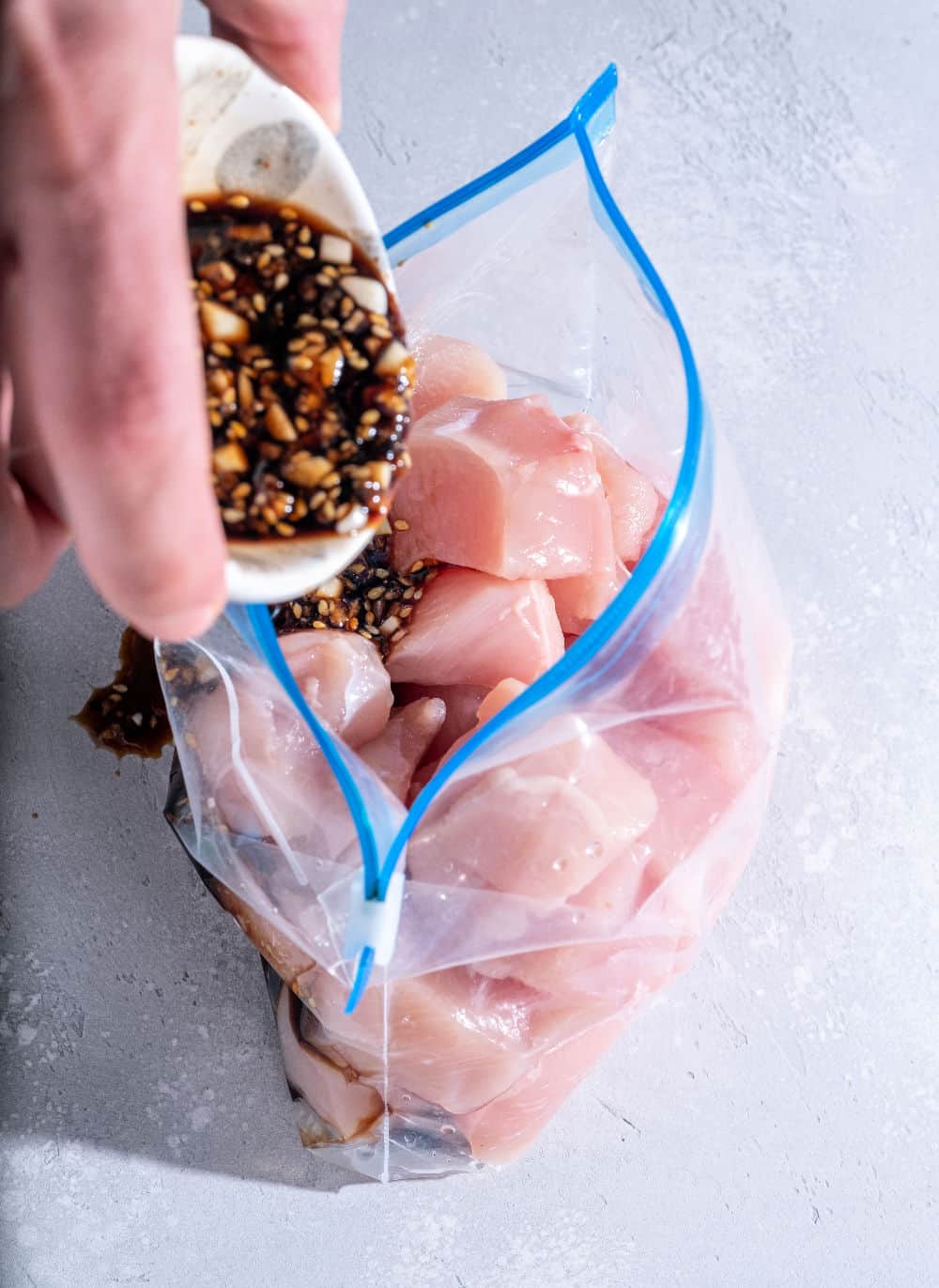 Step 6: Freeze Your Meals
Now comes the easy part: freezing your meals! Once your bags are assembled, lay them flat on a baking sheet and pop them in the freezer. This will help them freeze evenly and make them easier to stack in your freezer. If some of the meat or ingredients are still warm from the prep phase, cool them in the fridge before freezing them.
We usually don't have a ton of freezer space, so we stack our freezer meals flat. It makes it so that we can get a lot more meals in a small amount of space.
Step 7: Cook Your Meals
When you have a busy night or you don't feel like cooking, pull one of your bags out of the freezer and cook it up! You can thaw the bag in warm water, then add the contents of the bag to your crock pot, Instant Pot, or oven for the best results. Enjoy!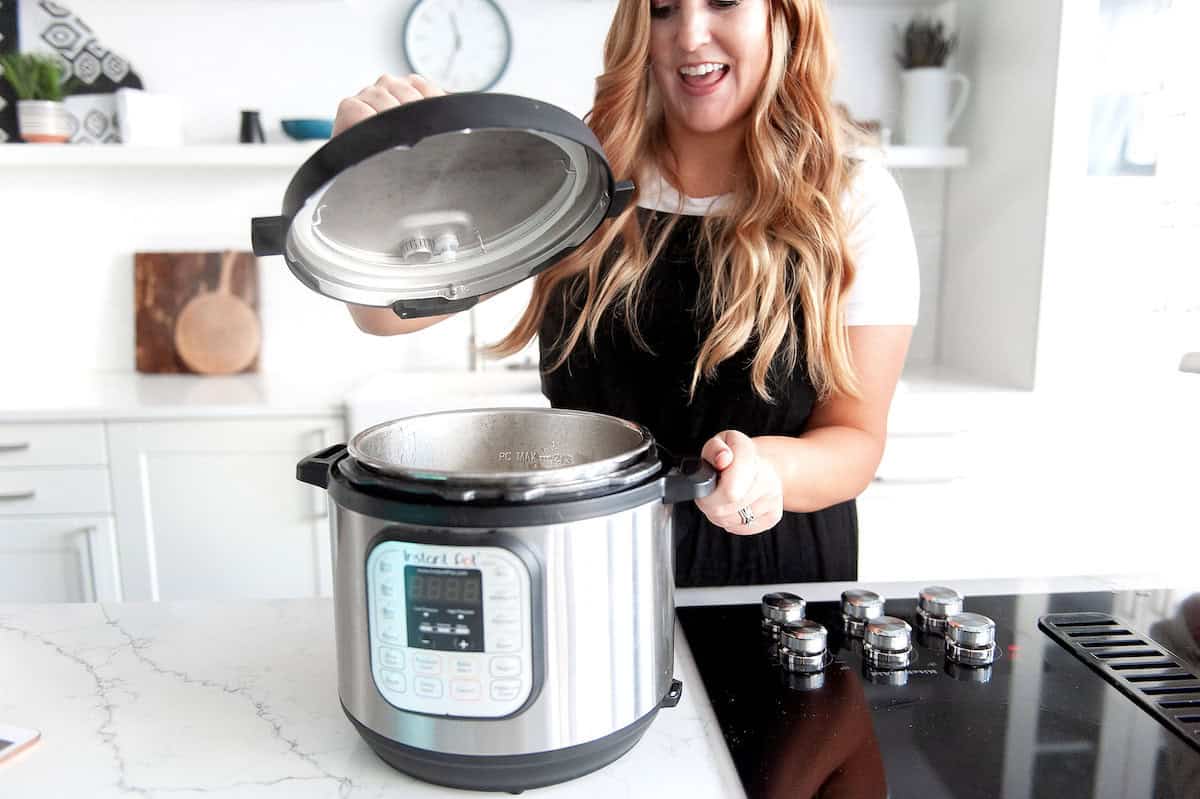 Here are a few tips to keep in mind when making your freezer meals:
Have a clean space: Cooking can get messy fast, especially when you're cooking 7-10 meals at once. Get ahead of the mess by making sure your kitchen is spotless before you start! Get all the dishes out of the sink, clean the counter, and clean up your freezer meal prep as you go.
Eat your freezer meals within three months: Your meals will likely last longer than three months in the freezer, but you'll want to eat them sooner for maximum freshness.
Use heavy-duty bags: I like to use gallon-sized freezer bags for my meals because they can hold a lot and are less likely to tear than regular plastic bags. If you're really worried about your freezer bags tearing, you can always double bag your recipes. Just put one recipe in each bag, then put both bags in another freezer bag before freezing them. This way, if one bag tears, the other will still be protected.
Label everything: One of the most important things you can do when making freezer meals is label them! Be sure to write down the recipe's name, the date you made it, and any special cooking instructions. This will save you so much time (and frustration) later on.
Don't re-freeze meals: Once a meal has been frozen and thawed, it's not safe to freeze it again. So, if you have leftovers, be sure to eat them within a few days (especially if you have leftover chicken or meat).
Freezer meal cooking is a great way to save time and money, and it's perfect for busy families or anyone who doesn't enjoy cooking. Your entire family will love these home-cooked meals, and you'll love the convenience! With a little bit of planning and prep work, you can have a month's worth of meals in your freezer in no time. So what are you waiting for? Get started today! You could even throw a freezer meal party with your friends – this is a fun way to get even more make-ahead freezer meal recipes.
Have any questions about making freezer meals? Leave them in the comments below and we'll be happy to answer them!
If you are ready to get started making your own freezer meals, you might want to check out our mini Freezer Meal course! It's everything that you need to get going and make your own delicious freezer meals.
Happy cooking!