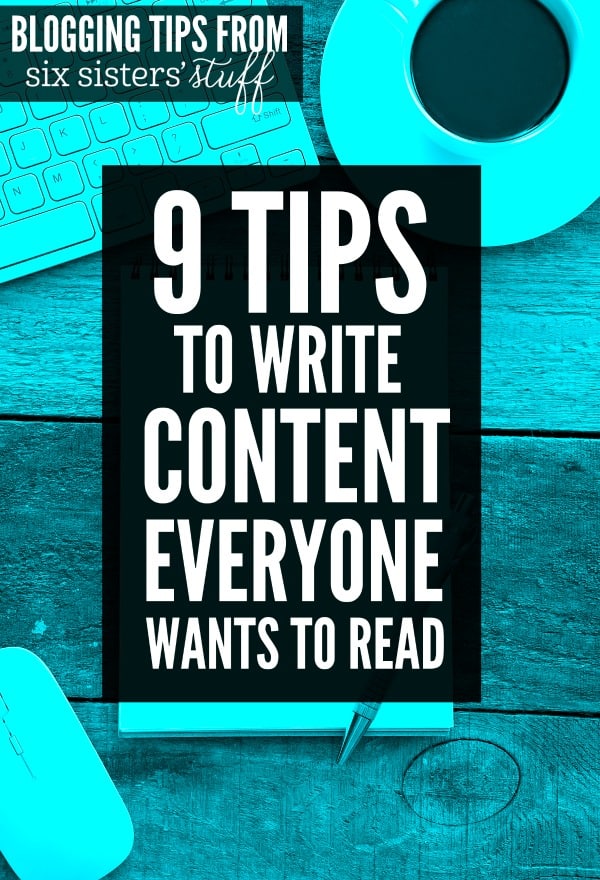 Before we dive into all about writing content, be sure to grab our
FREE eBook: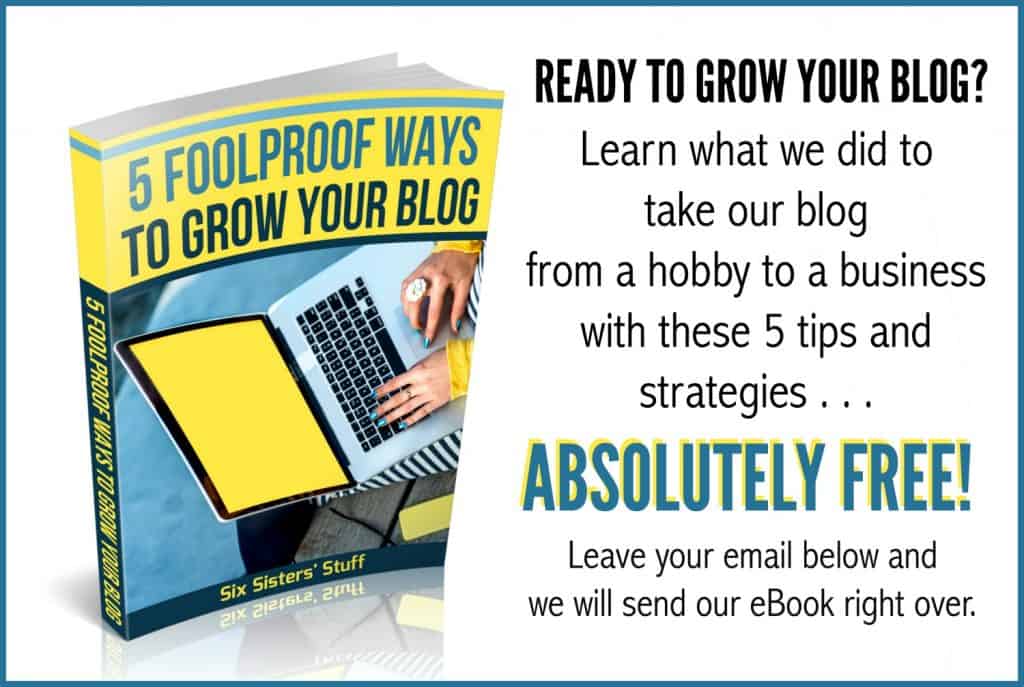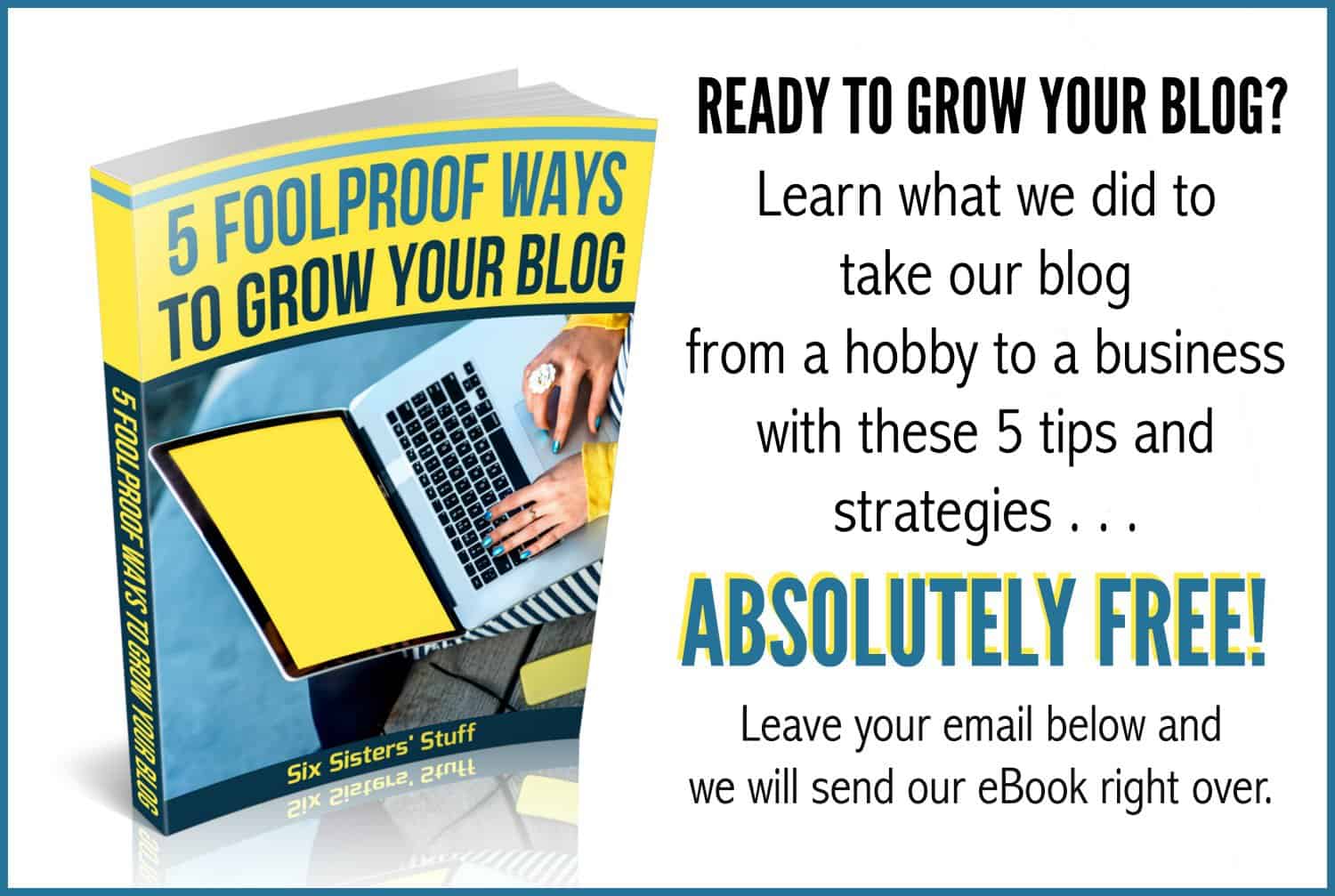 So, you got your blog all set up (and in case you need help with that, read this post) . . . NOW WHAT?
It's time to start producing content!
So, what exactly is "content"? It's whatever you put on your blog! It could be:
-blog posts
-videos
-infographics
-research reports
-articles
-lists
-podcasts
-stories
The possibilities are endless – your content can be whatever you want. It's your blog (don't ever forget that)!
So, how do you get started writing content?
Here are 9 tips to help get your creativity going and the blog posts flowing!
1. Brainstorm a list of things that you want your blog to be known for.
Why did you decide to start blogging? There were probably lots of things that you wanted to share – make a large list of all those thoughts so that when you are stumped about what to post next, you can come back to this list and be reminded. I have a large list that has grown to over 500 things (mostly recipes) that I want to blog about – I started it clear back in 2012 and it just keeps growing! When I am not sure what to blog about next, I always come back to that list.
2. Write about what's trending.
Look on Pinterest for subjects that are similar to yours and see what people like, what they comment on, and what repins well. I love to look at Pinterest's Popular Page to see what pins are trending at the moment – I can always find ideas of what to write about after scrolling through it. Another great source of inspiration is BuzzSumo – just type in a keyword of what you are interested in writing about it and it will show you the most popular articles in that niche to get those creative juices flowing!
3. Start with your own story.
Why did you start a blog? What do you have to share? What makes you unique? What has happened in your life that has brought you here? What are some of your life experiences that other people can relate to? People LOVE stories. They love to know the person who is behind the blog and what drives them or what they are passionate about. You could use a small story at the beginning of each blog post or weave a story throughout the entire post; stories engage your readers because they want to know how it ends. I love how Beckie at Infarrantly Creative blogs about home DIY projects, but also has a series all about her and her life . . . it sucked me right in because she was so real and open about it!
4. Share curated content.
This basically means sharing content that you didn't originally write yourself, but you organize it all together in one place and make it something of value to your readers. Buzzfeed is the KING of curated content: from 15 breakfasts for when you are sick of cereal to 21 Things Everyone With Braces Will Remember, they totally have conquered when it comes to putting together curated content!
When we started our blog, we started a "Fresh Food Friday" feature where we would find 10 amazing recipes from other blogs and share a link to their blog for our readers to go find the recipe. I know that seems counter-productive – readers are coming to your blog and then leaving to go find another recipe on another blog, but it's actually just the opposite. These feature posts ended up being the most popular post on our blog each week! Our readers saw us not only as a place to get recipes, but also as a resource of sharing other great recipes.
The great thing about curated content is that it can be put together fairly quickly . . . we usually just share a picture or a link to the different posts that we share and you can round those up pretty quickly. The popular page on Pinterest or BuzzFeed are great places to look for ideas of content that you can share.
5. Share your opinion or ask for advice.
Everyone has an opinion about something . . . so share yours! Be aware that you are opening the doors for potential comments of people who have the opposite opinion, but if you write a genuine post, it could quickly become one of your most popular posts. Need some funny ideas to get the ball rolling? How about this: how much does the tooth fairy pay? We asked this question to our readers and it was AMAZING – everyone had to put in their two cents and we had incredible feedback. On Thanksgiving, we asked if people preferred sweet potatoes or yams and it was the same thing – everyone wanted to share! Asking your readers a question where they have to share their opinion or advice is a great way to get some reader interaction and get them engaged in what you write.
6. Make a video.
Maybe you don't have time to write a post, but you could make a quick video about some subject that you want to share. You could use professional equipment and make it an incredible video, or you could use something as simple as going live on Facebook and then embedding that video into a post. We actually do both . . . we have had very professional videos made and then we also do Facebook live videos and both are super effective! People like the realness that they see in a Facebook Live video or a Snapchat story or on Periscope, but then they also like the creativity and story that goes into a more professional video. Try a mix of both and see what your readers respond to. Either way, video is one of the most powerful forms of content out there at this time . . . don't be afraid of it, just jump in and try it!
One of our most popular Facebook Live videos is all about how to start a blog – even though we mostly share food on our blog, we also have a lot of people interested in learning more about blogging. People were connected to this video from the beginning because I shared a story with them that so many could relate to.
7. Solve a problem.
People are looking for answers – even answers to problems they didn't even know they had! The problem that we focus on solving on SixSistersStuff.com is how to get dinner on the table in the shortest amount of time possible. We share easy slow cooker recipes, freezer meals that only take 5 minutes, and our favorite meals that can be thrown together in no time at all. What problem can you solve for your readers? Keep in mind that they not only want answers, but they want them FAST! Make your blog post "scan-able" – meaning that they can scan through pretty quickly and pick up on the important parts. You can do this by bolding certain parts, changing the size of key points, and adding images and/or graphics to make things stand out.
8. Write a "How To" post.
Every once in a while, we throw a How To Tutorial post out there . . . one of the most googled things is "how to" do something, so think of what you can teach your readers to do. One of our most popular posts is How To Pull Back Your Bangs 15 Different Ways. I know it's not food, but our audience is young moms who probably don't have a lot of time to spend on their hair, so because we showed them some quick ways to do their hair, it brought in a ton of traffic.
9. Ask for guest posters.
It can be overwhelming to blog alone, so reach out to family and friends (or even other bloggers!) and see if they would be interested in sharing something on your blog. Aleisha from Call Me Mama Leisha even had her dad write a post on her blog! You could have a series where you feature certain people who are experts in certain areas or even just spotlight a different person each week. One of our friends had a series on her blog called "What I Know . . ." and every week she would have a blogger come and share one thing that they know about blogging. It was so educational and fun to see what each blogger would share! Don't be afraid to reach out and ask for help to create content.
Don't forget to grab your FREE eBook – 5 Foolproof Ways to Grow Your Blog!