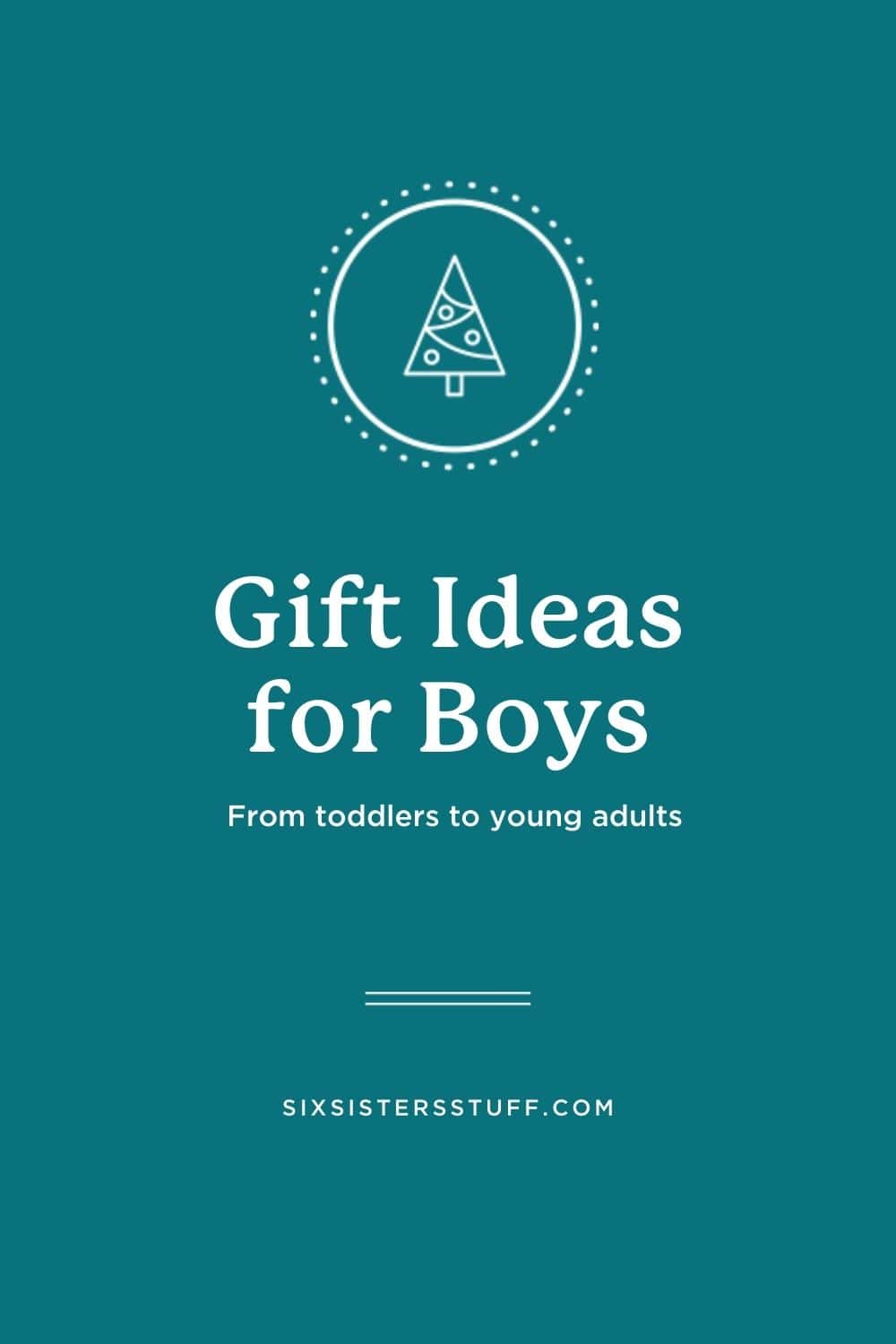 Whether you're hunting for the perfect gift for boys big or small, check out our list of favorites!
I broke it down into ages, but I'll be honest – my husband loves all of these as much as my toddlers.
Toddlers
Car Ramp Toy – we have this and my boys go NUTS over it.
Mr. Potato Head (with Buzz and Woody) – this is a favorite from Christmas last year and it's still for sale!
Diggers – this little set is PERFECT for toddlers. We just ordered these and they'll be under our tree this year.
Garbage truck – if any of you are knee-deep in the "Garbage trucks are so cool" phase like us, I would like to introduce you to this toy. This one is also under our tree this year.
Tool set – this compact tool set is perfect if you don't want an entire tool table taking up space.
Balance bike – we got this for my son's birthday and he LOVES it. He also really loves that it has a bell.
Kinetic Sand (ages 3+) – every single one of my kids has loved kinetic sand for sensory play. Bonus – it really never dries out!
Megablocks – you can never go wrong with this classic!
Little Boys
Magnetic tiles – this toy is well loved by everyone at our house. We opted for Picasso Tiles because you can get a lot bigger bang for your buck with that brand (and they still hold up!)
Train set – train sets can get really expensive, really fast. We've loved our IKEA train set (and it's a fraction of the price of others!). We add to it year after year!
Fort builder – my kids grandparents got this for them this year and I have a feeling it's going to be well-used.
Stomp Rocket – this toy is always a favorite
Plus Plus Building Pieces – these have been growing on us this year and I love seeing what different things they build. These are a great open-ended toy!
Older Boys
Car that drives on the walls – I bought this a few years back and it was the star of the day. It can drive on the walls AND ceiling.
Walkie Talkies – we loved having these growing up.
Games – Always a fun addition to any house. Marvel Villainous is top-rated this year, so if you've got a Marvel lover in the house, this is a great option.
Subscription box – see if you can find a subscription box of your child's favorite subject. Kiwi Co has some great options for young creators and innovators!
Laser Tag – have an epic laser tag battle (and you can play indoors!)
MUCH Older Boys (Teens/Adults)
Cologne sampler set – Camille gave me this idea, but she gifted a sampler set to her husband so he could test out which one his favorite was before buying a bigger one. Turns out he loved being able to switch through each sent, and he's sold on sampler sets for life.
Manscaped Weed Whacker – this ended up on a lot of lists in our family this year (don't tell them we told you). The other manscaped products are pretty awesome, too.
Over-the-door Hoop – since my husband moved to working from home all the time, this has become an addition to our home office. It is well-loved.
More fun games – we are big game-lovers in this family. A few more favorites for the older "kids": ramp shot, bottle bash, and spike ball.
Adjustable dumbells – these are great if you're short on space!
Hammock – this packable hammock is perfect for the outdoorsy type!
Pocket Knife – this mini Leatherman fits on a keychain and is great for everyday use!