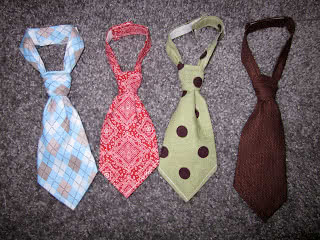 I was making some ties for my new nephew who will be arriving in May and decided to put the measurements on here so I could refer back to them when I make more!  I used the same exact tutorial that Camille used in her "little guy necktie post" which is found
here
. The only thing I changed were the measurements.  For a newborn sized tie I used these measurements:
I liked having a little fatter tie.  The tutorial we used originally only had the width for a 3T tie as 8 inches and after some trial and error found that I like using 9 inches for a newborn sized tie!  If you wanted to do a skinnier tie you could make the width smaller than I did.
I also made the part that goes around the neck about 12″ long. I just made sure I did a big enough strip of velcro that you could make it as small or as big as you need!
Linked up to these parties . . .