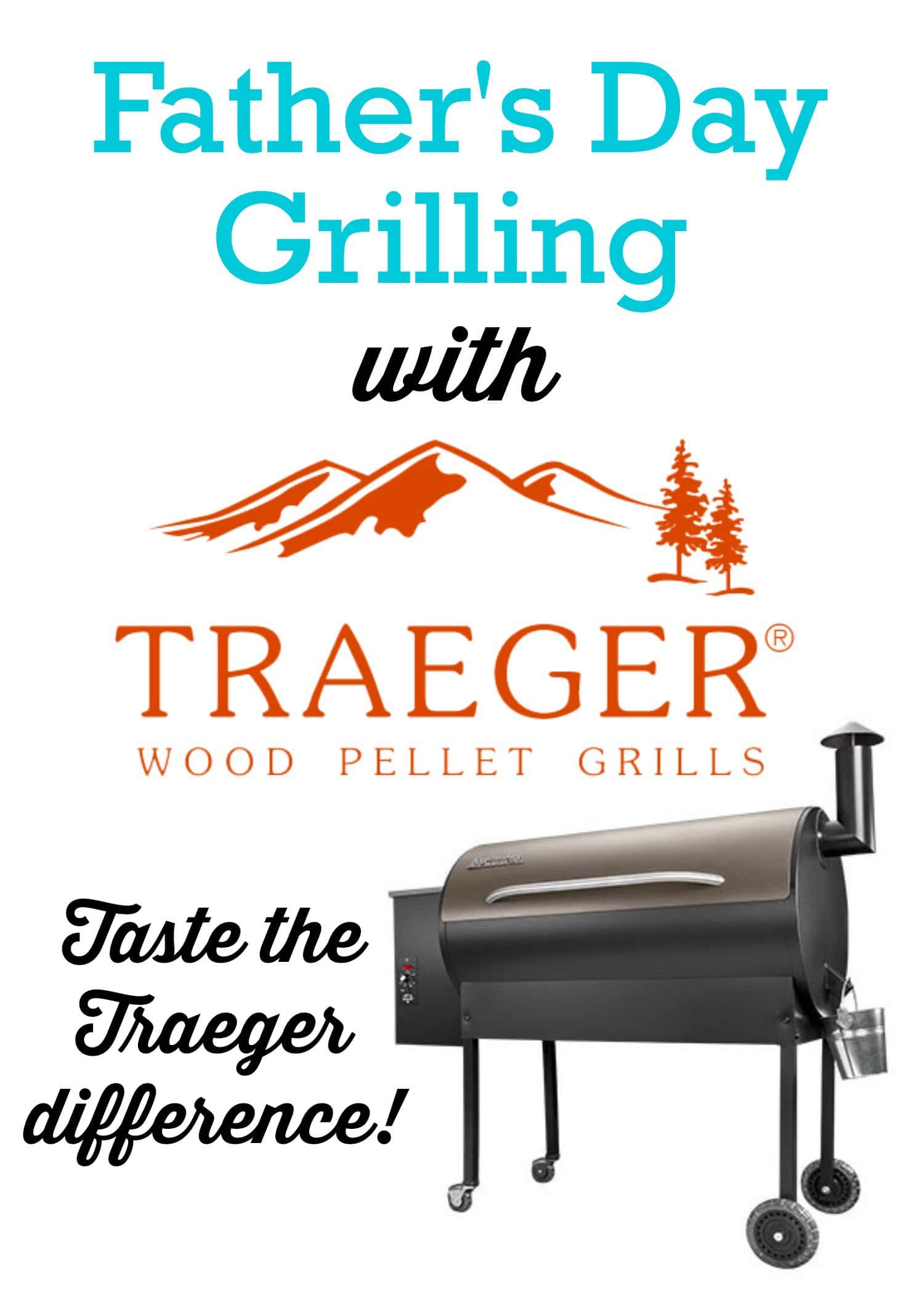 Father's Day has totally snuck up on me this year!  We welcomed a sweet, baby girl into our family about a week ago and I am finally getting caught up on things!  My husband has been wanting a grill since we moved into our new home and has been dropping all kinds of hints about Traeger Wood Pellet Grills.  He is a big meat eater, and these grills can do it all!
Traeger Grills are built to give you the ultimate all-in-one outdoor cooking experience. You can use it as a grill, BBQ, smoker, or a wood-fired convection oven!
With Traeger Grills, you no longer have to worry about using charcoal, propane, dealing with scary flare-ups or spending the day in the heat babysitting your food!  All you have to do is simply turn it on and you are ready to start grilling!
I don't know about you, but grilling has always intimidated me!  I was sure that I was going to light my hair on fire with our last grill and never knew how to get the temperature just right.  Before we got our Traeger Grill, I would have to wait for my husband to get home from work to start the grilling.  Now I can easily do it myself and our food tastes amazing every time!
A few of my favorite features of Traeger Grills are the Auto-Start, Temperature Control and Convection!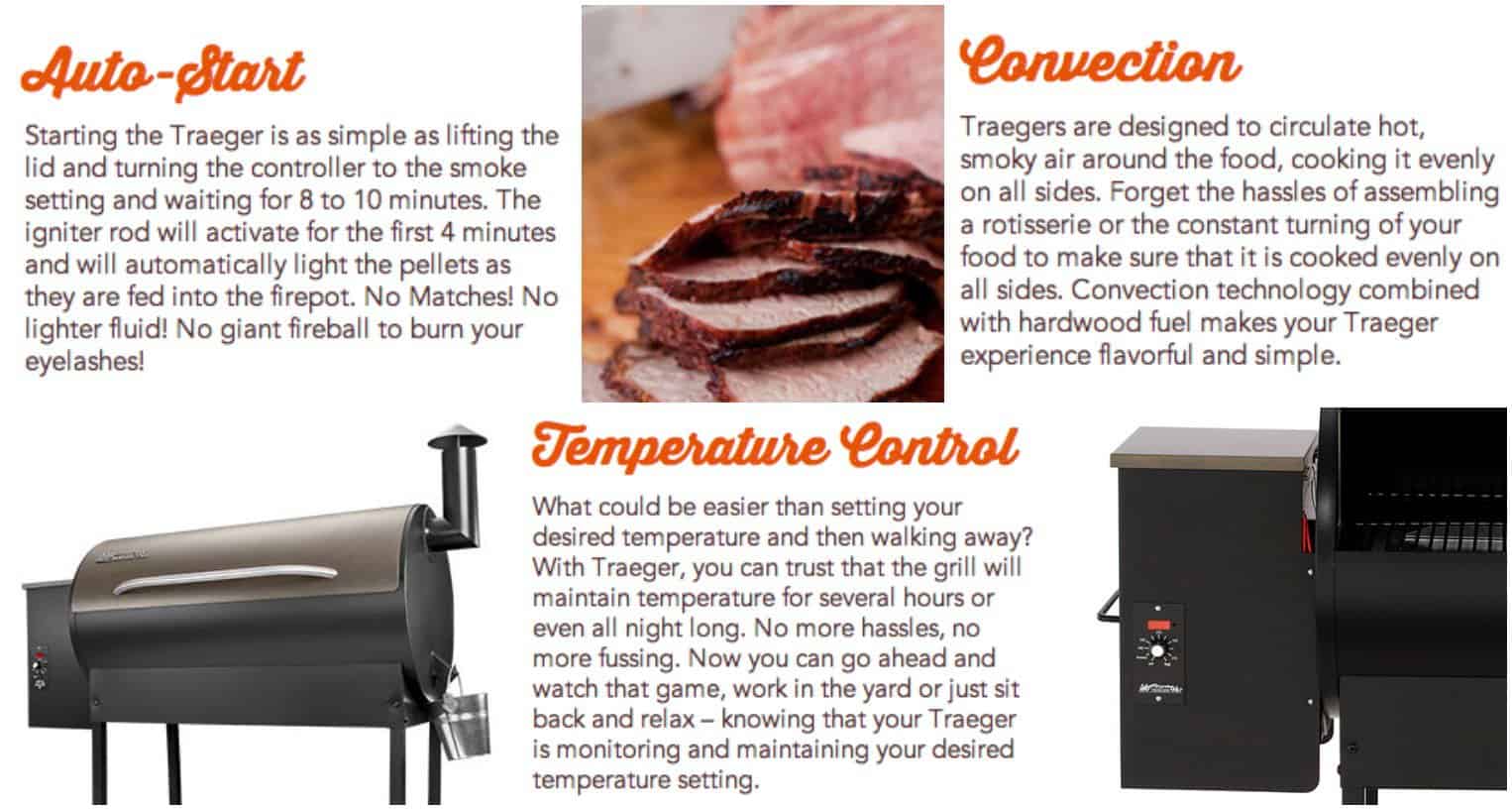 Over a year ago, my husband went to a barbecue at a friend's house where he experienced food cooked on a Traeger Grill for the first time.  He still hasn't stopped talking about it! He went on and on about the amazing flavors of the food because of the wood pellets used to cook it.  I thought he was exaggerating until I tried it for myself!  Traeger's sauces, rubs and flavored wood pellets flavor food to perfection!
Traeger Grills has 8 different flavors of wood pellets that make your food taste amazing!  Traeger selects only the finest hardwood from across the country to go into their pellets.  They are also clean burning and environmentally safe with no artificial binders!  As far as cost, wood pellets are more affordable.  Propane costs nearly twice as much BTU as natural wood pellets!
Traeger has a grill to fit any budget or lifestyle!
1.  Texas Grill.  Designed after the traditional Texas Style wood cookers, the Texas brings old fashioned wood cooking into the 21st century by featuring a high-tech auger-fed burner, electronic autostart ignition, multi-position digital thermostat control, and EZ-drain grease system. If you?re serious about your outdoor cooking, this is the Traeger for you.
2.  Traeger SELECT.  Introducing Traeger?s latest residential pellet grill, the SELECT. We preserved the best features of our popular DELUXE ? its sleek design, high quality stainless steel trim, handy side tables, and enclosed storage space. What's different? We increased the flat grilling surface by over 37 percent! And the grill's large capacity hopper, now conveniently accessed from the outside, holds 18 lbs. of wood pellets for hours of uninterrupted grilling and smoking.
3.  PTG.  The PTG, our new portable Traeger! The perfect solution for anyone looking to bring the same great Traeger taste to camping, tailgating, picnicking, the college student, boating or whatever awaits you. Wherever you can go, it can go! Runs off a standard 110 v outlet.
4.  Lil' Pig.   Is it "Art Deco" or is it a barbecue? You decide, because our Lil' Pig smokes and cooks just like any other Traeger grill. With 418 square inches of cooking surface, and internal hopper, stainless steel door handle, multi-position digital thermostat control, and upgraded wheels, this grill is sure to raise a "squeal" from your guests. "Soo-ee!"
5.  Traeger XL.  The XL gives you 836 sq. in. of cooking surface, providing you with enough cooking space to turn your backyard into party central. Cook up to 24 chicken quarters or 16 racks of ribs at once!  The XL's dual firepot design provides exceptionally balanced heat inside the large cooking chamber. Comes equipped with Traeger's auger-fed burner, electronic autostart ignition, and EZ-drain grease system.
6.  Lil' Tex.  Modeled after our popular Texas Grill, this slightly more portable version provides all the most popular Traeger features at a much smaller price! The Lil' Tex features 418 sq. inches of cooking surface, along with Traeger's high-tech auger-fed burner, electronic autostart ignition, and EZ-drain grease system.
Whether you are looking for a last minute Father's Day gift or in the market for a new grill, Traeger Grills is the answer! Trust me, once you taste the difference, you will never go back to another grill again!
For more information, check out their website!
You can also follow Traeger Grills on YouTube, Facebook, Twitter, Pinterest and Instagram for delicious recipes and grilling tips