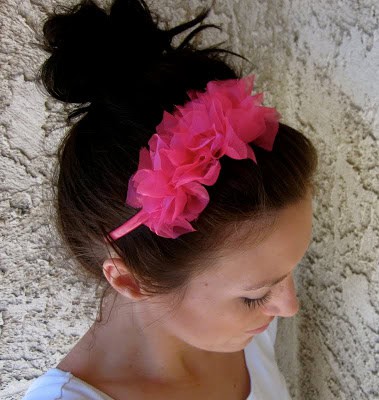 As busy Moms,  we don't always have a lot of time to complete all of our other responsibilities AND look good (…or even get around to showering before 3 p.m.)!  My husband and I are currently living in Southern California for the summer and are without air conditioning.  Yikes!  The last thing I want to do is blow dry my hair or get all dolled up.  My poor hair is in a pony tail almost everyday, but I came up with this EASY headband to add a little flair to my hair!
Supplies: Headband, matching sheer fabric (just a small scrap will do!), and scissors.
Cut 20, 1″x4″ fabric strips.
Tie each strip in a knot onto the headband.
Continue to tie the strips to the headband to create the "ruffle."  I tied my knots down the side so the "ruffle" was on the side, rather than straight across the middle of the headband.
My "ruffle" was about 4 inches long across one side of the headband. (Don't worry, it won't look so crazy when you're done!)
Trim down the "ruffle" so it is all even.
There ya have it!  How easy was that?!
That is one easy summer hair-do!