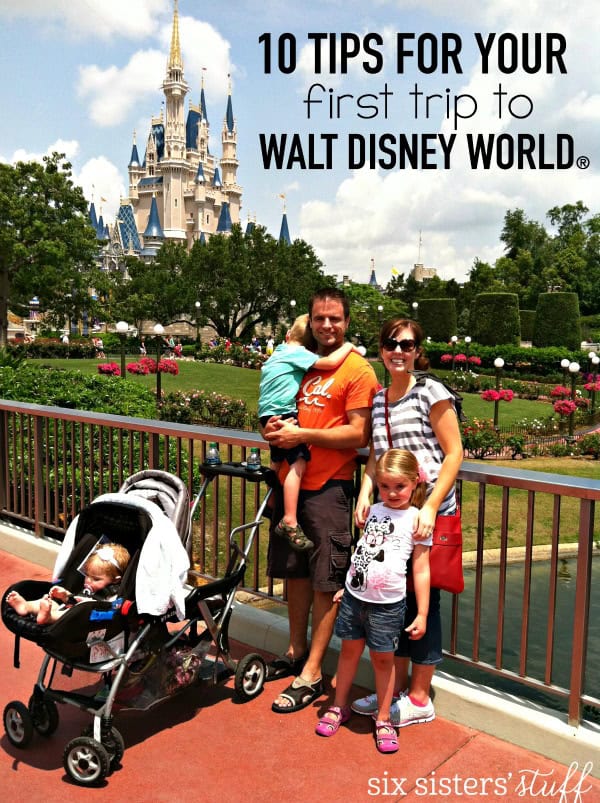 Growing up, family vacations were an important part of our lives. I am grateful that my parents made vacations a priority- they knew that there would always be more time to make money and not always time to go on vacations and make those memories.
Walt Disney World was such a special place for me that I couldn't wait to take my children there and share the same experiences that I had with them. Today we have teamed up with
Kingdom Planners
(which is an amazing company that will help make your
Disney vacation planning so much easier
! Plus, they are also a
sister-owned company
, which we can totally relate with!) to share some tips with you that I learned with my three kids that will hopefully make your Disney World experience even more magical.
I highly recommend staying at a
Disney Resort
. At first, I didn't think that it was worth the extra money to stay in one of Disney's resorts (there are so many places that are pretty close that were a lot less expensive!). However, there are so many perks to staying in one of their resorts. Here are a few:
– We didn't have a rent a car. They have complimentary transportation to and from the airport, complimentary and convenient transportation into all the parks, and we didn't have to worry about finding a parking spot every day, then fighting traffic to get out of the park. It make traveling with kids a breeze!
– Extra Magic Hours – On certain days you can get into the parks an hour before it opens or stay 2 hours after it closes. These are the best times to ride on some of popular attractions!
-Opportunity to make dining reservations for your entire stay 180 days in advance of your trip and 60 days in advance for FastPass+ reservations. Be surrounded by Disney magic for your entire trip!
Take a midday break and relax back at your resort during the hottest and most crowded time of the day. Don't push yourself or your kids too hard. I found that with all the walking that we were doing, even my big kids needed a little afternoon nap or at least some down time. Another bonus about going back to the resort during the day: the pools were completely empty! We would recharge our batteries and relax, then head back to the park for the rest of the night (the night shows are amazing!).
As mentioned above, you are going to be doing a lot of walking, so comfortable shoes are so important! I actually brought a pair of tennis shoes that I had already broke in prior to my vacation. Usually I would clock over 20,000 steps on my fitness tracker just from walking around the park! Your feet will thank you if you wear good shoes because one blister can ruin the rest of your vacation!
Bring rain ponchos from home (it's so much cheaper than what you will find in the park) and then don't fret the rain. During both of my trips to
Disney World
, it rained on half of the days we were there. But Florida rain leaves as quickly as it comes, so don't worry! Wear the ponchos through the quick storm and continue exploring the park. The nice thing is that the rain will scare some people away, so it's a great time to ride the rides that normally have longer lines or catch some indoor attractions. Ponchos are also good to have on hand for the rides that will get you wet (i.e. Splash Mountain!).
Bring a change of clothes to the parks for your little ones. Some of the
Disney Parks
have awesome splash areas that are very tempting to kids, so let them enjoy getting soaked and then change them into their dry outfits. During the hottest parts of the day, running through the water is going to cool the kids down quickly and the hot sun will dry them off fast! When we talk to our kids about their favorite parts of the vacation, getting wet always ranks high on their list!
Plan ahead and utilize the FastPass+. FastPass+ selections can be chosen 60 days prior to your trip if you are staying at a
Disney Resort
(just another bonus of staying on Disney property!). If you want to meet Anna & Elsa, you will definitely want to get book your FastPass+ as soon as you can.
(We were there for Merida's Princess Coronation . . . my little girl loved it!)
Make dining reservations early – you can book them as early as 180 days before your trip! The best times and best events always fill up fast, so make sure you know what you want to do. While you are doing that, make sure that you book at least one character meal – it's a great way to meet favorite characters without standing in long lines (and you get a delicious meal!). If you miss the 180 day reservation mark and you find you favorite restaurant is booked, check for cancellations.  The best times to do this is 60 days, 45 days, and the week prior to your trip.  People always change their minds and reservations do open up even at the most popular restaurants.

(We did a fun character breakfast with our kids – it was definitely a highlight of our trip!)
Pick up complimentary "First Time Visitor" buttons at your resort or at Guest Relations in the parks.  These make a fun souvenir and Disney Cast Members often times will congratulate you on your first trip during your stay. You can also get free buttons for other celebrations! If you note a celebration on your dining reservations, the restaurant may do something special for you (we have been given free cupcakes and cards signed by some characters).
I would recommend bringing in your own water bottle and filling it up during the day at the water fountains or you can get free cups of ice water from any quick service counter. With the warm weather and all the walking you are doing, you are going to go through a lot of water!

Don't stress if you are not able to do every single thing on your list . . . it is literally impossible to do all things Disney in one just one trip! Just enjoy yourselves and love every second because vacations always go so fast!
And a bonus tip: book your trip with an Authorized Disney Vacation Planner, just like Kingdom Planners. They will take the stress and hassle out of figuring out how to make sure you get everything out of your dream vacation so that you can focus on making memories. Their planning services are FREE and you will never pay more than if you booked through Disney yourself.  In fact, they can SAVE you money by monitoring all of the special rates and promotions and if your trip qualifies, they will move your reservation to the lower rate.  Plus, they make all of your dining reservations, book FASTPASS+, create custom itineraries for you  and much more.
Are you thinking about booking a vacation to Disneyland or Disney World? Be sure to check out Kingdom Planners and the amazing packages they book and services they offer! The first 50 people to book a trip through them will receive a $50 Disney Gift Card!

(The $50 Disney gift cards will be given to the first 50 clients who  book a new Walt Disney World Resort and park ticket package through Kingdom Planners. To qualify, you must mention Six Sisters' Stuff in the comment section of your quote request.  Gift cards will be mailed out with the clients' travel documents, after final payment has been made. One gift card per Walt Disney World Resort and Ticket travel package booked through Kingdom Planners.)
You can find
Kingdom Planners
here on their
website
, or be sure to check them out on
Facebook,
Twitter
,
Google Plus
, and
Pinterest
.