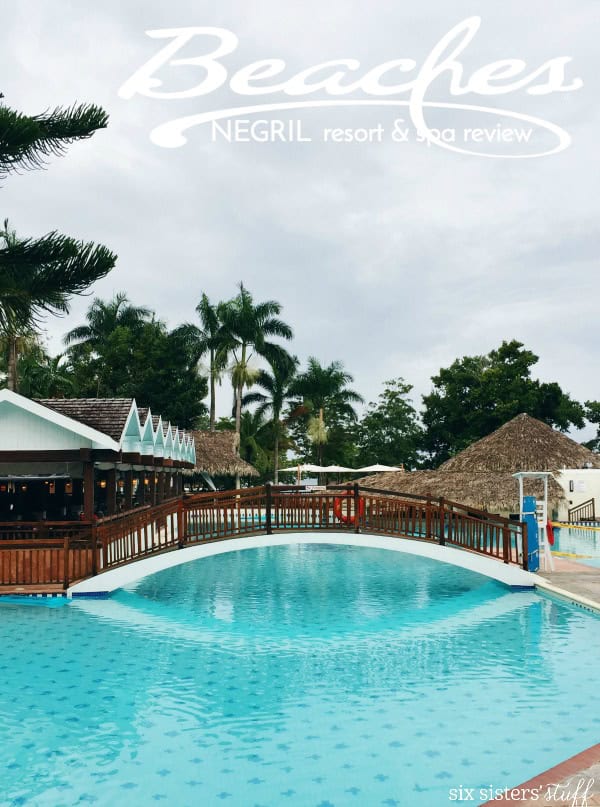 I can't believe how fast time flies, but we've been home from Jamaica for almost a month! I  finally sat down to write about our experience and answer the questions many of you asked on social media. My husband and I even put together a little video at the end from our stay – which you may want to watch for a mental escape from the winter weather. 😉
Is it all-inclusive?
Definitely yes. One of the best things about this resort was that with the price you paid, pretty much everything was included. Food, beach chairs, drinks, parties, and even water sports! Like most all-inclusives, you can pay a fee for spa treatments or an occasional menu item, but the thing I loved most about Beaches is that you don't have to tip. In fact, beaches employees can't take tips (so it saves a lot of the awkward do-I or don't-I situations).
What is the Sandals Foundation?
The Sandals Foundation is a way you can give back on, or before, your vacation. We went to beaches for the Social Media on the Sand Conference, and had the opportunity to attend a Reading Road Trip to one of the locally sponsored schools. Unfortunately, our flight got delayed and we missed the road trip, but every other attendee in our group said it was their FAVORITE part, even their kids and teens favorite part, too! A lot of the time a vacation can be very self-oriented, but doing service together as a family is a great way to make incredible memories. They also partnered with Pack for a Purpose , so you can bring up to 5 lbs of supplies for local schools on your next vacation! Just leave them at the front desk of your Beaches or Sandals resort, and they will be distributed to children in need in the area.
What makes Beaches Negril different from other Beaches resorts?
I think the thing that was most different was the feel of the entire resort – when you walk into the resort, it's like you're stepping into paradise – like you're right there, immersed in the feel, look, and culture of Jamaica. Where Turks & Caicos and Ocho Rios definitely boast more of a resort vibe, the palm huts and lush landscaping of Negril make you feel like you're hidden away in a private sanctuary. With only 9 restaurants compared to Turks' 20 and Ocho Rios' 7, it's small enough that you will get to try everything, but not so small that you'll be eating at the same place every day (unless, in my case, you're obsessed with the jerk chicken and want nothing else). Another perk to it's smaller, more intimate size – it doesn't take a 20 minute walk to get to dinner! Everything you need or want is less than a 5-minute walk from wherever you are in the resort. The 7 miles of beach and crystal clear waters with unlimited water sports (even waterskiing!) are definitely a bonus at Negril, too. In my opinion, it's perfect for shorter stays (a week tops) and it is a lot more intimate. If you're looking for a bigger, more resort feel and plan on staying for more than a week – I would definitely look at Beaches in Turks and Caicos. If you want a smaller resort that actually feels like a resort, and want a shorter stay – I'd go with Beaches in Ocho Rios.
How was the food?
Two words: JERK. CHICKEN. We literally ate the jerk chicken AT LEAST once a day – it was FANTASTIC. The pizza on the go was great, too – especially for relaxing by the pool. And guess what? They serve a jerk chicken pizza, too! #winning. The drinks were also SO tasty (we drank the non-alcoholic versions of everything), and the never-ending soft-serve ice cream was my husband's favorite. The crepes at Cafe de Paris were our nightly treat – and I am still craving that nutella and banana crepe!
Would you consider it a good destination wedding spot?
The views are absolutely GORGEOUS. Seven-mile beach is known for it's stunning views, and you are right on the beach. At the conference, we got to speak to one of the head directors who explained the reason why Beaches was started – and it was in response to couples who had been married at Sandals (the adults-only resort by the same company), who wished their whole family could have been in attendance. If you want your whole family in on the action – kids, grandkids, nieces, nephews – this is the PERFECT destination wedding spot!
Is it kid-friendly?
Out of all the all-inclusive resorts we've been to (including cruises) – it was the most kid-friendly of any I've seen! EVER! The entire resort is built for families, and you can tell – from the layout of the resort, to the restaurants, to the water park – everything has taken families into account. And the child-care is out-of-this-world-over-the-top AMAZING. I've never seen nannies so involved and happy doing their job. While we left our kids with Grandma and Grandpa and snuck away for a few days, I kept wishing that we had brought them, especially after I saw the amazing child care that was provided. Oh, and I did I mention it's included FOR FREE?
What kind of activities do they have on the resort?
All water sports are included at Beaches, Negril – so you can go crazy with kayaking, windsurfing, paddle boarding, scuba diving, snorkeling, and pretty much anything else you can dream up is free, right on the waters edge. They also have a waterpark, complete with a lazy river, huge playground, and water slides. They also offer a variety of land sports – tennis, miniature golf, lawn chess, beach volleyball, bocce ball, soccer, horseshoes, and shuffleboard (just to name a few). Plus with tween and teen lounges, kids camp with Sesame Street performances, and other optional activities like a DJ academy and the Red Lane Spa – there really is no need to ever leave the resort to have an incredible vacation.
What kind of activities do they have outside the resort?
Like I mentioned above, one of the top-rated activities was the Reading Road Trip – for kids, teens, and adults! And it's available for a minimal fee. They also have scheduled tours like a dolphin encounter, an ATV safari, deep sea fishing, reggae cruise, zip lining, and river tubing. We did not test any of the activities because we were completely preoccupied by the activities on the resort – haha! Maybe next time! 😉
Is it worth the money?
I touched on this in question number six – but if you are looking for a family vacation (especially an all-inclusive family vacation), YES. It really is centered on activities families can do together, but they have the option of the kids club, or tweens club or teens club for your kids so you can enjoy activities apart, as well. That way you don't come home from your family vacation and not want to see or speak to your kids for a week. Let the staff watch your kids for an hour or two so you can actually come back from your vacation energized, not drained! Plus, where it is all-inclusive, you could not pay for a single excursion outside the resort or a single upgrade and still have the vacation of a lifetime (which isn't always the case at an all-inclusive resort!). Plus, a little birdie told me they are working on upgrading all of their resorts – so visits in the next year or so will see newly-upgraded rooms and amenities (also, that means it's the perfect time to book!).
Would you go again?
If we were going on a family vacation (with all four of us) – most definitely YES. It is the PERFECT family getaway – for kids of any age! I think if it was just a couples getaway with me and my husband again, we would try an adults-only resort like Sandals.
You can see a quick clip of our stay below:
Looking for more info on Beaches Resorts and All-Inclusives? Check out these posts:
9 Reasons to try an All-Inclusive Beaches Resort
7 Things to Know About All-Inclusive Vacations Before You Book!
**I paid to attend the Social Media on the Sand Conference in Negril, Jamaica. I was not paid to post about the conference, I just wanted to share my two cents and answers your questions! All views and opinions are my own**
Want to book your vacation to Beaches? Get amazing deals through Get Away Today!