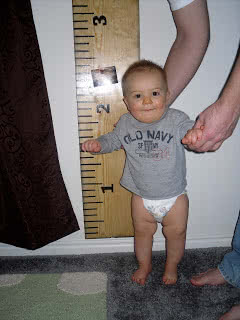 Some cute girls in my ward told me about these rulers they were going to make to measure their kids through the years.  I thought this was an awesome idea since we will be going to school for a few more years and moving a lot, so we couldn't mark it on a wall!  I found one that Pottery Barn Kids had made and tried to make mine similar….except for A LOT cheaper!
This was the Pottery Barn Kids one that was $58
And here is how I made mine:
This wood is about 10″ x 72″  and I got it at Home Depot for $8.44!  Not bad!
I used a "natural" shade of stain and stained the wood.  The stain was $4.50 at WalMart.
Then I used a measuring tape to mark every inch so I knew where I would want lines painted.
I decided to make some stencils of short and long lines I wanted on my ruler and that was a HORRIBLE idea! Don't do that!  The paint seeps through!
So my cute husband told me to use masking tape and mark off where I wanted to paint.  I would do a line at every inch and would do two 2″ lines, then one 3″ line for the markings on my ruler.  Used a lot of tape!
Then I painted over the tape/lines with black acrylic paint
I peeled the tape off and luckily it worked! 🙂  What a relief!  Then I printed out some numbers onto some paper that has adhesive on the back, cut the numbers out and used the leftovers as a stencil.  I painted over those and took the sticker paper off.  I used distress ink on the edges and did one more coat of stain.
I started my lines 3 inches off so that I could always hang this 3 inches off the ground, rather than just propping it against the wall.  So now my ruler will measure up to 6'3″.  I'm trying to decide if I want to pin a picture up of the age they were at a certain height or if we should just write it on…. Any thoughts?!
Linked up to these parties: