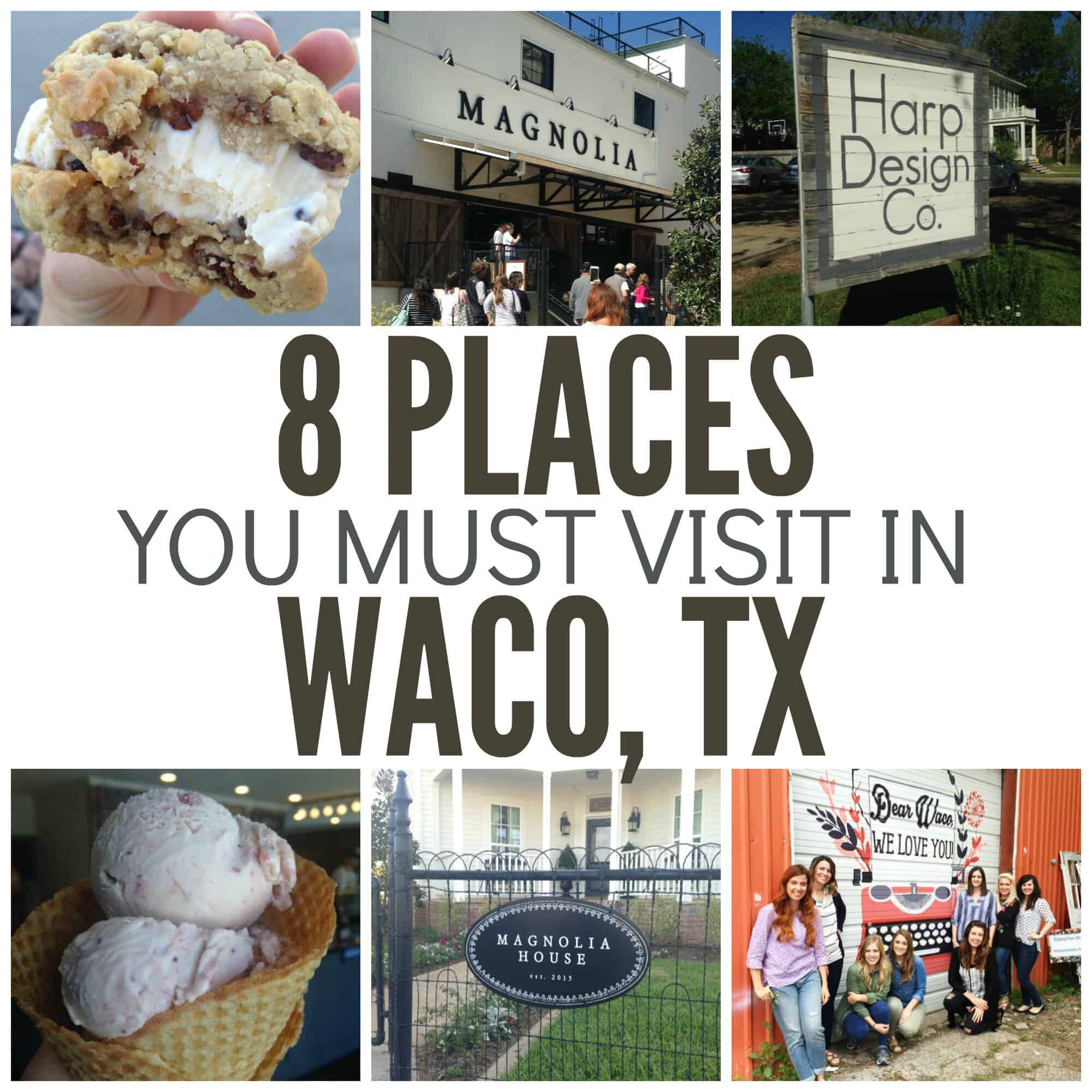 A few weeks ago I went on a girls trip to Waco, TX with an amazing group of women (from left to right: Jen from Tatertots and Jello, Sarah from Pretty Providence, Maria from Two Peas and their Pod, Jenny from Picky Palate, Kristyn from Lil? Luna, Kelli from Lolly Jane, ME!, and Kristen from Capturing Joy (Yes, THREE Kriste(y)n?s!!!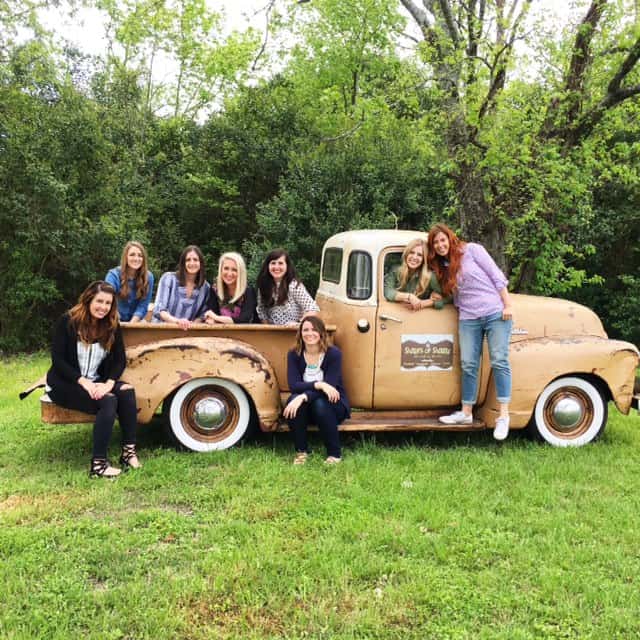 If you ever have watched Fixer Upper, then you know exactly what I'm talking about. If you haven't watched it, I highly suggest it! (You can find the first 2 seasons on Netflix right now). I might be a tad obsessed with Jo and Chip from Fixer Upper and anything to do with them. So if you can imagine our first few stops were the Magnolia Market and other things they feature on their show.
#1 Magnolia Market



We got a special tour with the head of the PR department of the Magnolia Market. We were able to go inside Chip's office and then onto the roof of the store (which happens to be an area where they can throw little parties.) Down below where the store it  they have a huge grassy area with games, activities, and one of my favorites: FOOD TRUCKS!
#2 Harper and Co


If you watch the show you might see Clint (Chip and Jo's wood man!) Now, if you are wondering, Clint is one of the kindest people I have ever met. He showed us around his shop and told us the whole story of how he started. I would highly suggest going by his shop and store front and you will fall in love with everything he and his wife have in there!
3. Pokey-O's

Being a food blogger, and loving almost ALL food, I'm sharing some of my favorite spots to eat in Waco. This one is called Pokey O's. They have THE BEST ice cream sandwiches I have ever eaten. The only way to find out where they are parked is to check their Instagram page or Twitter. If you go to Waco – be sure to look up @Pokeyoswaco. It will change your life.
4. Magnolia House
(This technically is not in Waco, but it is close!)

On Fixer Upper they "fix up" the Magnolia house. It opened in December 2015 and it is open for guests to spend the night. Kristyn from Lil' Luna signed up as fast as lightening as soon as the Magnolia House registration opened and she was able to get 2 nights here. It was like a dream and absolutely beautiful inside. I think I took pictures of every little corner.
#5 Heritage Creamery

This little Heritage Creamy is located right across from Baylor University and it is darling! They have mixed a variety of flavors perfectly that your mouth will water just thinking about it! Be sure to stop by the cute coffee shop they own right next to it (The Coffee shop is featured on Fixer Upper!)
#6 Lula Janes

Oh Lula Jane's. I seriously dream about her desserts. She is the sweetest nicest lady and boy does she know her way around the kitchen! If you ever go, you must try the strawberry cake with the pink frosting (middle picture). Oh how my mouth is watering! From cakes to pies, to cookies, she has it all! Just be sure to get there early because she sells out every single day!
#7. Shades of Shabby

Waco is full of the cutest antique shops . I HIGHLY recommend driving there or having a way to get things home because you will fall in love with many items! One of our favorite stores is called Shades of Shabby. It has a darling painted wall on the side of the building and a cute truck that they will let you take pictures in!
#8 Torchy's Tacos

I know what you are thinking. Fast food is one of your favorites? Well, I'm here to tell you that you MUST try Torchy's Tacos. It is located around the corner from the Magnolia Market and the tacos are amazing!
I loved Waco so much that I am headed back in June and bringing my kids with me. Here are some of the activities that are on my to do list! I'm already counting down the days!
Waco Zoo
Waco Farmer's Market
Cottonbelt Trail
Dr. Pepper Museum
and many more Food Trucks!