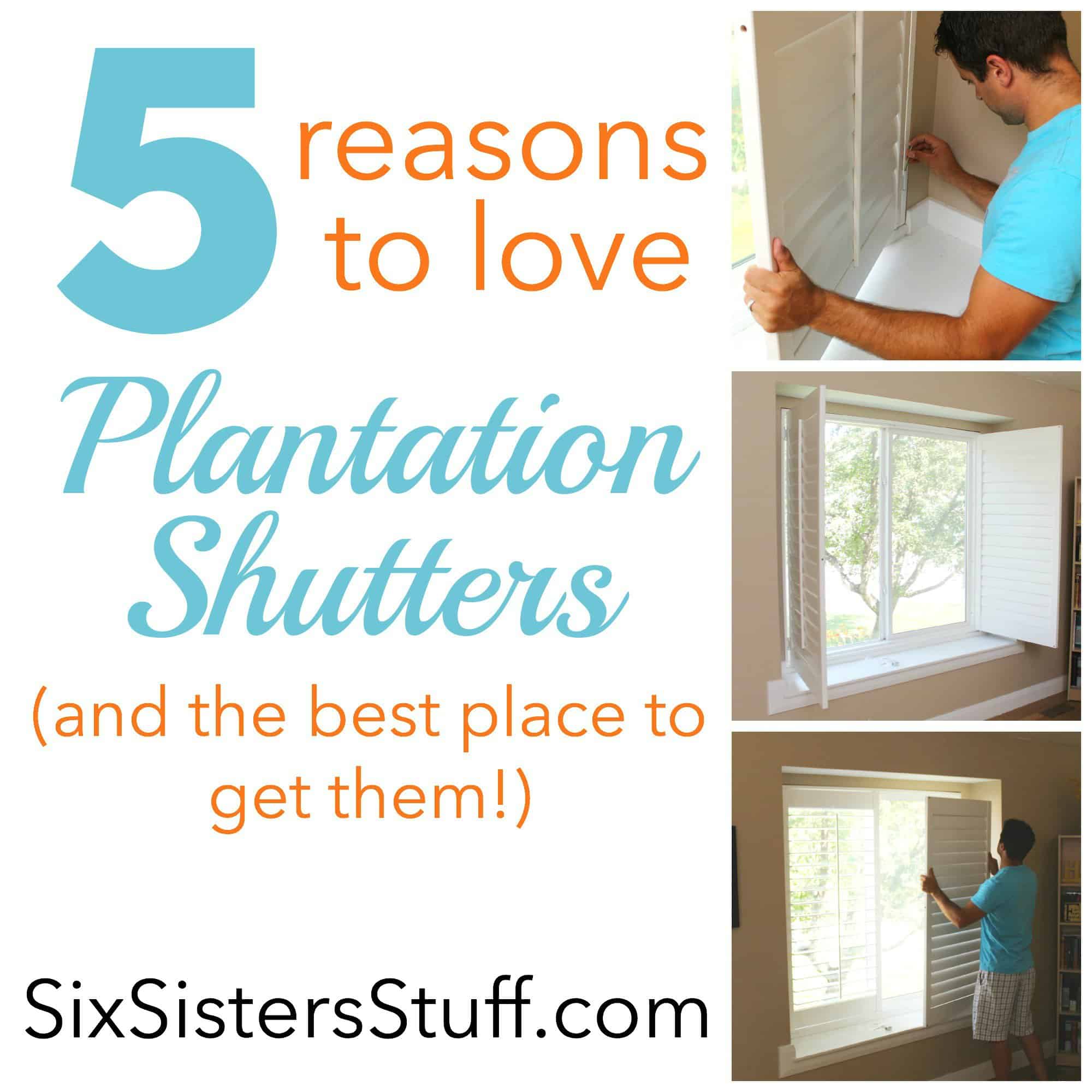 For a couple of years, I have been wanting plantation shutters – I think that they are absolutely beautiful. However, they can get quite pricey . . . companies were quoting me thousands of dollars- definitely out of my price range! I felt as though they add value to a home, but I wanted to be sure that I was justified in paying that price.
I started doing some research and learned that there are places online where you can measure your window space, send in those measurements, and they will ship the shutters to you – for a fraction of the price of what you would pay to have someone install them for you! It seemed too good to be true. I begged my husband to let me do one window as an experiment – and I couldn't be more thrilled with the result.
I ended up choosing The Shutter Store as the company I wanted to order my shutters with. They had the highest ratings and customer satisfaction reviews, so I knew that I would be in good hands.
I checked out the website and all the many plantation shutter options available, ordered a couple of free samples so that I could figure out what would be best and went with the ones that really spoke to me – bright white! Who doesn't like big, beautiful perfectly clean and bright window coverings?!
The step-by-step instruction videos and guides really made the measuring process so simple. I spent about 5 minutes getting all the measurements needed, then filled out the details in their simple form that walks you through each step.
The next day I received a phone call from The Shutter Store with the nicest guy on the other end. He went over my order with me, explained the entire process, double checked all the numbers, and answered the questions that I had. I was blown away – I felt like I was getting some special treatment and he responded, "Oh, we do this with every customer." Whaaa?! Who does that? I was super impressed.
The shutters came, perfectly packaged so there was no harm done, and my husband and I got to work. I was nervous that it was going to be difficult, but we just followed the Installation Instruction videos on their site and were thrilled that we were able to get the entire thing installed in about 20 minutes. You basically put the pieces together and then pop it into your window.
Had I known that it was going to be this easy, I would have done it long ago!

The shutters arrived in these large boxes, so we opened them up . . . it couldn't be more simple!

We put together the frame, nailed it in place, then attached the two shutters.
Working with The Shutter Store was an incredible experience and I would recommend it to anyone- my shutters fit perfectly, they were exactly what I wanted, and they were a fraction of the price compared to other businesses I was checking out.
Since having the shutters, I have realized how much I love them and the difference they make in the look and feel of my home. Here are the top 5 reasons you will love plantation shutters (and why they are worth the cost, in my humble opinion):
1. No cords or strings that can tangle (or harm a child).
I have heard one too many stories of children who get tangled in a cord from window coverings and it always freaked me out a little bit. My house is child proofed, but having a busy toddler who likes to climb would never stop her from reaching those cords. I love that there is nothing for a child to hurt themselves on.
2. They let in tons of light when opened, but are like black out blinds at night.
During the day, I love to open them and let in as much light as possible, but as soon as the sun goes down, I don't want people to be able to see into my home. I also love that they keep my house darker in the morning, which helps my kids to sleep in better (gotta love shutters that keep the light out!).
3. Your windows look fancy, even without additional curtains or valences.
Because the shutters comes in their own frame and look so polished, there is no need to spend additional money on curtains or drapes or any other kind of window hanging, which will save you a ton of money!! I just love how clean and stream-lined they look.
4. Energy efficient.
One thing we have noticed is how well they insulate our home. Our windows tend to get drafty, but they are awesome at keeping the heat in and the cold out (and vice-versa in the summer!).
5. They are so easy to clean.
I remember when we were growing up that one day each summer was spent cleaning the blinds. My dad would unscrew them from the window, then my mom would carry them outside and we had to scrub them down. We then had to hang them to dry – it was an all day event. Now, I just close the shutters and dust them off- it literally takes seconds.
*This post was partially sponsored by The Shutter Store, but all opinions are 100% my own. I love finding honest companies that do amazing work and will benefit those who use them and The Shutter Store is definitely one of those companies. I couldn't be happier.