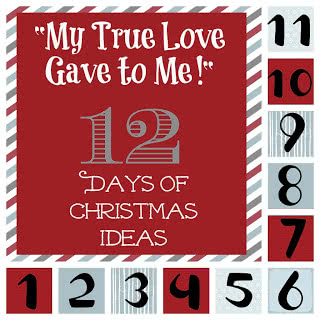 This Holiday Season has been CRAZY with my husband working at the hospital in his 3rd year of medical school, having a baby a couple of weeks ago, starting our new sister website (myrecipemagic.com) and finishing our cookbook…. the list really goes on and on. I feel like I haven't spent a lot of time with my husband! I try and write little notes every now and again, but I wanted to do something really special for him this year! My friend told me she did the 12 days of Christmas for her husband and I LOVED the idea! Here were some of her suggestions along with some of my own!
Day Number 1: This is the easiest day because you just need one item. Some examples are: A Pocket knife, Wallet, Beanie, Duct Tape…. Be creative!
Day Number 2: Things that come in two! Socks, gloves, underwear, tickets to movie or a sports game. (My favorite… electric tooth brushes!)
Days Numbered 3 and 4: These ones are pretty easy too! There are many things that come in packs such as: car wash tokens, golf balls, socks, mini flashlights, hand warmers, packs of gum, etc.
Day Number 5
: You can still find things that are in packs of 5 but I loved the idea of a gift card from his favorite fast food restaurant. Most fast food places will let you get a gift card for $5.
Day Number 6:
Packs of 6 are still easy to find! His favorite small candy bars, cupcakes, razor refills, granola bars, lots of snack packs also come in packages of 6! Just look down the snack or candy aisle.
Days Numbered 7, 8, 9, 10, 11: The higher the number, the more creative you have to be! Home made cookies delivered to his work, Hot Cocoa Packets, A screw driver set, A CD with 10 songs from the year that you met, A list of 11 reasons why you love him, a gift card, homemade coupons, you could also use the number as the time and surprise him at that time.
Day Number 12: This one isn't too bad because 12 is a dozen! Batteries, His favorite magazine for 12 months, Tools (many tools come in sets of 12), My husband LOVES Lion House Rolls – he will be excited for this one!
We would LOVE to hear any ideas that you have! Merry Christmas!!!!