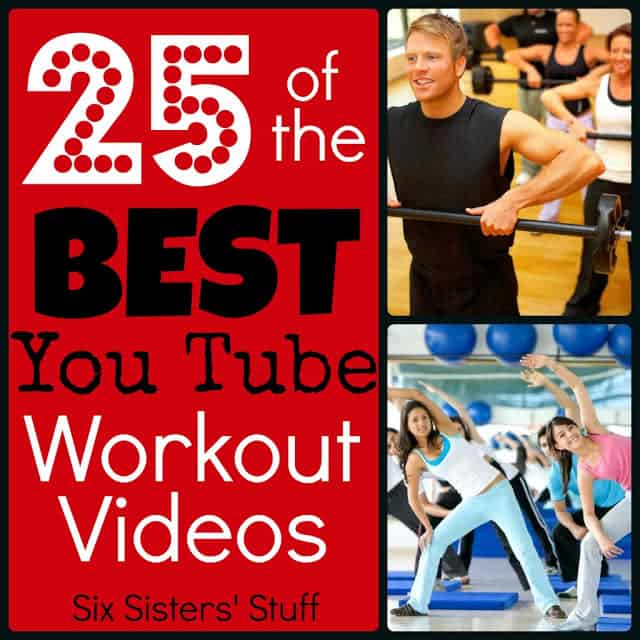 I am a workout video junkie.
I think that it's in my blood because our sweet mom has done a workout video everyday for probably the last 25 years.
I am not even kidding.
And she is seriously in the best shape (and always has been!).
Even after having six girls, she still rocks a teeny, tiny waist and tight abs
(and all the sisters are jealous!).
Her goal when she turned 50 was to be able to do the splits- both ways. Well, she turned 50 this past September and she totally reached that goal. She's amazing!
Anyway, I love the convenience of workout videos because I can do them at any time of the day or night and I can do them in the privacy of my own home (because let's be honest- I have no rhythm and don't exactly want to do these moves in public).
However, I get so bored with a video once I have done it once or twice.
I have tried Insanity and P90X, but I struggle sticking with the program because I get so tired of the same ol' stuff day after day.
I have been playing around on You Tube and have been so impressed with some of the workout videos that are out there- completely for free!
So today I wanted to share with you 25 of my favorite You Tube Workout Video- now you have no excuses for not working out. 🙂
Jillian Michael's 6 Week Six-Pack Abs
30 Minute Cardio Kickboxing Workout
Tae-Bo Cardio Circuit
Core Rhythms Workout
Jillian Michael's Yoga Meltdown
Dorm Room (Apartment) Workout
Bootcamp Calorie Burn
Fitness Challenge Circuit Training
30 Minute Hip Hop Cardio Dance Workout
Beginning Zumba
Jillian Michael's 30 Day Shred
Ultimate Fat Burn Workout
20 Minute Cardio Kickboxing Workout
Zumba Dance Class
Tank Top Arms Workout
Belly-Off: The Strength Training Routine
Banish Fat, Boost Metabolism
Cardio Insanity
20 Minute Fat Burner Workout
Madonna Arms Workout
Leg Blaster Workout
15 Minute Ab Workout
Home Circuit Training
Long and Lean Legs
Superstar Abs Workout