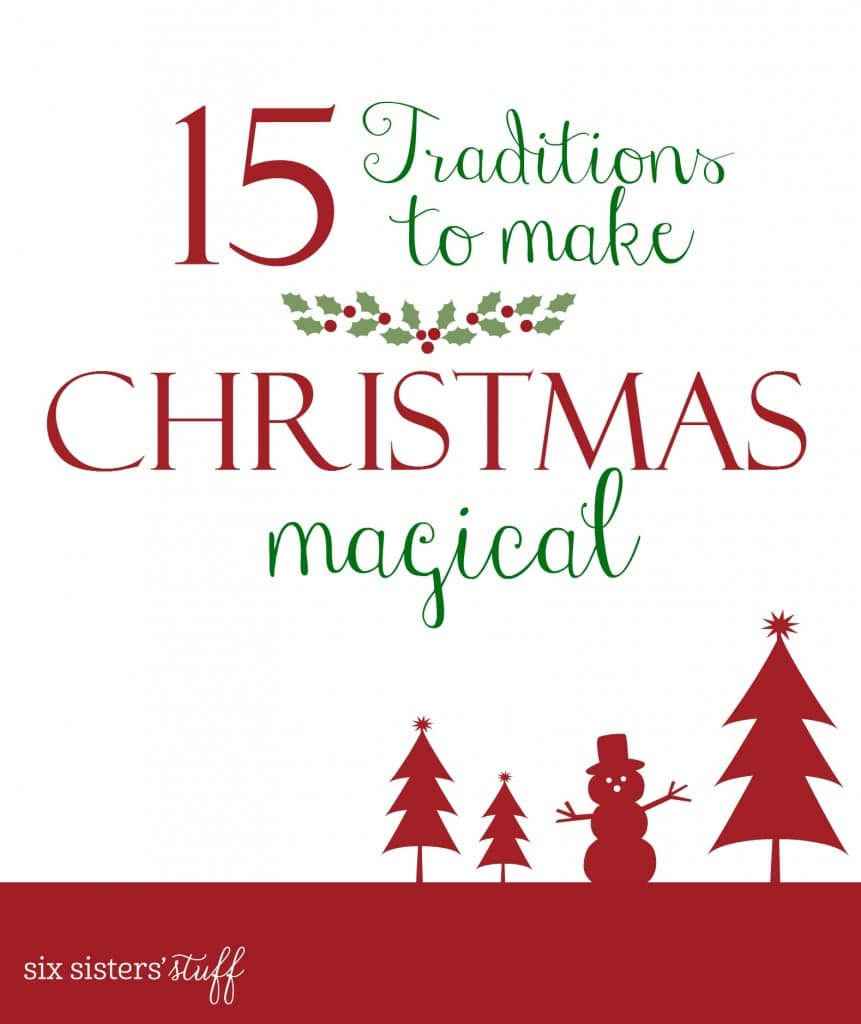 Growing up, the holidays were full of wonderful traditions and a lot of sweet treats. We're sharing a few things that we grew up with that made Christmas magical. These are traditions we've carried on for years and enjoy with our own children and families now.
2. Elf on the Shelf: This is a tradition that starts at the very beginning of December. Santa's sends his "secret helpers" to see who is being naughty and nice. There are a ton of great ideas and fun ways to pose your elf! You can find your own Elf on the Shelf here.
2. Neighbor Gifts: I remember our mom brainstorming what gifts she was going to give our neighbors for Christmas all year long. It was always so much fun helping her in the kitchen or create small crafts to deliver around the neighborhood. We always delivered them together as a family. It taught us at a young age the true meaning of Christmas, and was a great way to get to know our neighbors. We put together a list of easy neighbor gift ideas that you can find here.
3. Holiday Movies: At least once a week during December our family would sit down to watch a Christmas movie together. Our dad would usually get the fireplace going and we'd sit around with some of our favorite treats getting excited for Christmas. Spending time together during the Holidays is something I reminisce on every single year during December. It was so fun to gather around, and we made some of our best memories laughing together. It's also a great way to learn about the true meaning of Christmas. We love watching movies like The Grinch, Home Alone, A Christmas Story, or The Polar Express. You can find them for great prices on Amazon!
4:  Ornaments: Decorating the tree was always a family affair. We loved looking at ornaments from our childhood, or feeling so proud when our mom would hang the homemade pretzel wreath we made on the tree. If you haven't already started collecting ornaments, we've found a few great ideas to get started!
Frame Ornaments

Paint Your Own Ceramic Ornaments
5. Hot Chocolate: After a long day of sledding, Christmas shopping, serving, or while you decorate the Christmas tree, nothing tastes better than hot chocolate. We drank this almost as much as water growing up during the Holidays. We love adding fun things to our hot chocolate to make it taste extra delicious. Our favorite add-ins are Nutella, peppermints, chocolate chips, caramel, cream, or M&M's. Here are a few of our favorite hot chocolate recipes: White Hot Chocolate, Red Velvet Hot Chocolate, and Frozen Hot Chocolate.
6. Reindeer Food: Santa isn't the only one who is hungry on Christmas Eve! Our cute mom always made sure we made some reindeer food by mixing together oats and sprinkles and sprinkling them all over the snowy lawn. In the morning the sprinkles always melted and smeared making it appear like the reindeer had come and enjoyed their delicious meal. I had no doubt in my mind that we were the reason those reindeer didn't starve during their long night of gift delivering haha. We've carried on the tradition for years, and it's just not Christmas Eve without it.
7. Service: The traditions that have stuck with us the most have been the times we were all able to serve together. We learned at a young age what the true meaning of Christmas was, and it was something we looked forward to each year. There are lots of ways to get your children involved with service. Playing "Secret Santa" is one we always loved. Each Christmas Eve we would leave dinner on the porch of a family we knew was in need. Participating in a Toy Drive, volunteering at a food bank or homeless shelter, shoveling snow, or baking cookies for your next door neighbor are just a few ideas to serve this Season.
8. Christmas Decorations:  Decorating together as a family was something we loved to do to kick off the Holiday season. Hanging wreaths, lights in every window, and our personal favorite, the Christmas Countdown. Here are a few DIY Christmas Decorations that would be great to make with your kids:
DIY Burlap Christmas Trees
$6 Wire Hanger Christmas Ornament Wreath
9. Christmas Breakfast: Whether it's Christmas morning or any other day during the wonderful season, a delicious holiday breakfast is a great way to bring your family together. A delicious breakfast doesn't have to mean a lot of hard work. Overnight French Toast, Breakfast Casserole, or our favorite Monkey Bread are a few great ideas to quick warm breakfasts that will bring your whole family to the kitchen table in the morning.
10. Gingerbread House: There was something so magical about decorating gingerbread houses when we were younger. Now that our family has grown we still continue to make them each year. We love making mini ones with graham crackers, or buying the Gingerbread Kits for a quick shortcut in the kitchen. Now that we are older we've turned our gingerbread making into friendly competition. Everyone has a partner and has to decorate their own mini gingerbread house. You can see all of the details and ideas for your own gingerbread making contest here.
11. 12 Days of Christmas: This is something you can give to your family, or give with your family. There are so many fun ideas to give gifts daily leading up to Christmas. Some of our favorites can be found on The Craft Patch. She has some awesome ideas for the 12 Days of Christmas. We love the idea of letting the kids take turns opening or giving the gift each day.
12. Christmas Gift Exchange/Secret Santa: Our family has grown rapidly over the last couple years. Buying gifts for everyone can get expensive! We decided to start drawing names each year and assigning everyone to one family  member. We set a budget and you are in charge of buying that one person a gift. We always try our best to keep our certain family member a secret, but the anticipation usually gets to us! Secret Santa's make the Christmas shopping much more exciting, and the excitement of opening your special gift on Christmas is always a thrill!
13. Christmas Pajamas: We've done the Christmas Pajamas tradition for as long as I can remember. Our mom and dad wrap special presents under the tree that always have a special kind of bow or a different color wrapping than the rest. Those are the presents we get to open on Christmas Eve right before we go to sleep. Nothing feels better than going to sleep on Christmas Eve in brand new pajamas, and spending all of Christmas Day wearing them around the house (that part isn't required but highly recommended). We've heard of other families getting their pajamas dropped off on the porch by Santa and his helpers the night before Christmas too, we love that idea!
14. Christmas Tree Sleepover: This is by far the most magical of all the traditions we have listed. We usually do this a few nights before Christmas, or a few times during the month of December. We bring sleeping bags and pillows down by the Christmas tree, find our favorite Christmas movie, and prepare for a sleepover next to the pretty Christmas lights.  It was also so fun to wake up next to the Christmas tree and enjoy the decorations. Spending time together can make any tradition feel special, and this was one of our favorites.
15. Christmas Dinner: Of course we have to include a few traditions centered around good food. We love Christmas dinner almost as much as we love Thanksgiving. Our grandma is an excellent cook and would always make us such a delicious and time consuming meal. Christmas dinner does not have to be like that! The last couple of years we have ordered a few pizzas the night before and popped them in the oven on Christmas Day. Our kids love pizza, and having it on Christmas Day was even more awesome. You don't have to spend hours in the kitchen preparing a huge meal. Here are a few ideas of what we like to have on Christmas Day (when we forget to grab the pizza haha).
25 Christmas Dinner Recipes