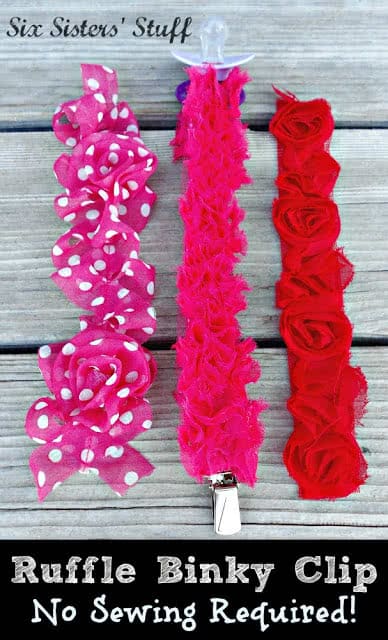 Pretty much from the second they are born, my kids are binky junkies. 🙂
We can't leave the house without a binky, we can't go down for a nap without a binky, and breaking my kids of the binky habit when they get a little bit older is incredibly hard!
However, when they are little, a binky is my best friend.
Unfortunately we lose a great deal of binkies when we are out and about because my kids also seem to see how far a binky will fly when they spit it out.
 My cute little boy at 8 months old
So now with my little girl getting ready to make her appearance into this world any day, I am getting smart about this whole binky thing! I am prepared with my own binky
tether
clip!
Bring on the spitting . . . this binky won't go more than 8 inches!
I found my ribbon, ruffle trim, snap fastener kit, and clips all at Jo-Ann's. They seriously had a huge selection of run trims that you could use for this project.
 Mine were about 10-12″ long. Just make sure you leave a little bit of extra material to work with for the snap and the clip.
These also make a great baby shower gift!