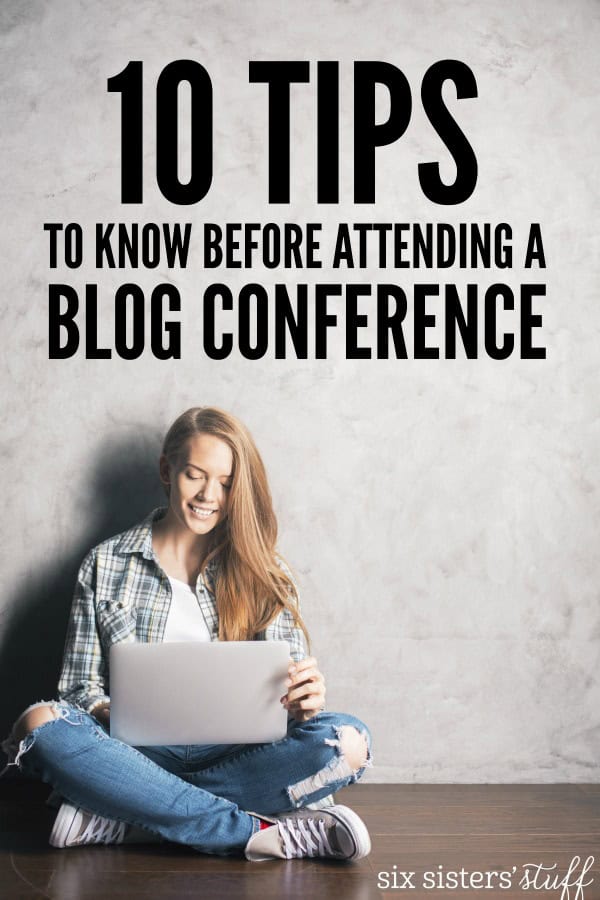 Ever wanted to start a blog? CLICK HERE for a FREE step-by-step guide to make it happen!
Once you have started your blog, I would highly recommend attending a blog conference. Join myself and the rest of the sisters at the Build Your Blog Conference in February! Even if you don't want to travel to Salt Lake City for the conference, you can buy a virtual ticket and watch all the classes live! You will also have access to all the classes after the conference so that you can watch them again and again!

Use code "Sisters50" to get $50 off your ticket! CLICK HERE to check it out!
After we had been blogging for a year, I heard about a blogging conference that was going to be held close to my city. At the time, the cost seemed like a lot of money (it was a couple hundred dollars), but I noticed that many of my blogging friends were attending, so I decided to make the investment and see what it was all about.
Let?s just say that MY MIND WAS COMPLETELY BLOWN.
I walked away from that conference with a notebook full of ideas and things I wanted to add or change on my blog. I had over 150 business cards in my bag from other bloggers, sponsors, and companies that wanted to work with us. I had networked and found a community of bloggers that wanted to work together to grow and expand our blogs. I learned how to monetize our blog (something that we weren?t really doing) and learned different strategies to social media and marketing that had never even crossed my mind.
That blog conference was a game changer for me and our blog.
When it comes to blogging, not many people understand what it is you do or why you do it. I remember not being able to talk to my husband about page views, or what post I was working on, or that some larger bloggers had shared my post that day- he just didn?t get it (and frankly wasn?t that interested . . .). However, at this conference, I was surrounded by hundreds of people who understood what I did and why I did it, who understood the crazy hours I spent on my blog, and understood my excitement about a post going viral. Never in all my year of blogging had I experienced that before. We were all in this crazy blogging world together and there was such a strong sense of community- we bonded over blogging.
So when people ask, ?Is a blog conference worth the money??, I quickly answer back ?HECK YES!?. The networking, friendships, swag, knowledge, and skills learned are worth every penny.
Here are 10 tips to help you prepare for a conference:
Print off business cards.
Even you just get a simple, very basic card (that costs literally pennies), it will do wonders! With all the hundreds of bloggers that you will meet, it will be nearly impossible for you to remember all of them. Pass out as many cards as you can and collect as many as you can. Then when you go home, you have the contact information of every person you met and you can reach out to them on your own time.
**Go the extra mile: add your headshot to your business card. That picture has made all the difference, especially for businesses and companies that get our card. A picture is worth a thousand words and by putting a name with your face makes you that much more memorable. We have had a couple companies who have mentioned that they reached out to us because we had our headshots on our cards and they remembered who we are because of them- one little picture can make all the difference!
Get to know the schedule.
Check out the schedule and make a tentative agenda of what classes your want to attend, when they are happening, and where the class will be located. Many conferences require ?pre-registration? for certain classes, so make sure you check them out in plenty of time. Many conferences also have an app that makes it simple to remember your schedule, but if they don?t, put your schedule in your phone or even print it off so that you have it with you. When you have a plan, you will feel more prepared and ready so that you can focus on learning and networking instead of deciding what class to attend.
**Go the extra mile: Think about the questions that you might want to ask the teachers of these classes and write them down or put them in your phone. You will feel more prepared for that class when you go in thinking about what you want out of it.
Know the conference hashtags and handles.
Most conferences have a group hashtag that they want participants to use, so try to find them out in advance and start using them as soon as possible. Not only will you connect with other bloggers in attendance through that hashtag, but it?s also a great way for companies and businesses looking for bloggers to find you.
**Go the extra mile: Before the conference, use the hashtag to find others attending the conference and introduce yourself. By doing that, you will already have friends when you arrive at the conference.
Check out the sponsors and decide who you want to reach out to.
There are some of the most amazing sponsors at blog conferences and all of them are there because they want to work with bloggers. Do your homework on the sponsors and decide what sponsors you would like to work with or reach out to them and cater your pitch to them. By doing a tiny amount of background research, you will be heads above everyone else.
**Go the extra mile: Reach out to one or two of the sponsors before the conference (I would recommend through Twitter or Instagram) and let them know you look forward to meeting them at the conference. Get that conversation going so that when you do meet face-to-face at the conference, you are already one step ahead of everyone else.
Plan your outfits (and remember to be yourself!).
I remember that there was one specific conference where the attendees were talking about their outfits for the conference MONTHS in advance. I was SO nervous that I was going to stick out like a sore thumb because I didn?t have the money to spend on a new wardrobe, but when I arrived, I realized that the women who were spending so much on their looks were definitely the minority. It was then that I was thankful that I just dressed for myself- and stayed true to myself. A few things to keep in mind as you plan your clothes:
*Most conferences are held indoors in an air-conditioned hotel. Even when it?s 90 degrees outside, the indoor conferences can be freezing cold. So even in the summer time, grab a light cardigan or something you can throw on if you need it.
*Keep comfort in mind. I wore high heels to my first conference and by the end of each day, I had bloody blisters on my feet (you also do a lot of walking at conferences!). Flats are definitely a must for the day activities, but you could pack a pair of heels for the night events or dinner.
*Accessories are a fun way to dress any outfit up! Pack some fun jewelry or scarves to compliment your look. It?s an easy way to take any outfit up a notch.
**Go the extra mile: People aren?t going to like you for the clothes that you wear (or if they do, then they aren?t the kind of people you want to be with!), so focus more on your attitude and being kind instead of what you look like. A smile will take you much further than any outfit you will wear. While at the conference, compliment three people on what they are wearing ? chances are they were worried about what they were going to wear and it makes a great ice breaker to get that friendly conversation started!
Create a media kit and bring a couple with you.
At another blog conference I attended, there was a chunk of time with classes that I wasn?t really interested in, so I decided to use that time to meet with sponsors. There were a couple of sponsors who were interested in working with us and I just happened to have a media kit with me that I handed to them, which sealed the deal. They couldn?t believe how prepared we were and soon after we returned home from the conference, those companies immediately reached out to us and we started working together almost instantly.
If you aren?t sure what a media kit is or how to start one, here is a great post to help you out: http://amylynnandrews.com/media-kit/
Be prepared for swag.
I have run into a couple emergencies at various conferences where I have too much swag and I find myself at the airport unloading my over-stuffed suitcase before I head home. You might want to consider bringing an empty suitcase with you or even a flat-rate shipping box so that you can send your swag home through the mail. It?s amazing how much stuff you will bring home with you!
Stock up on sleep.
I really wish that this was something you could do. ? Know heading into it that you most likely will not get much sleep while you attend the conference ? and sometimes those late night chats with other bloggers will be where you learn the most. I love the late night parties and feel that is where I bonded with my blogging friends the most. You might want to pack some energy drinks to help you wake up the following morning!
Schedule your posts ahead of time and freshen up your blog.
Let?s be honest- there will be NO time to be posting or sharing your posts on social media while you are at the blog conference. Try to schedule as much as possible in advance so that you don?t feel like you need to be working while attending such an amazing event. Just focus on what you came to learn and be present while you are there.
Also, if you have ever wanted to give your blog a facelift or change it around so that it?s a little better, now is the time. You will probably have a lot of bloggers and businesses that you network with check out your blog, so make sure it?s something you are proud of.
Some other important things to bring:
-a laptop or tablet (as I learn tricks and tips for my blog, I like to apply them immediately, so I definitely recommend bringing at least one or the other. Also remember to bring your charger!)
-a camera (I have brought my DSLR camera, but I hated carrying it around. There are lots of other people who bring their large cameras, so I usually just use the camera on my phone and get copies of the pictures I want from other people. Do what is best for you!).
We hope that you will join us at Build Your Blog Conference this year! Remember to use code "Sisters50" for $50 off!