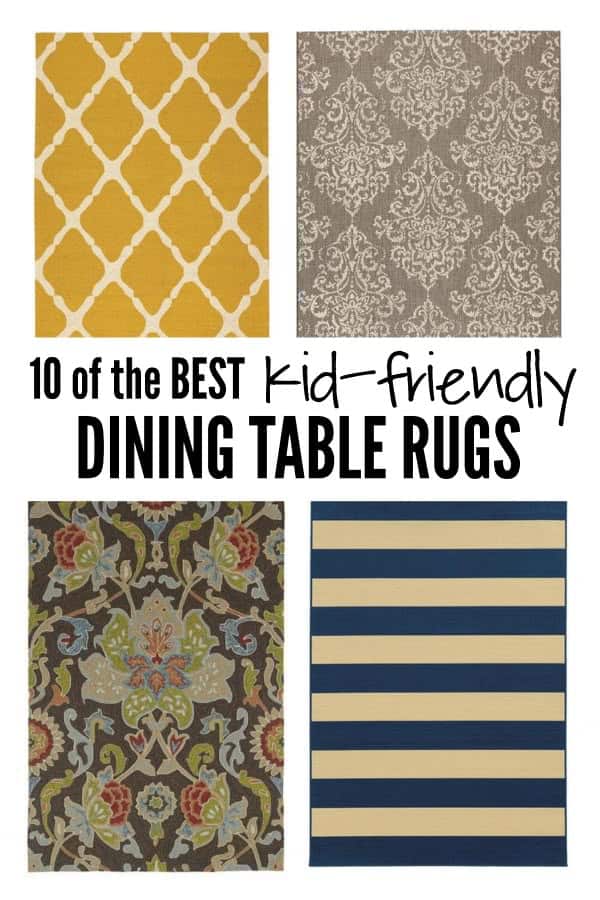 I have to be honest – I have always thought that having a rug under my dining room table was a horrible idea because I have young kids who usually make a huge mess at each meal. However, a friend let me in on a little secret: use an outdoor rug!
Outdoor rugs are made to handle the elements (which my kids can be as fierce as a tropical storm!), so they are extremely durable. They are also built to last and so easy to clean. And outdoor rugs have come SO FAR in the past few years – you can get so many amazing designs and colors that would be gorgeous in your home! And one more bonus: they are BUDGET-FRIENDLY!! #winning!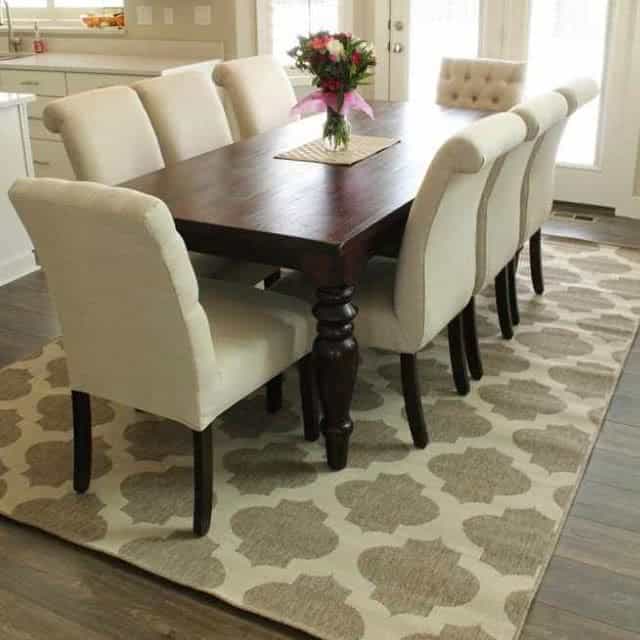 I ordered this outdoor rug to go under my new dining room table and I not only love the color and style, but I love how soft it is. Clean up has been so easy – I literally just use warm water and a rag and I have been able to get up everything so far! I LOVE how the rug separates my table from the rest of the room and adds just a little bit of texture to my floor.
(If you want to know how to correctly measure for a dining room rug, you can get the easy instructions here:)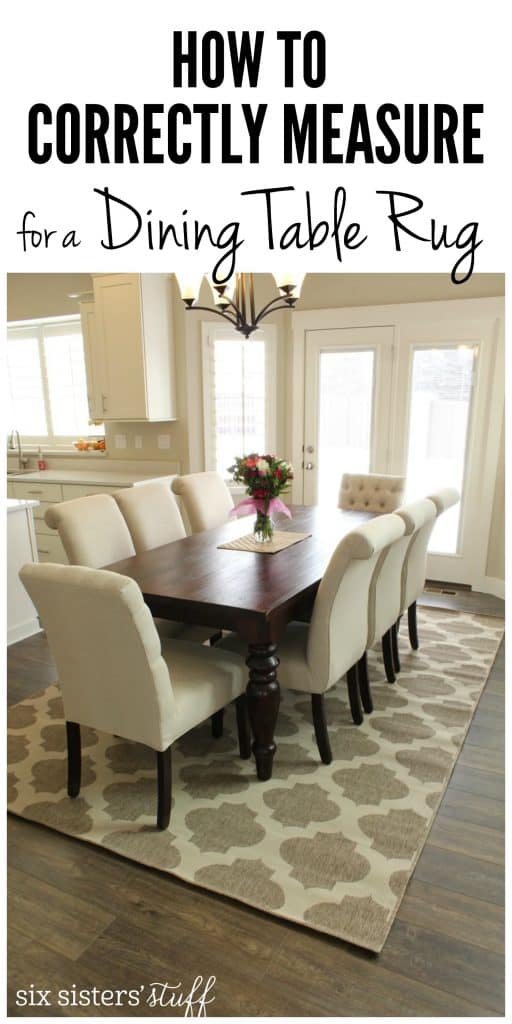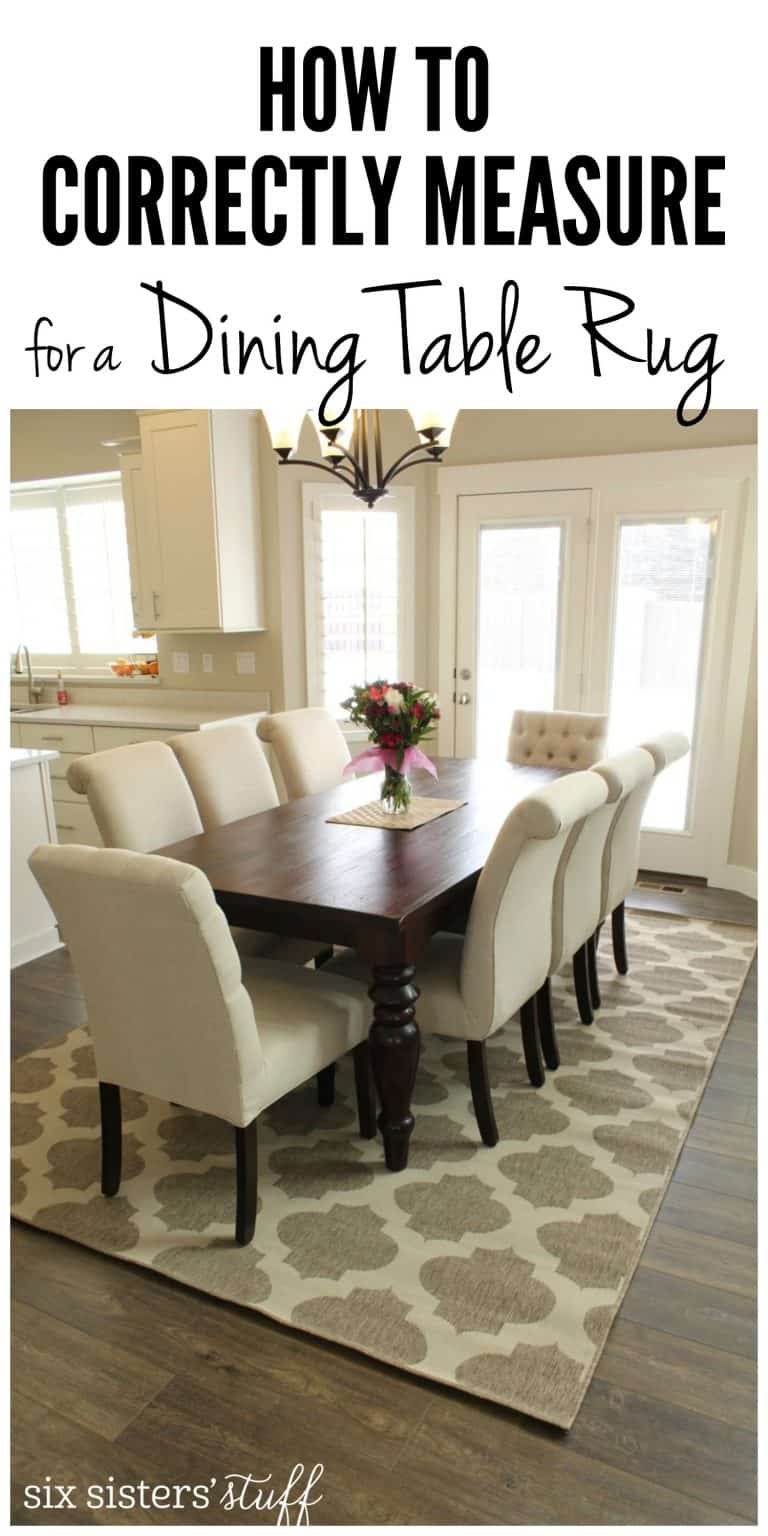 I have received many questions about my rug and where to purchase the best outdoor rugs for the best price, so here are 10 of my favorite outdoor rugs that are perfectly kid-friendly for under your dining room table!

This is actually the rug that I got for my dining room table. It comes in 3 different colors and is thin, very soft, and is so durable. I absolutely LOVE it. Comes in 9 sizes, including square and round shapes.
I love the big design of this rug and the fact that is comes in 6 different bright colors. It comes in 11 different sizes, including round, square, and some long runners for your high traffic areas.

This is actually a brand new style that just come out and I love the pattern! This rug would also be perfect for a mudroom as well. It comes in 3 colors and 6 different sizes.
4. Pier Stripe Area Rug

I am a sucker for big, bold stripes and this fun rug comes in 7 different colors!! It also comes in 6 different sizes, including square and runner styles.
I love how timeless this rug is – plus gorgeous colors! You would NEVER know this is an outdoor rug! Comes in 2 colors and 7 different sizes.
6. Hothouse Area Rug
Aren't the colors in this rug so gorgeous?! This rug is hand-hooked, but incredibly durable and the colors look amazing. It comes in 3 different colors and 8 different sizes (including round)!
7. Nantucket Area Rug

I love anything with a nautical feel and this rug is as gorgeous as they come! It actually comes in 6 different colors that are so fun and bold. Also comes in 8 sizes.
8. Byzantine Area Rug


Another fun patterned rug that adds just a little pop to any dining room! This one comes in 7 different colors and 9 sizes.
This rug's look is timeless! And it has 4.6/5 stars on the website with over 260 reviews – sounds like a winner to me!! This rug comes in 7 colors and 13 different sizes.
10. Alex Area Rug


Doesn't the color of this rug just make you so happy?! It comes in 2 other bright colors and has the look and feel of an indoor rug with all the durability and stain-resistant qualities of an outdoor rug! Also comes in 7 sizes.
Didn't see a rug that you love? No worries!
Home Decorators Collection has over 450 outdoor rugs that are amazing prices and amazing quality!
You can see them all HERE.
*Disclaimer: I was given a rug by Home Decorators Collection to review, but all opinions are honest and 100% my own.