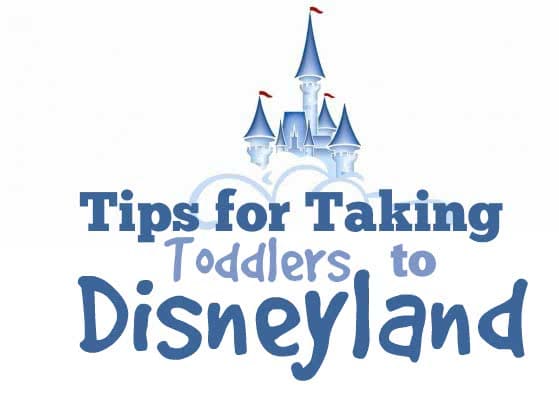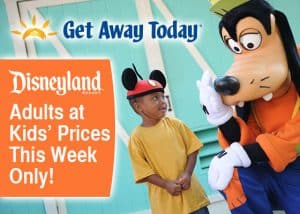 My husband and I were deciding whether or not to bring our 17 month old along on this Disney Trip. We live in Utah but make it to Disneyland at least once a year.  It was my husband who finally convinced me to bring her… and I am so glad we did! I am an organized person when it comes to traveling so I was ready! Here are some of my tips on what I did to make our trip easier with a toddler.
Hotels:
When you are searching for a hotel before your trip try and find one that is close (preferably within walking distance). My toddler refused to sleep in her stroller so we made a trip back to the hotel everyday for a nap so we could stay late in the park.  If you are looking to splurge, I highly recommend going to the Disneyland Hotel. We absolutely LOVED it!
What to Pack:

Snacks, snacks, and more snacks. Before we left, I filled about 30 baggies of snacks for my kids. I filled them with mini rice cakes, pretzels, beef jerky, tail mix made with some cereal, crackers, graham crackers, gold fish and a they each got to pick their favorite candy. I also packed Fruit cups and some GoGoSqueeZs (those things are my favorite!)
A Stroller. I have brought two different kinds of strollers into the park. An umbrella stroller is light weight and easy to get around in large crowds. A bigger stroller will lay down so your baby can sleep better in the park, and it can carry your bags, snacks, and everything else you are bringing into the park. Both have pros and cons. Because I also had a 4 year old, we brought the bigger stroller this time so she could ride in it when she got tired.
Toys. Before we left, I went to the dollar store and picked up a few toys. A slinky, rubber lizard, foam puzzle, cars, etc. The goal was to bring toys that we could lose and the world wouldn't end. I wouldn't suggest bringing a favorite toy into the park because there is a very good chance it could get lost. If you must bring it in, be sure to write you name and phone number somewhere on it.
Blankets. – You are probably thinking… why a blanket? It really can save your life! From blocking the sun, to keeping warm when it gets dark. You could also use it to sit on when you are waiting for a parade or show. Or if your toddler just happens to have an explosion in their seat, you can always use it to help wrap the bum so it doesn't get all over the stroller while you travel to the bathroom ….. 🙂 There is also an AWESOME Baby Care Center located at the end of Main Street.
Change of Clothes and Jackets. I actually brought a change of clothes for all of my kids when we went into the park. There are some rides that get you pretty wet and my kids don't love walking when they are wet. But my toddler needed a change of clothes sometimes after a meal, sucker or icecream cone.
Antibacterial Wipes. One thing I love about Disney is how clean it is. They do a wonderful job at making it look spotless.  But some antibacterial wipes will help with little hands that like to touch EVERYTHING! I especially like to wipe hands before we eat snacks, meals, and I wipe down the table before she eats off of it.
Sunscreen.  It gets hot in the day and sometimes you have to stand in line in the burning sun. If you bring your sunscreen into the park you can reapply a couple of times during the day. Coppertone now makes a SPF 50 Sunscreen that is travel size. (You can check out my story HERE about why I am so passionate about using sunscreen)
Water Bottle. We couldn't bring any water on our flight so we decided to bring an empty water bottle for each kid and would fill it up at the drinking fountain. Much better than buying expensive bottled water.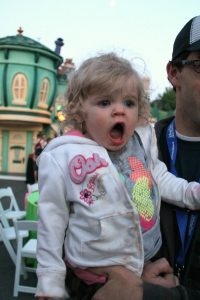 (This is what her face looks like on rides or when she sees characters!)
Rides:
Toddlers can go on a lot more rides than you think! Some of my little girls favorites are:
Little Mermaid's Underwater Adventure
Toy Story Midway Mania
King Triton's Carousel
All of Bug's Land
Monsters' Inc Ride
It's a Small World
King Arthur's Carousel
Circus Train
Many Adventures of Winnie the Pooh
The Jungle Cruise
Pirates of the Caribeean
Disneyland Railroad that goes around the whole park
Toon Town – This has many areas that your toddler can just explore! My little girl loved it!
Disneyland Monorail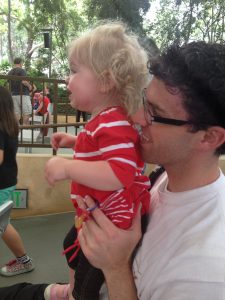 (Mickey Mouse just came out and this is a face of joy… promise)
Many times in the day it would get hot, and my toddler would get really tired. That is when we would go to a show or parade. She absolutely LOVED the shows. Some shows perfect for toddlers are:
Disney Junior – Live on Stage
Disney's Aladdin on the Hyperion Stage -this is covered and it feels great to be out of the sun!
Disney's Pixar Parade
Meal Time:
Meal times can get hard with a toddler. Luckily Disney has you covered! They now serve healthier kids meals. One of my favorites is in Flo's Cafe. It is a small turkey sandwich, grapes, peas and carrots and apple juice.  It is reasonably priced and my little girl loved it! To find healthier options in Disneyland, look for the Mickey Mouse with the Check Mark!
Some other fun tips: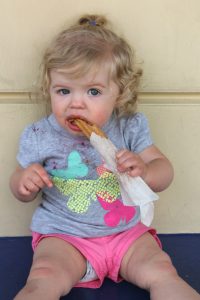 Churros are a perfect snack for a toddler!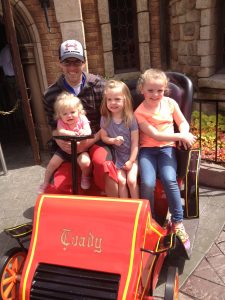 Take it slow. When bringing a small kid, there is no need to run around from ride to ride as fast as you can. We had a lot of stops, took pictures, played in the water, met characters and ate some snacks.
Have a great time on your trip! We sure did! 
Need help planning  for the rest of your trip? Check out our Disneyland Travel Tips
And if you are looking to score a the BEST DEAL on your next Disneyland Trip, be sure to check out the deals we have with our partner, GetAway Today!