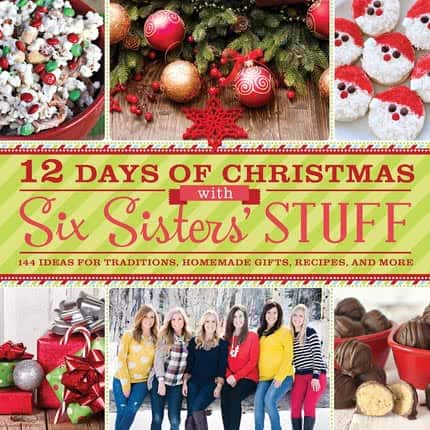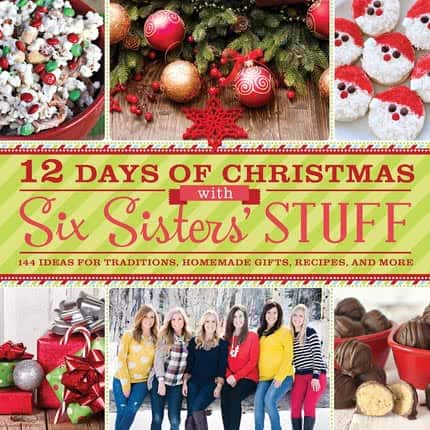 We are SO excited to announce that our newest book, 12 Days of Christmas with Six Sisters' Stuff, is hitting store shelves TODAY!!!
You can purchase your copy on Amazon today for only $15!
This is our third book, and honestly, it was our favorite one to put together. We LOVE Christmas and everything that the holiday season entails – amazing food, delicious desserts, traditions, gifts, and service. We tried to take everything that was special to us about the holidays and put it into one book . . . and we love the way that it turned out.
This book includes dozen of recipes, projects, and ideas to make your Christmas season as wonderful as possible. Inside the book you will find full-color photographs (with every single recipe!) and easy-to-follow instructions for the following:
12 Family Traditions (the best of the best!)
12 Homemade Gifts (great ideas to get your kids involved with!)
12 Christmas Cookie Recipes (these cookies are what make the holidays for us!)
12 Christmas Decorating Projects
12 Neighbor Gift Ideas
12 Ways to Make Christmas a Breeze (ways to help ease the stress!)
12 Quick and Easy Dinners for Busy Families (it's such a busy time of year, but these dinners will help make it easier!)
12 Christmas Party Themes
12 Days of Christmas for Your "True Love" (spoil your significant other with these thoughtful ideas!)
12 Spectacular Christmas Treats
12 Days of Giving Back (this is what Christmas is all about!)
12 Christmas Brunch Recipes
We love cookbooks that include pictures of every single recipe- and this book is exactly that!
Want to know a secret? The sisters took EVERY. SINGLE. PICTURE inside this book – right in our own little kitchens. It doesn't get any more real than that! 🙂
The 12 Christmas Cookie recipes included in this book really are the best of the best. If you have a cookie exchange coming up over the holiday season, we've got you covered!
When we were growing up, our family didn't have a lot of extra money, so many of our Christmas decorations were homemade. We have continued that tradition in our own homes and given these homemade decorations a modern update. With easy-to-follow instructions, anyone can make these cute decor items!
We just want to thank you for all of your support over the years. This blog has given us so many incredible opportunities and it's because of you- our amazing readers- that they have happened.
Stay tuned- we will be giving away copies of this book soon!
Love,
The Sisters
PS – If you are interested in our other books, you can check them out here: