I love homemade caramels, but have always been so intimidated by them. I then got up the courage to make these, and they were out of this world. They were so easy to make and tasted absolutely amazing. You will love these.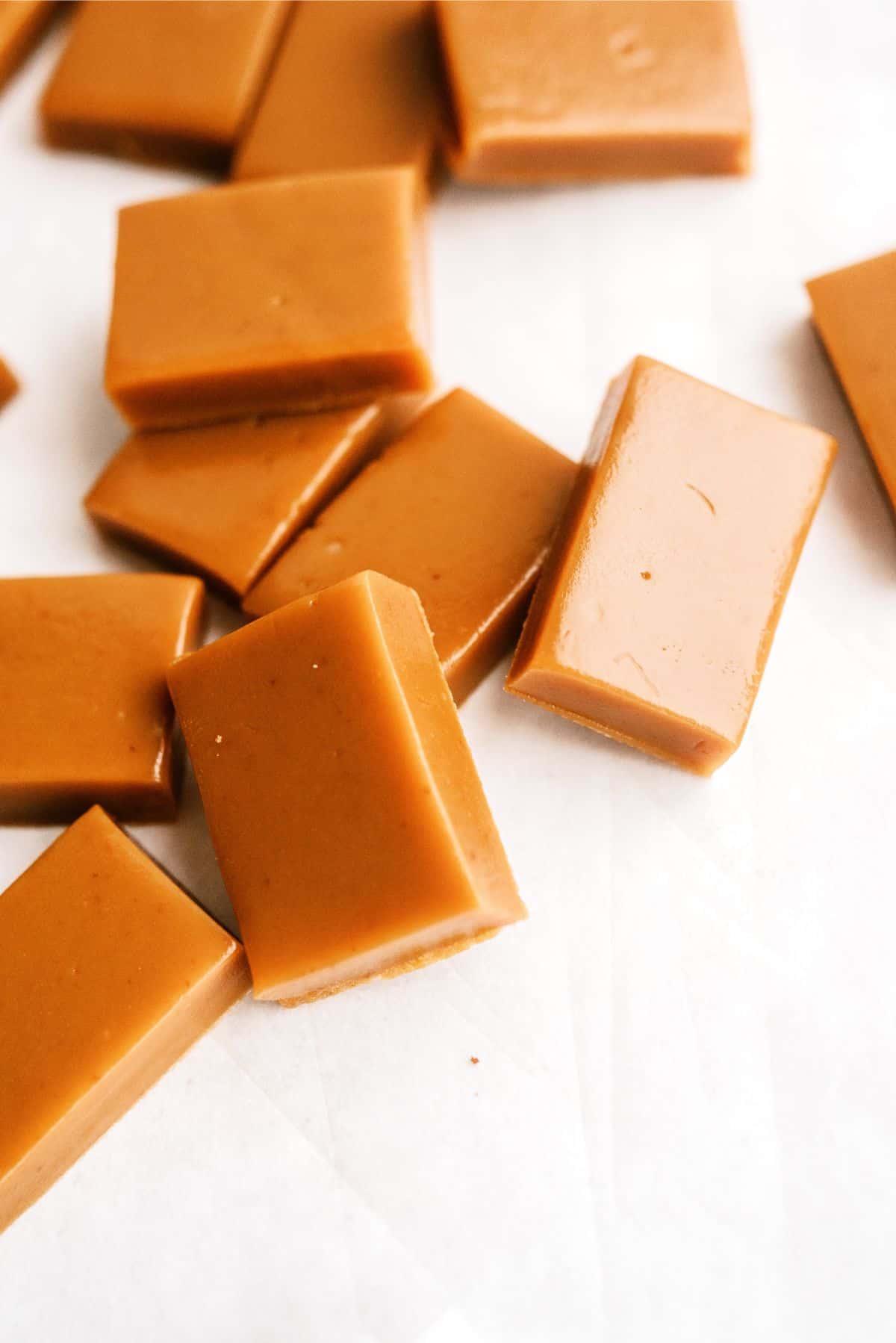 For a sweet and kinda sticky treat, give our homemade caramels recipe a try. These soft and buttery homemade caramels are a perfect Christmas candy recipe to eat and share as gifts.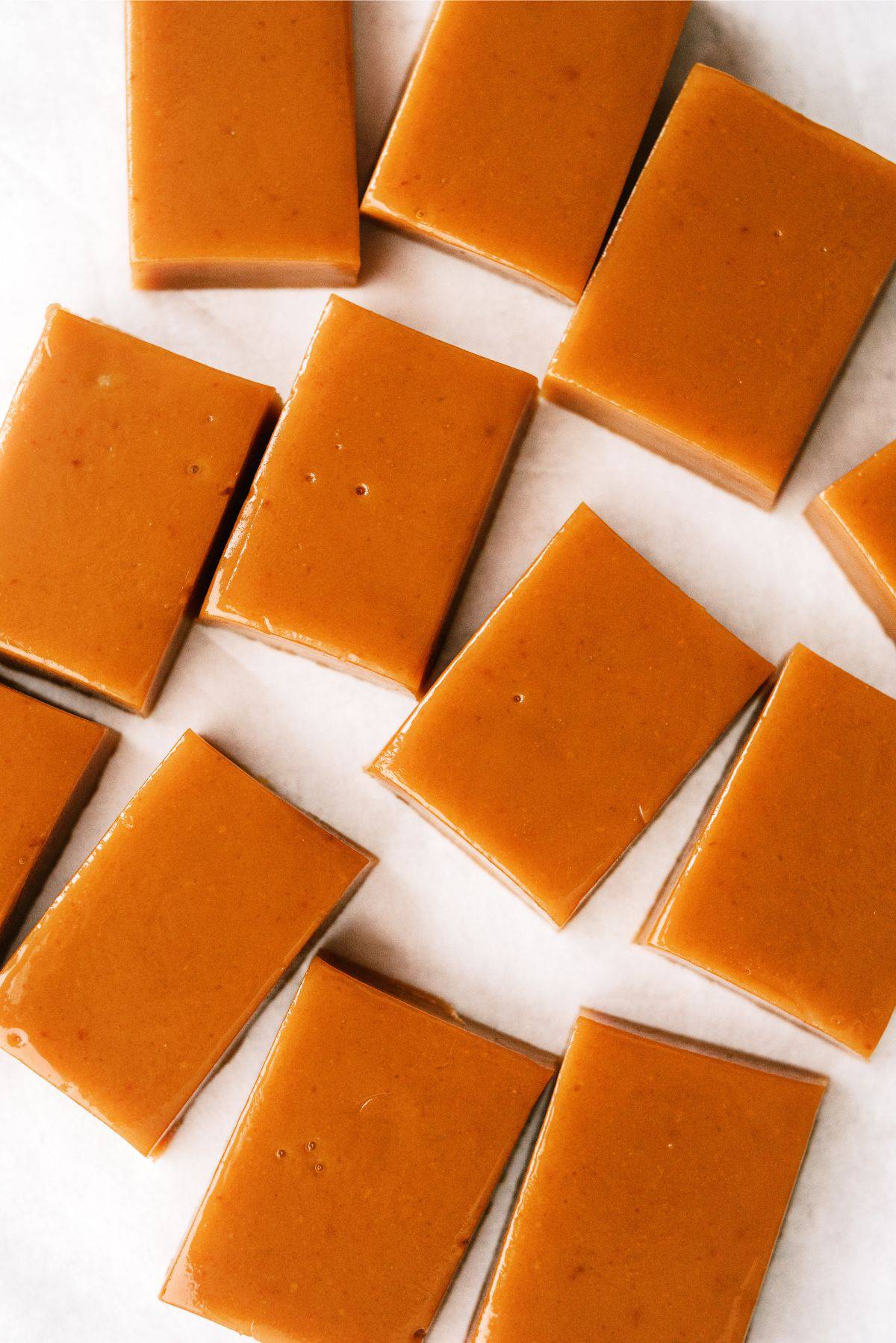 I was so excited when I first tried out our homemade caramels recipe. But, I'll be honest, I was also a bit intimidated too because caramel can be a bit finicky and hard to master, which is why I had normally steered clear of making it myself.
However, this is the best homemade caramel candy recipe you will find. Not does this recipe make some of the best soft and buttery caramels, but it is also an easy recipe that does not have to be intimidating to accomplish.
My love of caramels started back when my grandpa would always have some of the soft Worther's candies that he took joy in (or so I assumed) sharing with me, especially around the holidays. So not only is this a great Christmas tradition to eat the caramels, but now I can make my own and share the love of caramels with other too.
If you love caramel just as much as I do, then you need to make our Disney's Apple Caramel Pie Recipe, Caramel Pumpkin Poke Cake Recipe, and definitely our Caramel Cheesecake Bars Recipe. They are all delicious and perfect holiday desserts to share.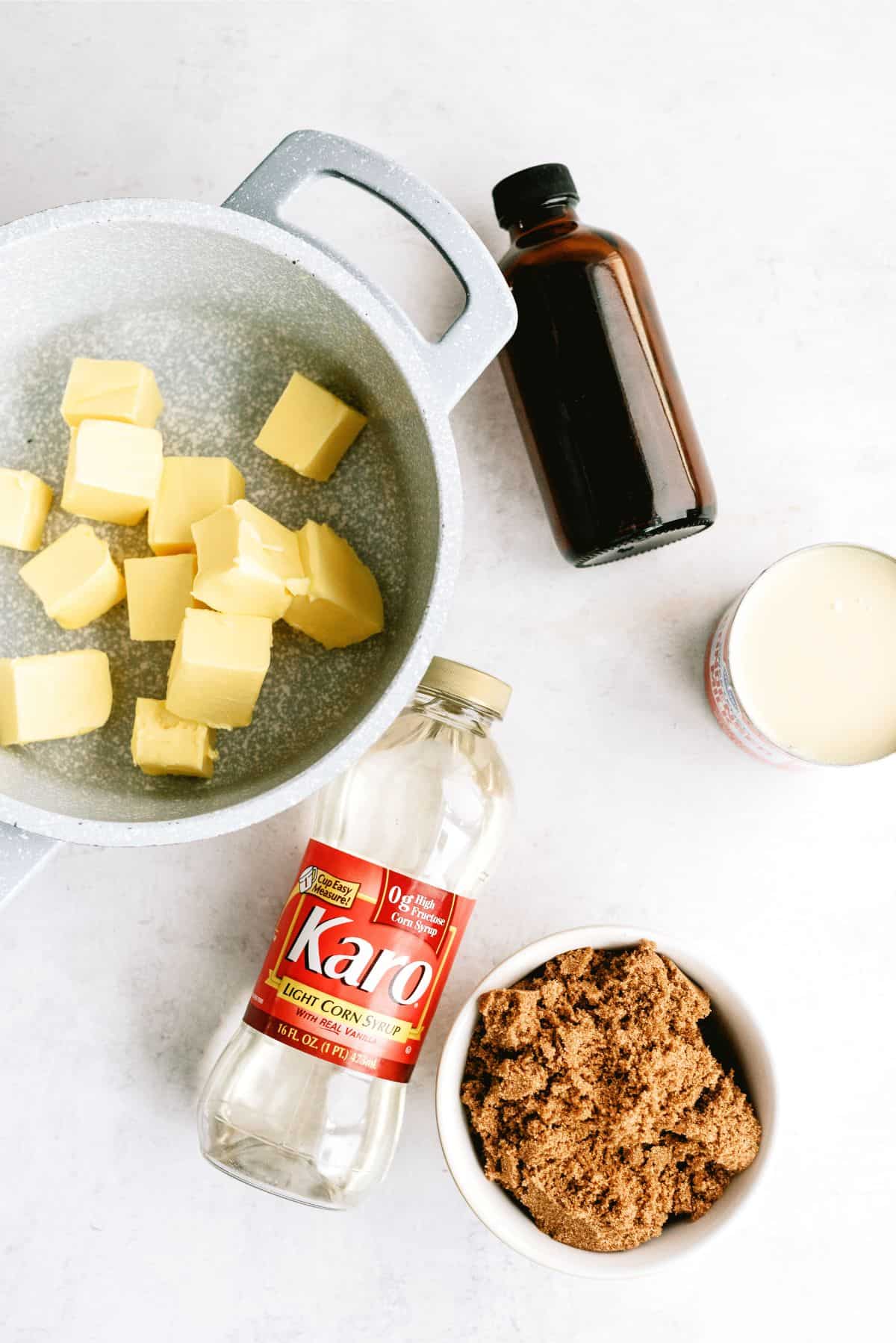 Ingredients You Need to Make Our Absolutely Perfect Homemade Caramels Recipe:
Butter
Brown sugar
Salt
Light corn syrup
Sweetened condensed milk
Vanilla
How To Make Our Terrific Homemade Caramels Recipe:
Follow these simple instructions to make the best homemade caramels recipe.
Start by melting the butter over the stovetop in a large saucepan.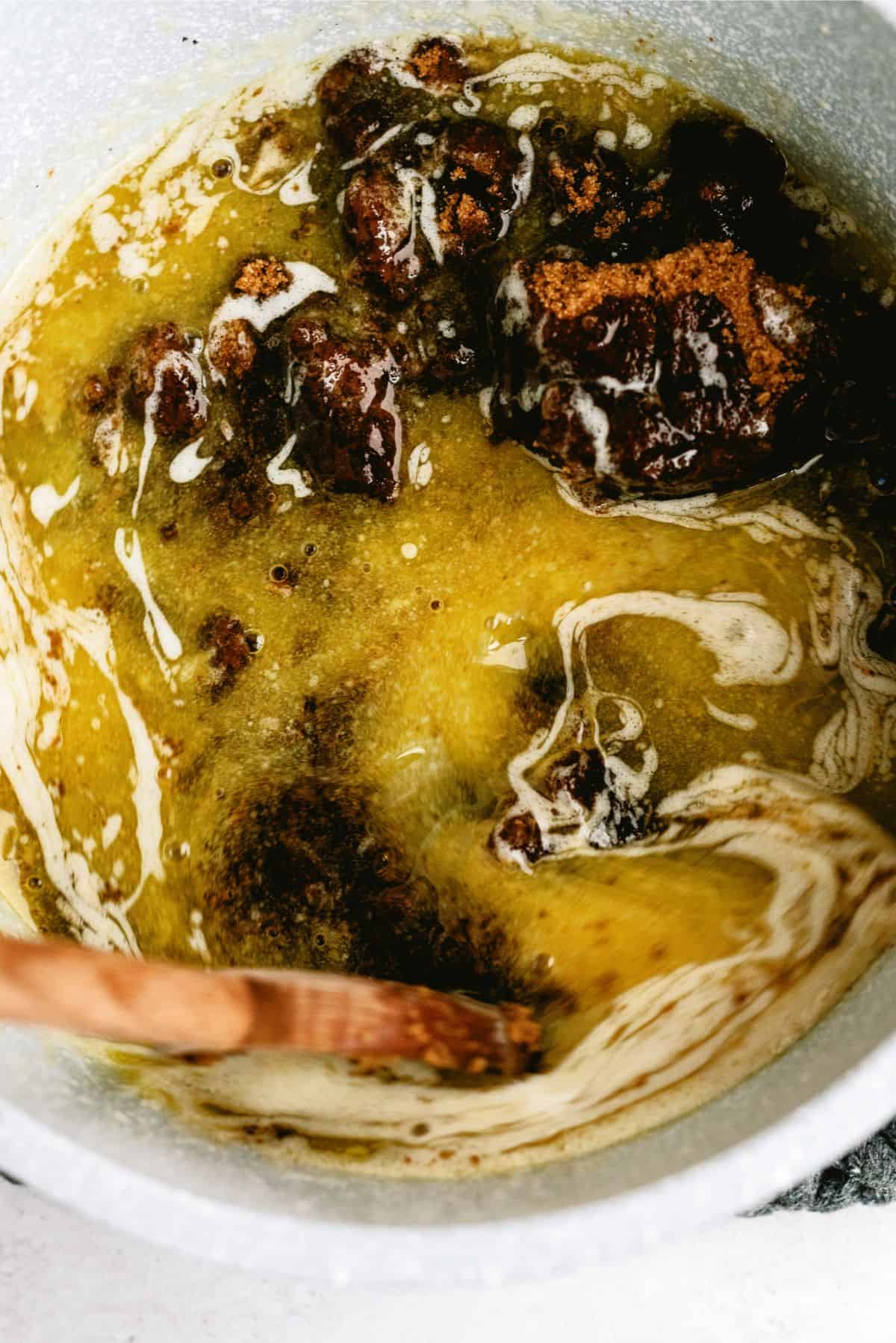 Then add the brown sugar and salt to the melted butter a mix it all together well.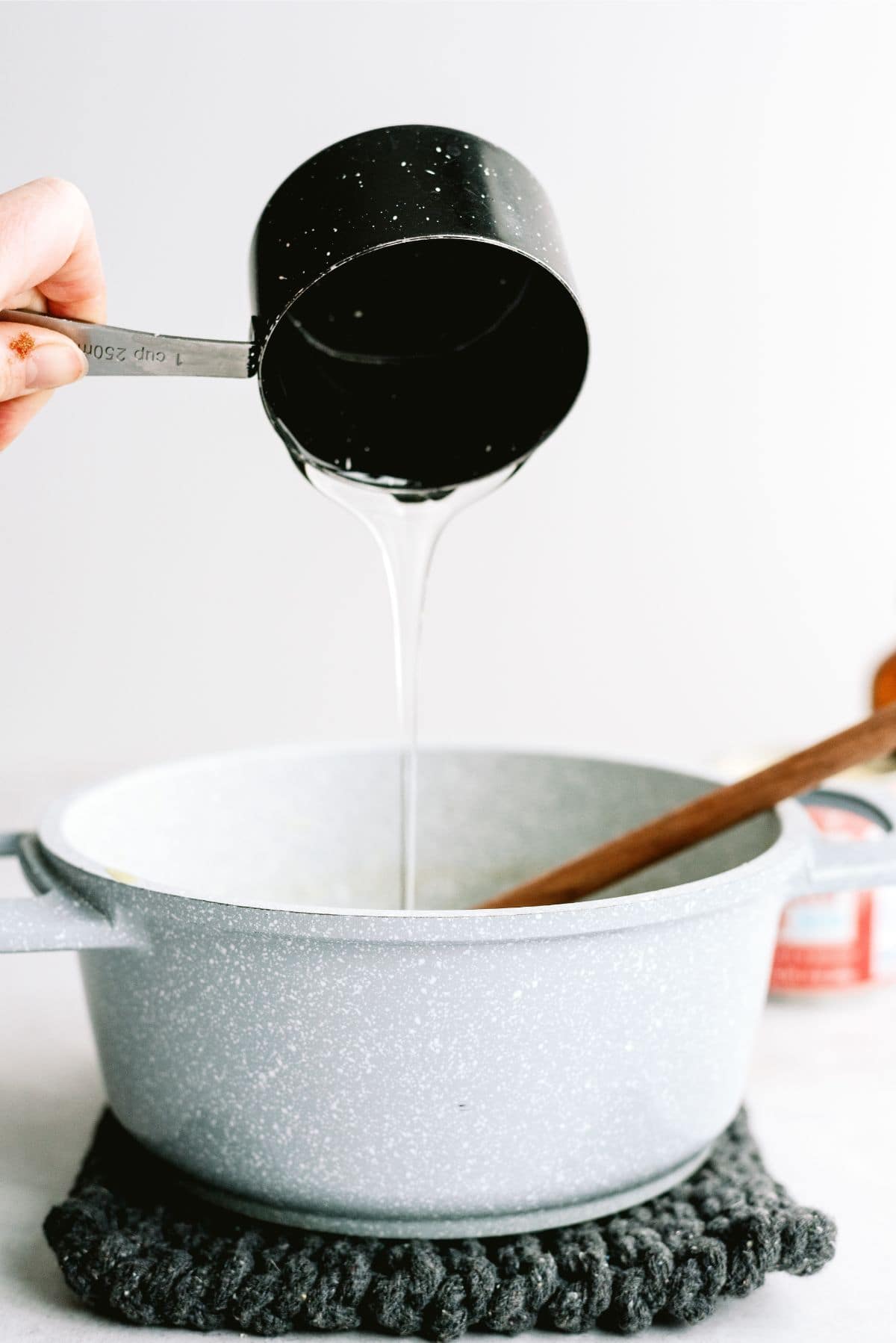 Next, you will need to add in the light corn syrup and continue to stir it all together over medium heat.
Once that is done, gradually pour in the milk, making sure to constantly stir the ingredients until all the milk has been added to the pan.
Now, continue to let the ingredients cook over medium heat while stirring the candy mixture until it reaches the firm ball stage or 245 degrees.
Give the mixture time. It will take about 12-15 minutes to get it to the right temperature, but you don't want to burn it so don't get too tempted to raise the heat to high.
Once it does reach the firm ball stage or 245 degrees, then remove it from the heat and add in the vanilla extract and stir it all together until it is completely incorporated.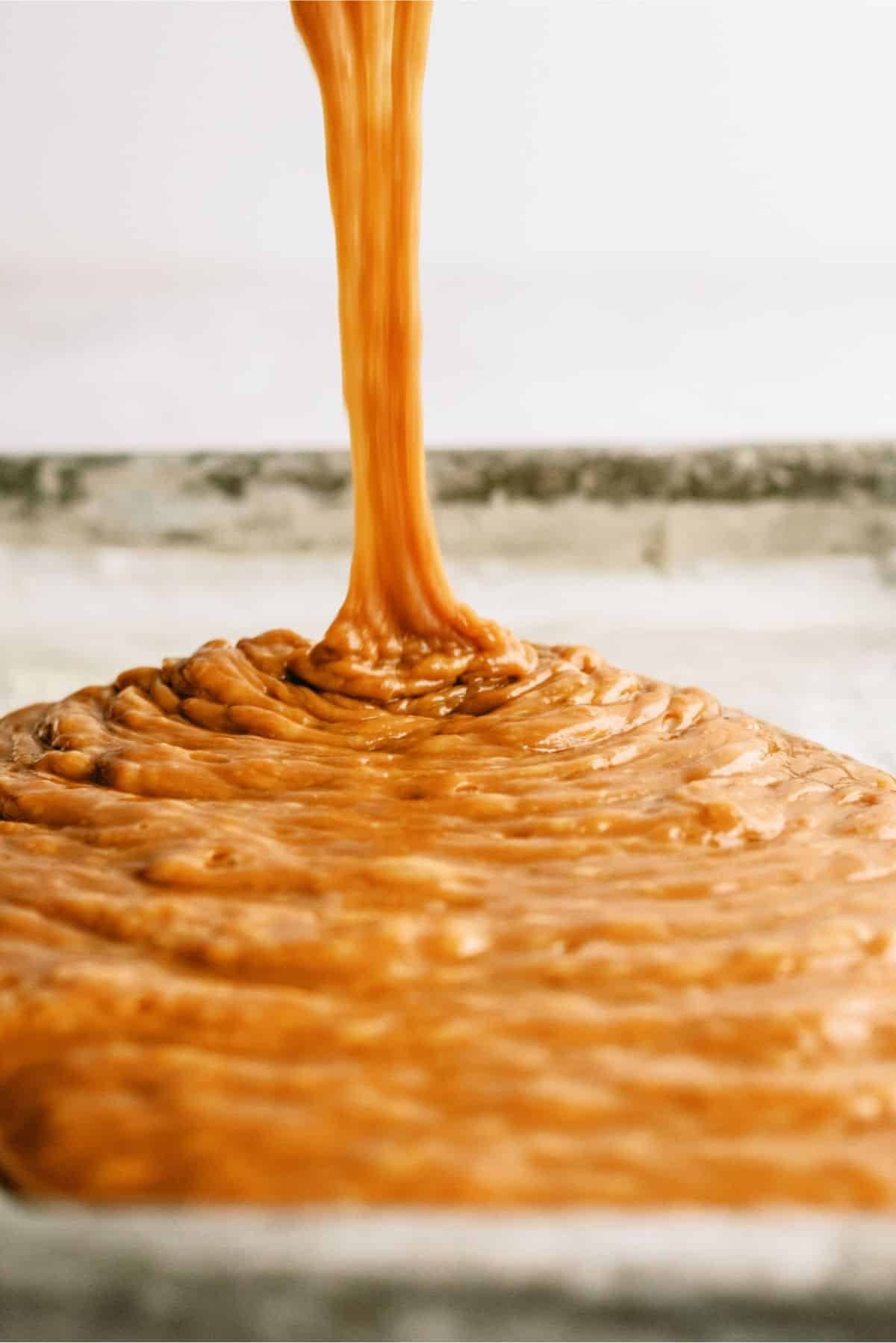 When you are done, carefully pour the hot mixture into a greased 9×13-inch pan and let it cool down completely.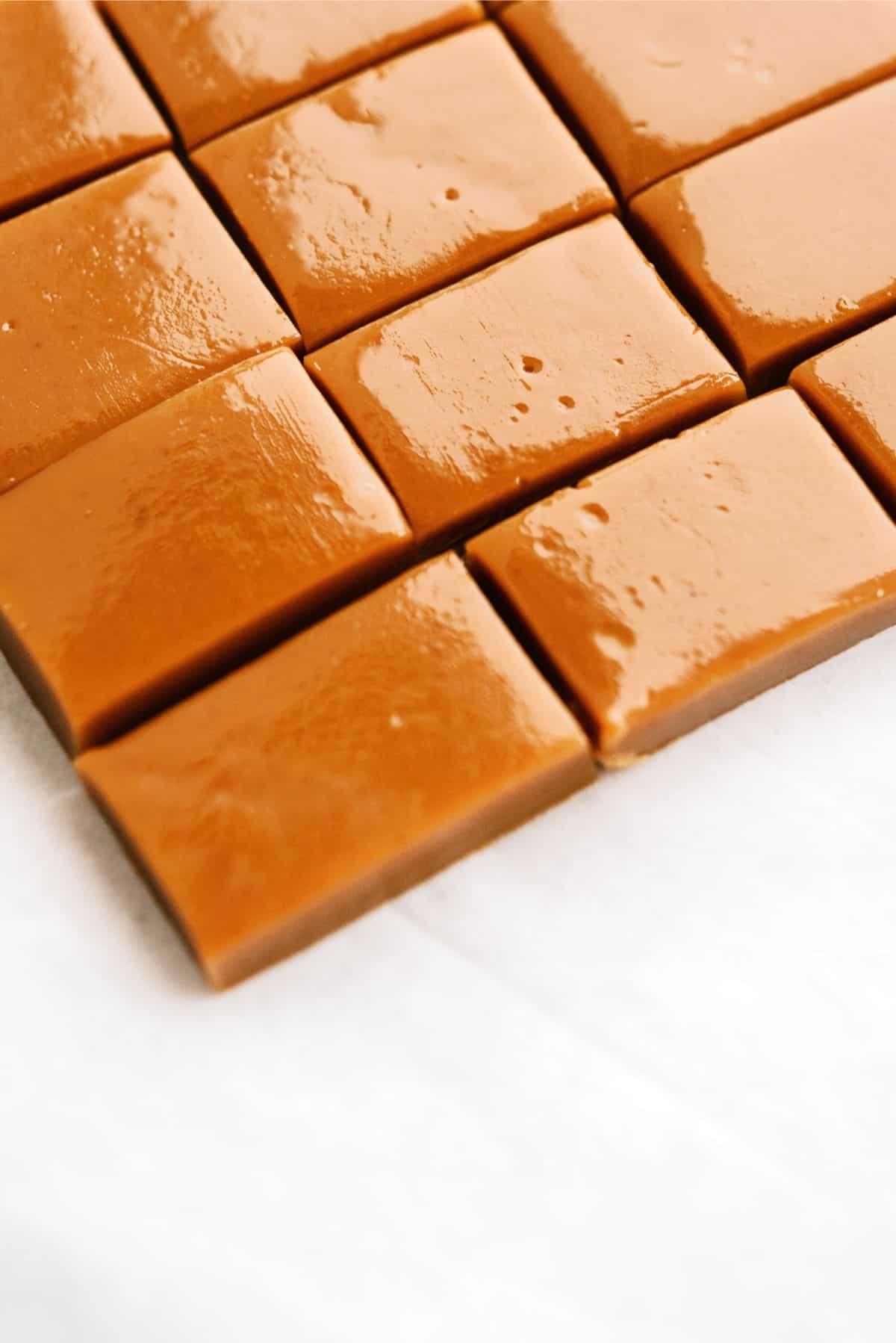 Then simply cut the caramel slab into 48 pieces (6 lines down and 8 across) with a sharp knife.
After the caramel has been cut you can choose to either leave it in the pan and store it with a top at room temperature, or you can wrap each piece in wax paper.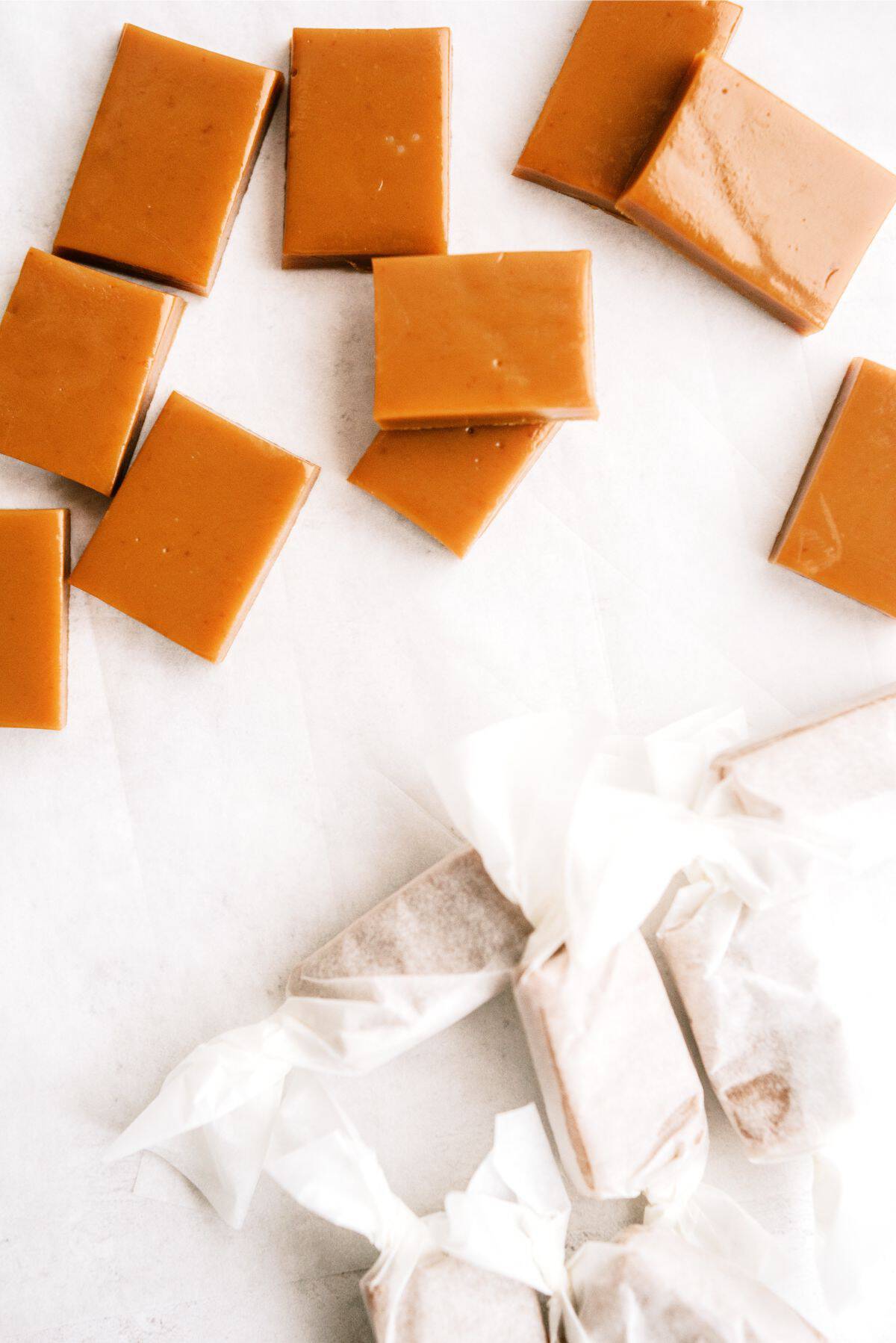 To Make this Homemade Caramel Recipe You Will Need:
Large saucepan
Wooden spoon
Candy thermometer (while not 100% necessary, THIS one works great and is super helpful in making sure the caramel reaches the right temperature.)
What are Tips for the Perfect Caramels?
The biggest tip I can give you for making caramels is to make sure you are 100% prepared when you are ready to make caramel.
When making caramel a lot of the time is spent stirring the ingredients in the pot. By continuously stirring the pot you will avoid the caramel from burning and create the perfect creamy soft caramel you want.
So, make sure to measure out all your ingredients ahead of time and prepare the pan so it is ready to pour the caramel mixture into right away.
Is it Better to Use a Candy Thermometer or do an Ice Water Test?
In my personal option, I would say that using a candy thermometer is better to use than doing the ice water test.
The biggest reason for this is simply because the thermometer can sit in the pot with the mixture and you can see the temperature rising in real-time, making it super simple to know when it has hit 245 degrees.
As for the ice water test you have to guess and check every so often to see if the mixture is at the right stage. If you would like to learn how to do the ice water test without using a thermometer, Instructables has a great tutorial on how to perform the ice water test.
What Do You Wrap Individual Homemade Caramels In?
If you want to store the caramels individually or have made them to give as gifts to friends and family then choosing the right type of wrapping is key.
Since caramels are sticky you have to be careful when making your selection. The last thing you want to do is scrap your caramel off the wrapper.
So in order to avoid any scraping or unraveling of the caramels, use cut wax paper as the wrapper. You can cut a sheet of wax paper to fit the sizes of caramel you made and it is super cheap and efficient for homemade caramels.
How Long do Homemade Caramels Stay Fresh?
Caramels will stay fresh for a good amount of time. If you leave the caramels sitting at room temperature and stored them in an airtight container they will last for about 2 weeks.
However, you can store them in the fridge and they will last about 3-4 weeks. But I would suggest letting the candy come to room temperature before enjoying a piece.
Want More Easy Dinner Ideas?
Join our email list today and we will send you a FREE ebook of our favorite dinner recipes – plus we will send you recipes each week to help make your dinner planning easier!
Join today by CLICKING HERE.
Have you checked out our YouTube channel? We show you how to make our favorite recipes right in our own kitchens!
Our newest cookbook is all about Pressure Cooking. If you love our Instant Pot recipes, this is the cookbook for you!
Each simple and delicious recipe contains clear instructions for prep and specific pressure cooking times from start to ready-to-serve.
Order your copy today!
INSTANT COOKING with Six Sisters' Stuff <—– Click here to order!
Love cooking as much as we do? Join our FREE private Facebook Group: Six Sisters' Dinner Club!
Totally Tasty Recipes Filled With Great Caramel Flavors to Try:
Family Christmas Treat to Make and Enjoy: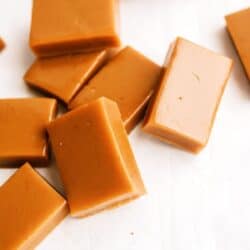 Homemade Caramels Recipe
I love homemade caramels, but have always been so intimidated by them. I then got up the courage to make these, and they were out of this world. They were so easy to make and tasted absolutely amazing. You will love these.
Ingredients
1

cup

butter

2¼

cups

brown sugar

firmly packed

⅛

teaspoon

salt

1

cup

light corn syrup

14

ounces

sweetened condensed milk

1 can

1

teaspoon

vanilla
Instructions
Melt butter over stove top. Add brown sugar and salt, mixing well. 

Gradually add milk, stirring constantly. 

Cook and stir over medium heat until candy reaches firm ball stage (245 degrees). 

This will take 12-15 minutes approx. 

Remove from heat and stir in vanilla. 

Pour into greased 9×13 pan.  Let cool. 

Cut into 48 pieces with a sharp knife.

Optional:  Wrap each piece in wax paper.
Notes
To make these caramels sweet & savory:
I just added a little bit of sea salt, to the caramel. Once it is in the pan, I would sprinkle it over. If you wait to long, you may be to press it in with your hands a little.
Nutrition
Calories:
115
kcal
·
Carbohydrates:
19
g
·
Protein:
1
g
·
Fat:
4
g
·
Saturated Fat:
3
g
·
Trans Fat:
1
g
·
Cholesterol:
12
mg
·
Sodium:
55
mg
·
Potassium:
44
mg
·
Sugar:
19
g
·
Vitamin A:
135
IU
·
Vitamin C:
1
mg
·
Calcium:
33
mg
·
Iron:
1
mg
Equipment
Saucepan

Non-stick Cooking Spray

9×13-inch Baking Pan
Recipe Details
(Recipe from Food.com)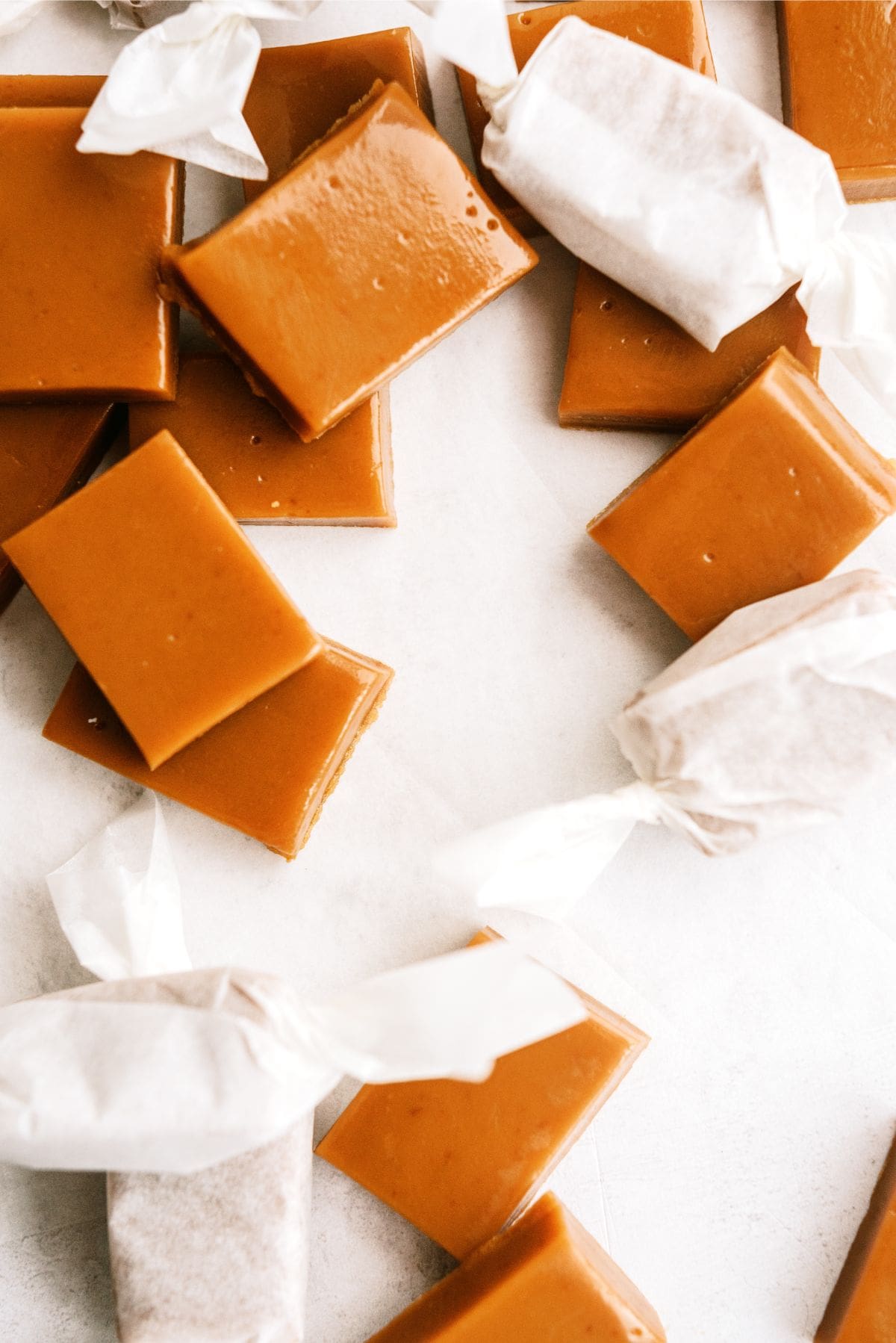 Be sure not to miss another recipe! Follow Six Sisters' Stuff on Instagram|Facebook|Pinterest|YouTube
If you made our recipe be sure to tag us on Instagram so we can see your hard work using #sixsistersstuff.