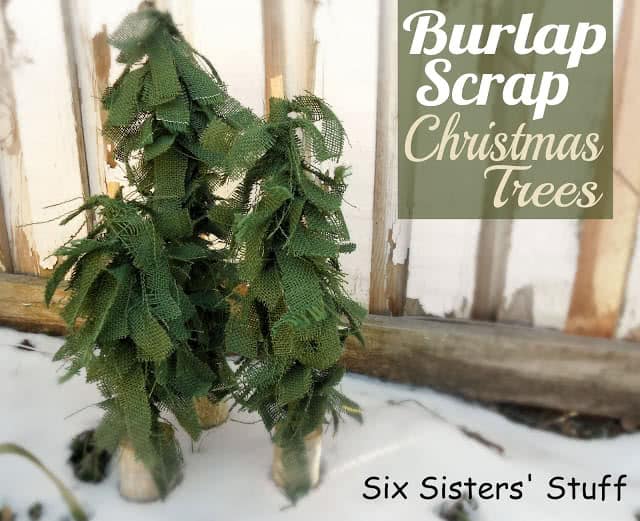 Up above my kitchen cabinets I have a lot of empty space. I put some of my Christmas decorations up there, but I needed something else to go with it . . . something simple that would fill in the little spaces that were bare. I dug through my craft stuff and found some leftover burlap. I had made a
Halloween Burlap wreath
last year and loved how it turned out . . . then the wheels started turning and I decided to use the same idea to make some Christmas trees. It was such a quick and easy craft and it ended up being the perfect compliment to my other decorations!
I had about a 1/2 yard of burlap and a couple different sizes and widths of dowels. You can make these trees any size (the lengths of my dowels were 14″, 11″, and 9″).
Cut your burlap into strips. My strips were 1″ wide and 6-8″ long. It's fine if the length and width varies a little bit.
Find a way to get your dowel to stand up. I stuck my dowel in a hole that was on a spool of ribbon and it held my dowel up perfectly.
Take a strip of burlap and tie it in a simple knot around the dowel. Pull the knot as tight as you can.
 Continue tying strips of burlap on the dowel, pushing the knots close and tight together. You don't want any of the dowel showing- it will make your tree nice and full.
 Keep on tying . . . until you reach the top. If you wanted to, you could add something to the top or decorate it like a Christmas tree (I decided to just keep mine plain because it matched my decor better).
My husband was trimming some of our tree branches outside, so I had him cut me some little "trunks". I used a drill to make a hole that was the exact size of the dowel, put a little bit of hot glue into the bottom of the hole, and then stuck the bottom of the dowel tree into the trunk.
 And that's it! Quick, easy, inexpensive, and cute for your holiday decor!
Our cookbook makes a wonderful gift (and it's priced right at less than $18!) . . . you can check it out HERE.